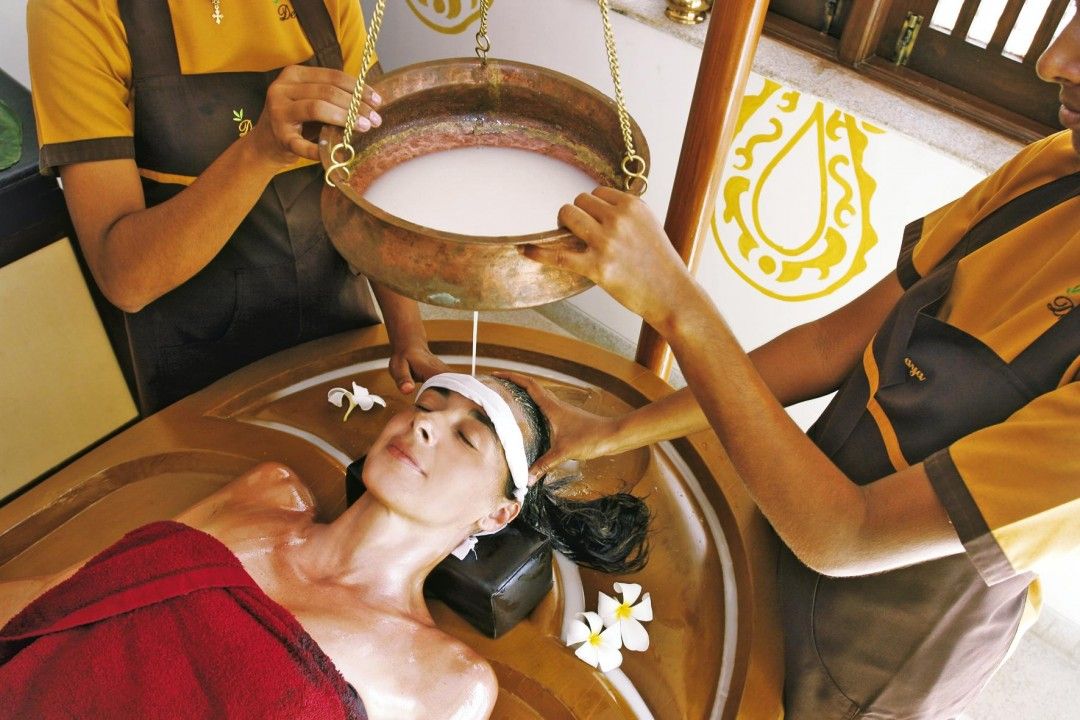 Photo Credit: Travelology India
Vacation is all about de-stressing your mind and soul. Make this holiday perfect with a visit to any of the luxurious spa resorts of India.
Photo Credit: Oberoi Hotels
Wildflower Hall Spa, Shimla
This world class spa has developed amidst the lush greenery of cedar and the sublime beauty of the snow capped mountains. The spa is famous for its use of Ayurveda, natural oils and flower essence to treat the guests. This spa is located in the Oberoi Wildflower Hall Resort, Shimla in the Himalayas, Chharabra, Shimla.The spa is famous for its Aromatherapy with natural floral essence. The Indian head massage, full body massage, body scrub and Himalayan cedar bath are especially good at this retreat. In addition to the spa, the property also offers yoga classes.
Photo Credit: Ananda Spa
Ananda in the Himalayas Spa, Rishikesh
Utilizing the natural bliss of their location, Ananda has grown to be an award winning spa in India. While the therapeutic treatments of the spa restore your health, yoga and meditation sessions help you lead a disciplined life even after you leave. This spa is located at the Palace Estate, Narendra Nagar Dist. Tehri-Garhwal, Uttarakhand. The treatment is completely natural and is based on Ayurveda. The spa boutique, along with organic food, takes complete care of your health throughout the five nights stress management package meant to energize guests.
Photo Credit: Flickr
Kaya Kalp at The Royal Spa, Agra
This spa has been developed to help you experience the luxurious lifestyle of the Mughals. When tired from your long journey, escape into a soothing spa session at the city surrounding the Taj Mahal to gather the energy to travel again. Spread over 99,000 square feet of land, this spa is known as the best city spa in the country. This treatment center is located at the ITC Mughal Hotel, Taj Ganj, Agra. The spa is most popular for its Passage to India Spa Journey, as it is a blend of mediation and Ayurveda treatment.
Photo Credit: Zuri Hotels
Maya Spa, Kumarakom
Regain your skin tone and health under the serenity of Kumarakom. Located on the shores of the placid backwaters of Vembanad Lake, it is the largest spa in South India. Besides Ayurveda treatments, visitors can also enjoy Oriental and Western style massages, like reflexology and Shiatsu. The Cloud 9 head massage truly takes you away from the hustle and bustle of city life into a paradise of peace.
Photo Credit: Shutterstock
Taj Lake Palace Jiva Spa, Udaipur
Revitalize yourself as the crystalline waters of Lake Picchola ripple around you. Experience the ancient science of Ayurveda amongst the classic ambience of hand painted frescoes on a royal spa boat. This spa is located at the Taj Lake Palace, Lake Pichola, Udaipur, Rajashtan. Visit to enjoy some special moments with your loved ones during the romantic Spa Escapade and Spa Indulgence.