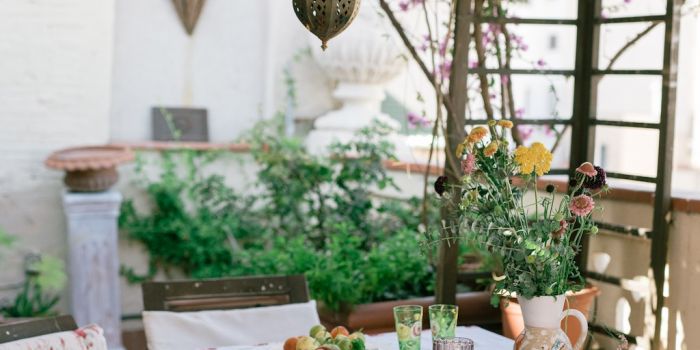 Photo by Leeloo Thefirst
1. Furnish Your Backyard
One of the easiest ways to turn your backyard into a luxe landscape is to bring indoor elements outdoors. Furnishing your backyard creates a beautiful, well-defined space that attracts the eye. Who doesn't love laying on a chaise lounge, relaxing in a hammock, or sitting under the summer night sky with a glass of wine and some good music?
What about bad weather? Won't that destroy your furniture?
When you choose outdoor furniture that is built to withstand the elements, you don't have to worry about rain, snow, or wind ruining your chairs, tables, and seats. It is a good idea, however, to move outdoor furniture to your garage or shed if a particularly bad storm is coming your way.
You can also opt to enjoy your furniture inside of a gazebo, or under a pergola or awning. This not only protects your furniture, but allows you to enjoy our luxe yard even when the weather is less than perfect. Using outdoor furniture in defined spaces in your yard, like inside of a gazebo, also helps create the feeling that your yard is simply an extension of the inside of your home.
2. Create a Visually Stunning Focal Point
One of the easiest ways to take your yard from average to outstanding is to build it around a visually stunning focal point. This goes for both your front and back yards. A common error when trying to make a yard luxurious is to add a bunch of beautiful items - flowers, plants, furniture, fountains, etc. - without any design plan. This scattershot approach leaves your yard looking disorganized and messy.
However, when you add a focal point, it can make a small yard feel bigger, and a big yard feel well-organized and cozy. All you have to do is find the point in your front and back yard where you want all eyes to flow. This should be the heart of your yard. You can add all other design elements based on your focal point.
For the backyard, try adding a:
- Pergola
- Swimming Pool
- Gazebo
- Fire Pit
- BBQ Grill
- Add a Paved Area (Porch, Base for Pergola, etc.)
- Use Outdoor Carpets in Furnished Areas
- Water Feature (pond)
What about your front yard?
- Gazebo
- Fountain
- Flower and Plant Centerpiece
- Add Paved Pathways
- Fruit Trees
3. Protect Your Home in Style
While we want all eyes on our new luxe yard, the reality is we also need both privacy and protection. If you have a swimming pool, pets, or children, you'll need a strong fence to keep outsiders out, and your family and pets inside. Fencing can also help protect your yard from wildlife, and your outdoor furniture from would-be thieves.
But aren't fences ugly?
Won't they take away from the beauty of your new yard?
Absolutely not - if you choose a privacy fence that offers both protection and aesthetic appeal. For your backyard go with painted or stained wood fencing, or vinyl privacy fencing, which allows you to choose the best color to match your home, and take the beauty of your yard to the next level while also offering maximum protection. For your front yard, consider ranch-style vinyl fencing.
4. Create Your Own Flower Show
Nothing can add more luxe beauty to a front or back yard like colorful flowers, plants, and trees. Perennial trees make a huge visual impact, and are low-maintenance. Flowers can be changed by season, and offer you a great opportunity to add a splash of color to your yard. If you have a structure like a gazebo or pergola in your backyard, colorful climbing plants will add a gorgeous layer of luxury. Adding potted plants around your yard's focal point gives you an easy-to-care-for garden.
Landscaping your front yard doesn't need to be all about your lawn. Spruce up the front of your home by:
- Creating a flowerbed that wraps around your house
- Putting in center circles full of flowers, shrubs, and small, ornamental trees
- Lining pathways to your home with low-maintenance plants like hostas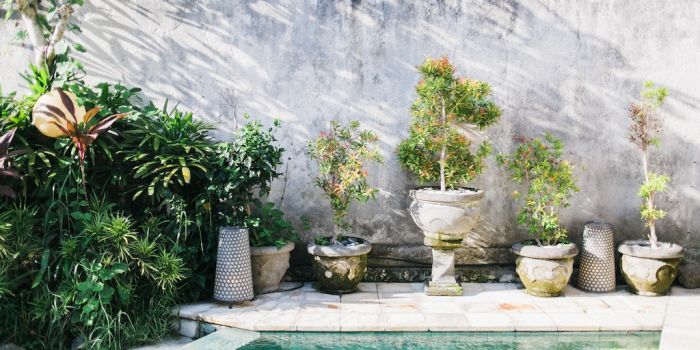 Photo by Evgenia Basyrova
5. Neatness is Perfection
Weeds, disorganization, and clutter will sap the beauty from your yard no matter how much you spend to make it more visually appealing. While designing your yard can be fun, maintaining it can take a lot of work. To keep your yard looking luxe, plan on doing all of these regularly:
- Trimming Hedges
- Weeding Flower Beds
- Edging Your Lawn
- Keeping Furniture Clean and Organized
- Landscaping
- Keeping Paved Areas Clean
These are all tasks that can be outsourced to a professional so that you can enjoy our yard without some of the headaches that keeping it clean and organized can cause you.