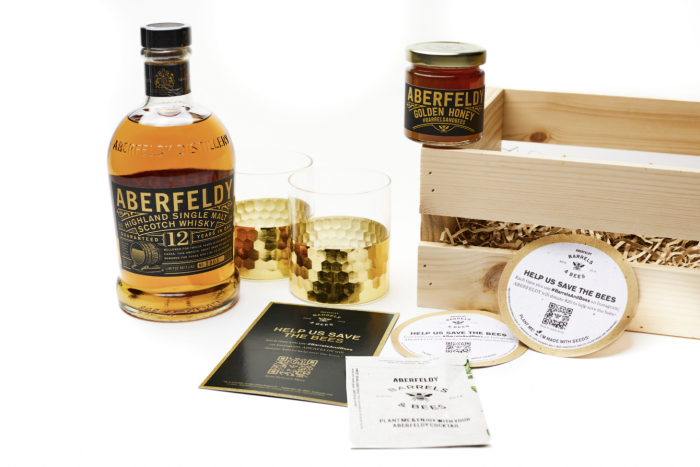 Photo courtesy of Aberfeldy
September is National Honey Month and ABERFELDY Scotch Whisky is known around the world as the "Golden Dram" for its notes of golden honey in aroma and flavor profile.
Once again ABERFELDY has united with the national non-profit The Bee Conservancy, to support bee populations across the country. Its Barrel & Bees program supports urban beekeepers in helping them plant honey bees favorite plants, and by promoting local honey.
ABERFELDY also has gifted used barrels to The Bee Conservancy, to be used for up-cycled garden planters. These barrel bee-friendly gardens are filled with flowers and seasonal herbs. Restaurants in the Bay area of California, Southern California, Chicago, Dallas, Miami, New York City, Tampa/Orlando and Washington D.C. are displaying these barrels to continue supporting bees throughout the year.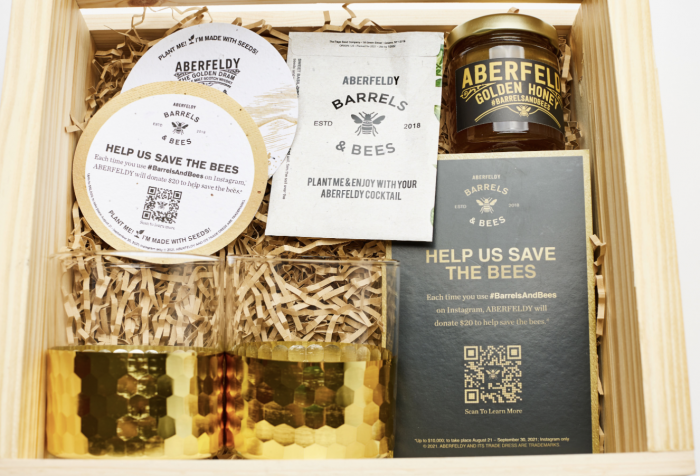 Photo courtesy of Aberfeldy
ABERFELDY is making a philanthropic donation to The Bee Conservancy and an additional donation of up to $10,000, when the hashtag #BarrelsAndBees is featured on Instagram to help promote participation in the program.
Fans can watch an educational video series with bee advocate and The Neighborhood star Beth Behrs. Bees are at risk of extinction as honey bee colonies die by stressors that include pests, pathogens and loss of habitat.
Toast the fall season with ABERFELDY's Herbed Honey Smash Cocktail Kit to make your own Herbed Honey Smash recipe at home. Inside each kit is a full-size bottle of ABERFELDY 12-year-old herbed Single Malt Scotch Whisky, plus a jar Miami's The Native Guy Honey, two gold-banded rock glasses, basil seeds to grow your own bee-friendly garden and garnish.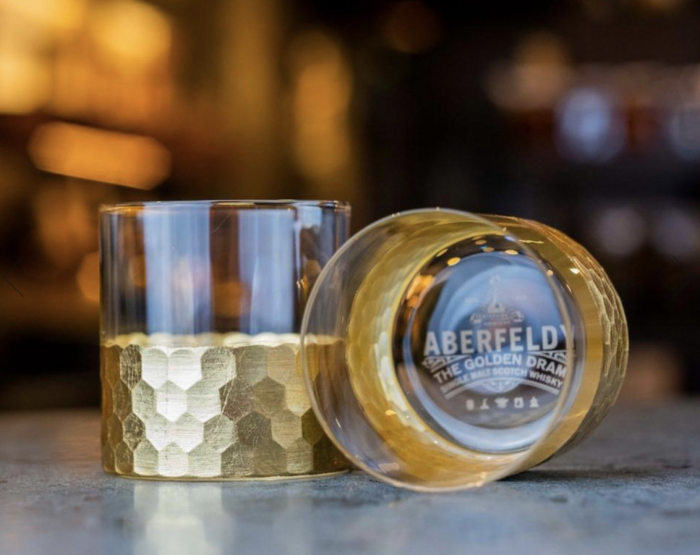 Photo courtesy of Aberfeldy
Recipe cards are also included to make craft cocktails. Here is one of the recipes - Honey Smash Cocktail:
Ingredients:
2 oz Aberfeldy 12 Single Malt Scotch
1.5 oz Lemon juice (or about half a lemon squeezed)
1 oz honey syrup
*Honey Syrup: 100g of honey and 64g water, stir and leave to chill. Note: syrup will only last 3 days
4-6 leaves of soft herb (basil, mint, tarragon, etc.)
Method: Add all ingredients to a shaker tin with ice. Shake vigorously and strain using a fine-mesh strainer into a small rocks glass filled with ice. Garnish with your fresh herb of choice and enjoy.
You can use any soft herb (basil, mint, thyme, tarragon, dill, marjoram or even cilantro) you'd like for different flavor combinations! Also, you can mix and match these flavors too for a unique herbed honey smash each time. For more herb flavor, steep your fresh herbs in your local raw honey before making syrup.
This special ABERFELDY cocktail kit is available for $45 nationally via ReserveBar.