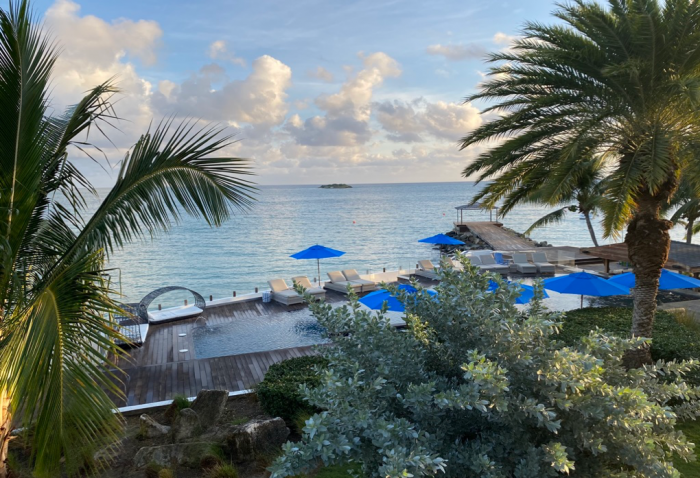 Whitney Spielfogel
There are many reasons to start planning a Caribbean escape right now. With winter officially upon us and more direct flight options than ever before (and hurricane season behind us), you might be in desperate want of some vitamin D and some fun in the sun. When celebrities are in need of a tropical escape, they head to the islands of Antiqua and Barbuda, with the highly anticipated Hodges Bay Resort and Spa leading the A-list charge. Ashanti and her family recently spent time this past holiday season at the property (and earlier in the year as well!), so whether you're looking for a weeklong respite or a long weekend away to escape the cold, look no further.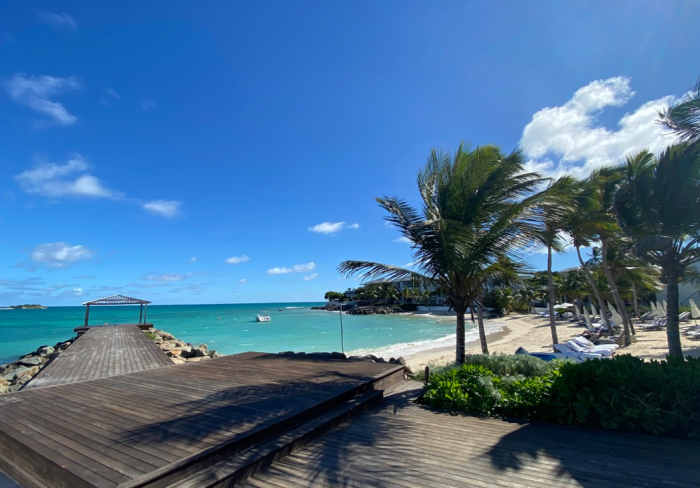 Whitney Spielfogel
With over 300 pristine white-sand beaches and year-round sunshine, Antiqua is a true gem located within the West Indies. Despite the island's accolades, there are a limited amount of luxury accommodations to choose from – no less freshly renovated ones. Enter Hodges Bay Resort and Spa, which recently completed a 13-year, $100 million project to include 79 luxurious accommodations and beautiful common spaces. It's the island's first new property in over a decade – and a stylish one at that. With an incredibly dramatic lobby that overlooks the turquoise blue Caribbean water and expansive views of the beach, the Hodges Bay entrance makes a dramatic statement upon arrival. The expansive property layout and uber-modern design are grounded in relatable earth-tones and the use of natural materials. From the modish atrium to the chic common spaces, this hot new hotel checks all of the boxes.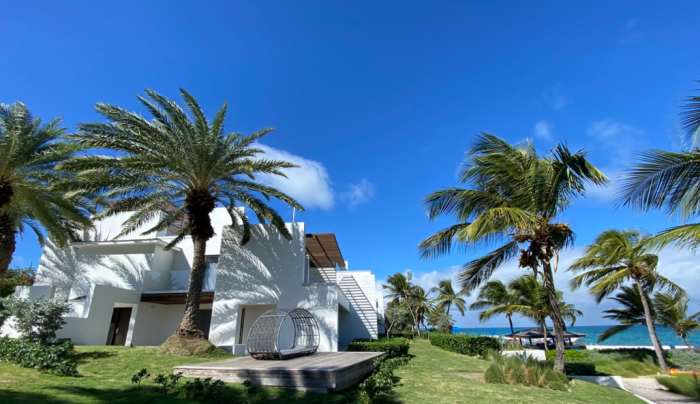 Whitney Spielfogel
For the upscale traveler, rooms are contemporary in design and include suites, junior suites, penthouses, residences and exclusive villas. These sleek accommodations face either the beach or one of the resort's pool and include large living areas, kitchens and oversize balconies so that you definitely won't be disappointed. To make your stay that much more enjoyable, a staff of butlers are on-call around the clock (and easily accessible through What'sApp), to give you 24/7 personalized 5-star service that isn't stuffy or pretentious.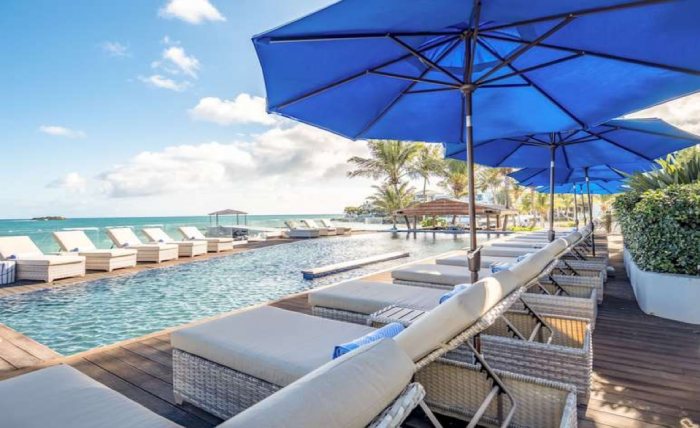 Hodges Bay Resort & Spa
Not only are the rooms luxurious, but there are two expansive pools (one adults-only oceanfront-facing infinity pool with a swim up bar and then a kid-friendly option complete with shaded cabanas) and a beyond beautiful pristine beachfront, where butlers and beach staff cater to your every need and whim (where no task is too large and service is always done with a smile on the staff's faces). There's no shortage of things to do at the hotel, where the resort fee includes the use of kayaks, paddleboards and snorkeling gear, as well as yoga on the beach and other engaging activities (as well as a pristine kids club with around-the-clock events for the little ones). The property also owns an offshore island called Prickly Pear, where beachfront lunches, private snorkeling and romantic sunset picnics can be organized through the butler service.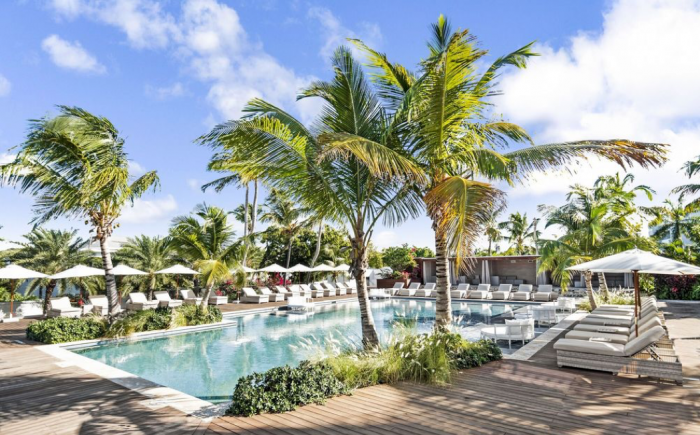 Hodges Bay Resort & Spa
The main dining restaurant that serves all meals throughout the day and night is called White Sands, which was thoughtfully designed to maximize ocean views and serves up scrumptious and innovative fare. Black Sails Ultra-Lounge is a sexy open-air bar and lounge, offering up a unique array of tapas and sushi. Last but certainly not least is NaCL (SALT), which is the Caribbean's first signature restaurant by world-renowned celebrity chef Edward Lee.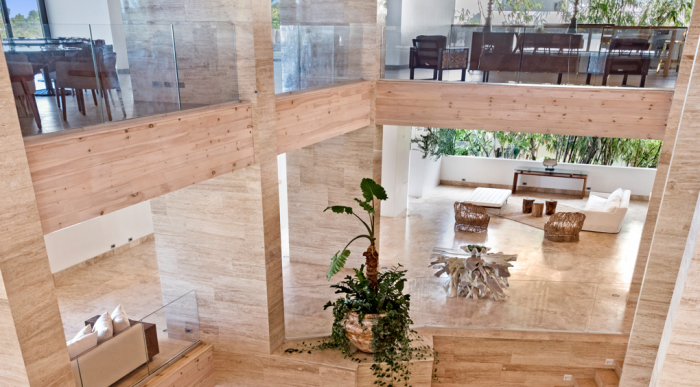 Hodges Bay Resort & Spa
Hodges Bay is a destination resort so beautifully conceived, it's hard to muster the motivation to leave. Still, Antigua's upscale restaurants are a short 10-minute cab ride away and can easily arranged by the concierge. Appy Taxi Services & Island Tours, run by Kenroy Appleton, is the premier car service on the island (268-774-4038). Notable meals on the island included dinner at Cecilia's High Point Cafe (which is only open on Monday and Friday nights for dinner – but open daily for lunch), and a must to secure a reservation well in advance. From its prime location overlooking Dutchman's Bay to the warm cozy vibe that Cecilia and her team institute from the moment you arrive (Cecilia made us feel like we were joining her for a gourmet meal in her home, which we were indeed doing), you're in for a true culinary experience. Mouth-watering dishes not only taste great but are also expertly presented. Between the delectable food to the atmosphere and ambiance, topped off by the exceptional customer service – it's a meal you won't soon forget.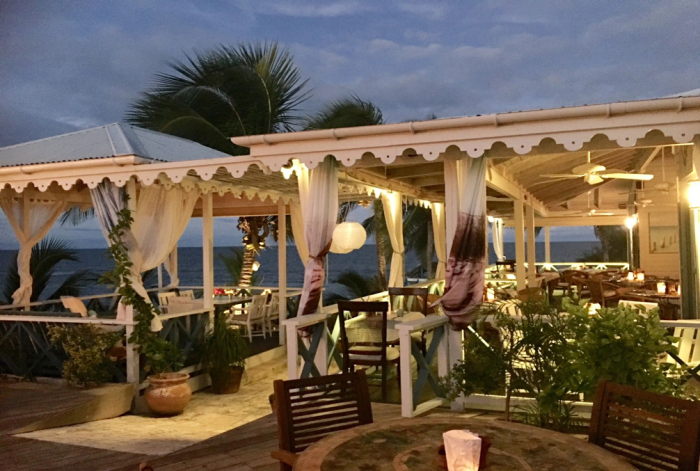 Cecilia�s High Point Cafe
Other notable nights out included dinner at La Bussola, a family-owned and run Italian restaurant in an open-air setting right on the water. Le Bistro is another popular choice, serving an upscale authentic French fare, set in a main house with warm, cozy island vibes. Last but certainly not least is Beach Limerz on Antiqua's historic Fort James Beach, where you must go for sunset and tropical cocktails. This upscale beach shack serves some of the most delicious seafood on the island and will give you a genuine Caribbean experience.
If the winter blues already have you feeling down, now might be just the perfect moment to plan a getaway to a sunny Caribbean island, with Antigua's Hodges Bay being your top pick! With multiple restaurants, watersports, a pristine spa and the best beachfront on the island, booking an island adventure to Hodges Bay is exactly what the doctor ordered. At Hodges Bay we have the quiet you crave, and the fun you deserve.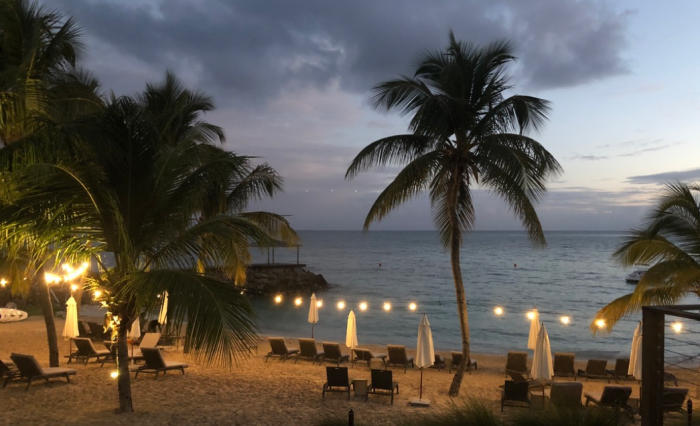 Whitney Spielfogel