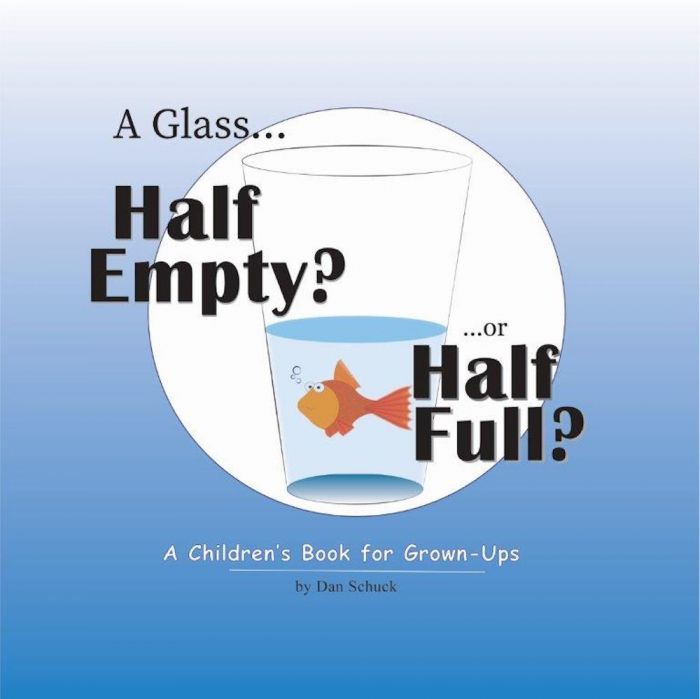 Dan Schuck
With suicide weighing heavily on the public's mind, with celebrity after celebrity being featured in the news, author Dan Schuck has a taken a new approach to address mental illness through his book A Glass Half Empty? ...or Half Full?: A Children's Book for Grown-Ups. Although his idea for raising awareness about mental health began years ago, the book has found a sudden traumatic relevancy in light of recent personal events. Dan knows too well the toll that suicide can take, whether or not a person is known to be struggling with a mental disorder or not. To help people understand the importance of mental health, he created a "children's book for grown-ups" to help foster knowledge and insight into the issues that affect the world today, with a philosophical twist. Dan tells JustLuxe his story and personal experiences that led him to his current campaign:
When did you start writing professionally?
When I first met the love of my life, who would go on to be my partner, Jill, a little over 5 years ago I told her that I wished I were a writer. It turns out she was a successful film producer and knew a lot about writing and writers! Jill never let me forget about my wish and I worked with her on a number of different treatments and story outlines.
But this 'Children's Book for Grown-Ups,'s is really my first published "professional" writing.
You've published your first book, A Glass Half Empty? ...or Half Full?: A Children's Book for Grown-Ups. How would you describe it?
This book is based on a kind of 'exercise for the mind' that I used to do with Jill to help with the challenge of her mental health disorder, bipolar 1. Using an actual, partially filled glass; we would talk about what we could and couldn't see. I began to form a vision of this fish in the glass that could help tell the story (or rather the allegory), and it turned into this gift book for Jill.
On your blog, you say that it's a story you began telling yourself as a young man and have been refining ever since. Could you elaborate on that a bit?
I was an exchange student in high school and shipped off to live in Braunschweig, West Germany (back when it was still West Germany). The experience started a whole life focus I have had on 'taking a new perspective.' I grew up into a successful career as a technology executive in financial services, and this 'try a new perspective' penchant I have served me well as I worked with so many different types of people. As a leader in that large organization, I found I often needed to 'teach' this method to others and began extensive (and sometimes comical) use of analogies and parables to get my message across.
You call it a children's book for grownups. Why did you decide to tell the story in that way?
One thing we all have in common is that we were all once children. During our adolescence, we put away childish things and begin taking a much more complex, and often 'fixed' view of the world. I have found that I am most open to 'new perspectives' when I remember back to the wonder of my childhood.
My hope was that this format will help put the reader in a more 'open' mindset and that we can cover more ground, more quickly by keeping the message simple and fun.
You were originally putting a homemade version of a children's book format, with cut out pictures and staples and glue, as Valentine's Day present and then your partner died and your life was turned upside down. Did this book help you through that process?
In many ways, this book was my coping mechanism during those first weeks of shock and denial.
Jill's death was by suicide; the worst possible thing I could (and can still) imagine. She'd been experiencing extreme depression related to her Bipolar disorder; a lifelong challenge for her battling not only the disorder itself but the extreme stigma it carries. Still, while this was always a background fear, I certainly did not expect the manic episode that took her mind and claimed her life that fateful day in February. I had this project I'd been excited to share with Jill, and couldn't bear to let that go too. That's still true. Keeping this project alive and trying to use it to help raise awareness for Mental Health is a way I can honor Jill's memory.
Had you planned on publishing this book before that happened?
Well, not exactly but I was hoping to. In my fantasy, Jill would love the book (and she would have!) and then she would have been able to help me explore getting it published. When she died, I decided to use the other lessons about perseverance and fortitude that Jill taught me, and I plunged myself, day and night, into getting the book into 'publishable' form.
Sadly, suicide has been in the news quite a lot of late. Having had to personally deal with that issue, is there a part of the narrative that you think we're missing, or are blind to as a culture?
The stigma around Mental Health disorder and around suicide are related and still very strong in our culture. It is an uncomfortable topic for so many of us, and yet it is something we can't afford to ignore. On the very week of Kate Spade's suicide, the CDC released a study that reports suicide rates went up more than 30% in half of the states since 1999, and more than half (54%) of people who died by suicide did not have a known mental health condition.
We've got to find a way to eliminate that stigma and start talking with each other about Mental Health and about the threats of suicide. As a society, we are on a roll recently in accepting each other and truths about our world (think of the LGBTQ movement or the MeToo movement). I hope we can make Mental Health awareness and acceptance our next movement.
What would you like people to take away from reading the book?
Perspective. This book is based on an "exercise for the mind" and is trying to teach the practice of looking at life from multiple perspectives. This is a skill that takes practice and self-awareness.
Donations from the proceeds of the book will be made to a Glass Half Question fundraising campaign for the Brain and Behavior Research Foundation. Can you tell me a bit about that?
The Brain & Behavior Research Foundation an organization that is committed to alleviating the suffering caused by mental illness by awarding scientific research grants that will ultimately enable people to live full, happy and productive lives.
My grandmother suffered from the same Bipolar disorder, although it wasn't called that back in the 40's and 50's when she endured shock treatment in the sanitorium. We've made a lot of progress since then in understanding the brain chemistry and underlying challenges of this biological disorder; but obviously not enough. Because of that stigma I've been mentioning, it can be challenging for mental health medical science researchers to get the funding they need to find the real answers we need.
Are you currently working on other projects?
I've had a great response to the format of this book; using the 'Children's Book" approach is a fun and engaging way to explore these more philosophical topics. I've got a number of follow-on projects about related 'perspective and life philosophy' topics that I am developing as a series of follow-up books to A Glass Half Empty? …or Half Full?
Mental illness is around each of us in different ways but finding perspective can alleviate the heaviness. Dan has taken his personal tragedy and turned it into a message of hope and help. He sheds light on what can be a very dark struggle for many. Throughout the pages of Dan's book, he encourages people to find a balance in their life with simple terms and simple images, yet a very powerful and necessary message. Learn more about Dan and mental health at https://www.glasshalfquestion.com/.