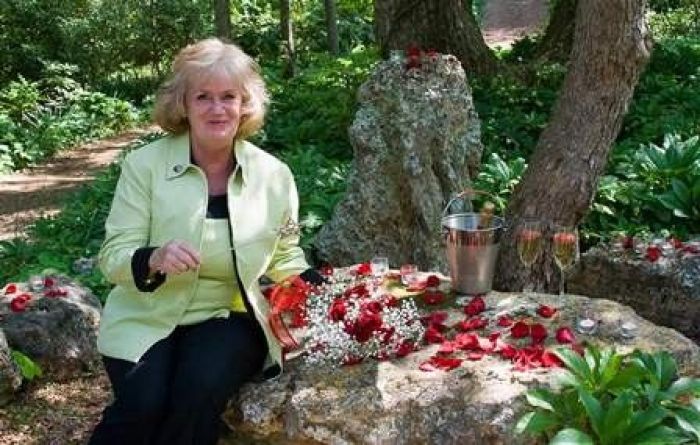 Barnsley Gardens Resort
There's a place in Georgia where your wishes just may come true. Just call the concierge and you'll understand what I mean. At Barnsley Gardens Resort in Adairsville, Georgia the staff will tell you about the resort's in-house fairy godmother loves to make guests happy. While you are away having dinner in the resort's Woodlands Grill, she just might make a pre-arranged special appearance to your room and leave rose petals, lit tea candles twinkling in the dark, and champagne on ice.
That's only one of her love spells. Guests can choose from among a wide range of magical touches to surprise loved ones who might be celebrating a birthday, anniversary, those who would simply like to spark up a relationship.
Although the Barnsley Gardens resort does have a magicand in her honor (it's kept behind glass at the resort's front entrance) Fairy Godmother Denise Webb and her assistant work their magic by hand, using resources from their well-stocked office on the resort's grounds.
Formally named the Fairy Godmother during the time when Prince Hubertus Fugger bought the property, the Fairy Godmother who answers her magical cell phone simply as Fairy began working at the resort over a decade ago.
A call to the Fairy Godmother can result in a resort room decorated with Geisha fans, festive sombreros, balloons, or chocolate. Her handiwork isn't confined to indoors. Just ask the fairy godmother's assistance for a glamorous and intimate camping experience or for help arranging a romantic proposal on the resort's grounds. The fairy godmother's magic can touch children and pets, too. She might give your pets toys or arrange games and activities for children at a family reunion.
Fairy says that she just likes to make people happy. Years ago, the grief of one of the guests who had lost her mother touched her so much, that Fairy decorated her room with stars and placed a telescope nearby so that the woman can see and experience the magic.
If you are single, she'll invite you to the resort's parties, where singles can mingle and meet in a safe environment. For holidays the Fairy Godmother organizes events from egg coloring during Easter to planting flags on the resort's grounds to remember U.S. veterans.
The Fairy Godmother's award-winning efforts have touched people from all over the world. Marriage proposals with the Fairy's special touches have yielded years of happily ever afters. Her office is decorated with the thank you cards. Sometimes Fairy receives photos of the children from those marriages, and sometimes children who have participated in the community-wide events that she have arranged send her cards and pictures. These connections with the people she's met and somehow touched along the way make very her happy.
Although concierge services are common at resorts like Barnsley Gardens, the Fairy Godmother's personal touches and her knack for understanding people, keep those who meet her talking about her magic.
Travel writer Claudine Williams was hosted by Barnsley Gardens Resort.
Barnsley Gardens Resort
The Fairy Godmother
Barnsley Gardens Resort
An In-Room Party
Barnsley Gardens Resort
A Fiesta Love Spell
Barnsley Gardens Resort
A special note
Barnsley Gardens Resort
The Rice House at Barnsley Gardens Resort
Barnsley Gardens Resort
Cottages at Barnsley Gardens Resort