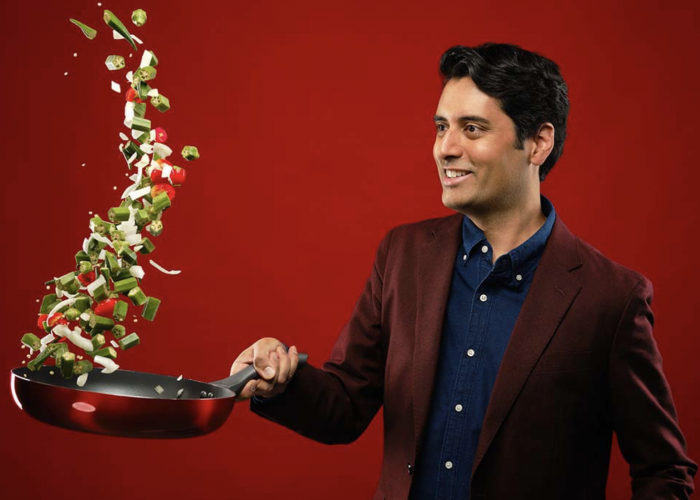 Geffen Stayhouse
Filmmaker Sri Rao is one of the few American-born screenwriters to have worked in the mainstream Indian film industry. He is currently making a series for Netflix titled The Actress, as well as developing several other series for Netflix and HBO Max. His production company is focused on creating content by and about South Asian Americans.
While writing his book Bollywood Kitchen (Houghton Mifflin Harcourt), Sri combines his passion for Indian food and films by pairing Bollywood musicals with home-cooked recipes.
Now he debuts the world premiere of Bollywood Kitchen, a live, virtual and interactive production from the Los Angeles-based theater's Geffen Stayhouse.
The Geffen Stayhouse banner originally launched in March 2020 with free, short-form content in response to Geffen Playhouse temporarily closing as a result of COVID-19. Then Geffen Stayhouse developed and produced its first full-length effort The Present, a live, virtual, and interactive experience from magician, illusionist and storyteller Helder Guimarães. It premiered in May 2020 and 250+ performances sold-out and were extended three times before closing with a global, livestream to more than 6,000 viewers in the finale's audience.
Bollywood Kitchen is selling out it's Chef's Table foodie experience. A limited number of audience members will virtually cook alongside and interact with Sri throughout the show. Ticket holders have an opportunity to ask Sri questions and get cooking tips along the way.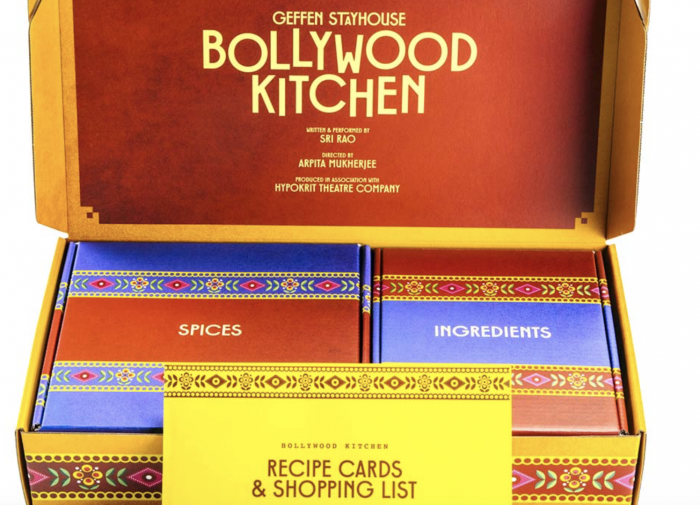 Geffen Stayhouse
'The two questions I get asked most often at cocktail parties are, 'Can I get one of your mom's recipes for homemade Indian food?' and 'I've never seen a Bollywood movie before—can you recommend one to me?' Well, the Geffen is giving me the opportunity to answer both questions at once—and this time, the cocktail party is at my place! Bollywood Kitchen is my way of introducing audiences to two of my passions—Indian food and films—while taking them on a personal journey of my family's immigrant experience,' said Rao.
Rao invites ticket holders to prepare a homemade Indian meal along with him, drawing on the recipes that were staples at his family's table. While cooking, Rao interweaves the story of his parents immigrating to America, the joy and nourishment that Bollywood musicals brought to his whole family, and the culinary traditions they shared.
With multiple ticket levels and prices, the Chefs Table experience includes an interactive Zoom ticket for the show, a colorful Bollywood Box (by mail) with spices, ingredients, recipe cards and a shopping list to make a meal. There is also an autographed Bollywood Kitchen cookbook by Sri Rao, and limited-time private Vimeo link after the show to re-watch the performance. Also the Bollywood Foodie ticket allows audience members to prepare their meal in advance with the Bollywood Box ingredients to enjoy during the performance, or during the interactive production.
Chef Table ticket holders receive a box with 7 Jars of specially curated Indian spices, Bollywood popcorn kit, chocolate chai affogato kit, basmati rice, coconut powder and recipe cards. All the ingredients are certified Kosher.

Geffen Stayhouse
The menu for Bollywood Kitchen includes a Bollywood Popcorn kit, and a House cocktail of Mumbai Mule for starters. The entree to be made are either Sri's Signature Chicken Curry or a vegan Chana Masala, accompanied with Raita /Rice and a delicious Chocolate Chai Affogato for dessert. The recipes serve four people.
Tickets are offered in different participation levels and prices: Chef's Table ($175), Bollywood Foodie ($95) or Just Here for the Party (starting at $40). Stay around for the Bollywood After-Party, hosted by a well-known South Asian DJ after select performances. Tickets are available online at www.geffenplayhouse.org. Fees may apply.