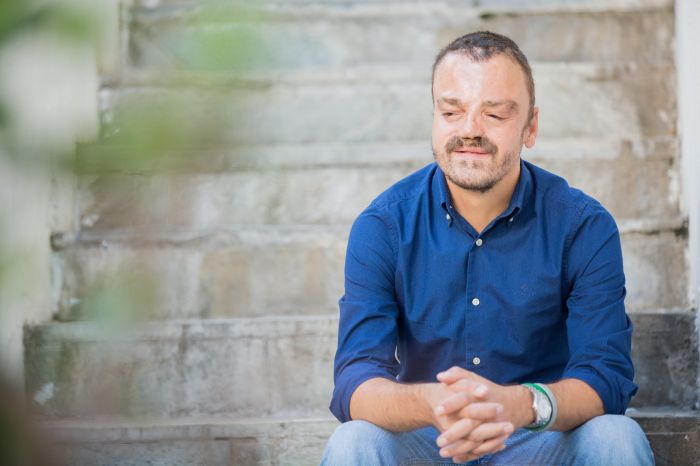 https://www.christianhadjipateras.com/
I had the opportunity to sit down with motivational speaker and author Christian J. Hadjipateras to discuss his journey to build a successful career as a highly sought after speaker. He holds a Higher National Diploma in Business from Southampton Solent University and has also studied film and production at the London and New York Film Academies. Passionate about film and production, Christian is also working on his first screenplay. He has also been featured in Authority Magazine, contributed to HuffingtonPost.com, and has an active blog on Medium.com. Christian and his wife Stephanie split their time between Athens and London.
What has your journey as a motivational speaker been like? I was born with severe craniofacial anomalies including craniosynostosis, a bilateral cleft lip and palate, hypertelorism, a Chiari I malformation (structural defect of the cerebellum), profound hearing loss,s and a horseshoe kidney among other issues. I underwent some 50 reconstructive surgeries in London, Paris, Milan, Chicago, Houston, and Los Angeles up until my mid-20s. The surgeries inevitably had a big impact on my childhood and teenage years, both physically and mentally.
Growing up with facial differences presents many challenges and the psychological impact properly hit me during my adolescence. It wasn't until my mid to late 20s that I felt content within myself. Despite the interruptions to my education due to the surgeries, I managed to graduate from Southampton Solent University in 2009. I began my career in the maritime shipping industry, which my family has been involved with for generations. Although I enjoyed it, my real passion has always been writing and film, so I moved to Los Angeles for a couple of years and worked at a TV distribution company. I was also a writer on an ongoing travel series called 'The Kindness Diaries', which was picked up by both Netflix and Amazon Prime.
These days my wife Stephanie and I are based in Athens. My path to motivational speaking has been a long one, but I always harbored a determination to share my experiences and to be a voice for adults and children living with facial differences as well as being a mental health advocate. Society has come a long way in terms of tolerance and acceptance, but there's still a way to go. When I was born, organizations providing emotional support for children with facial differences and their parents were virtually non-existent but today they are everywhere, which is a huge plus. You split your time between London and Athens. How has traveling back and forth during the pandemic been?
As is the case with us all, our ability to travel has been severely limited, although we have made a couple of visits back to London over the past year. Ordinarily, we go back no more than a handful of times a year so it hasn't impacted us too much in that respect. I always enjoy going back to the UK; I'm a born and bred Londoner and have friends and family there. But Athens has been home on and off for the best part of a decade now. My wife Stephanie is Greek but ironically when we met she was living in London! We're very settled here in Athens but we aren't ruling out a move back to the UK in the future. Where are some of your favorite places to travel in Greece?
Since moving to Greece, I've visited much of the mainland, which has so much to offer and is somewhat forgotten in favor of the islands. The islands are of course wonderful and unique, but the mainland is equally impressive. Not many know about the geographical uniqueness of Greece; it's 80% mountainous and according to the Guinness Book of Records has the deepest gorge in the world relative to its depth. The northwestern region of Zagori, where the gorge is, is particularly incredible. Zagori is an area with some 40 villages and it's worth a few days of exploring. The Peloponnese is also another region on the mainland worth visiting, especially the Mani peninsula in the south. Pelion is also another wonderful region to visit. I also can't disregard the islands because you can't visit Greece without experiencing the islands. Crete should definitely be on your list in that it really has its own identity. The Ionian islands, Corfu in particular, is worth a visit too. What are your favorite travel destinations?
Without a doubt, I'd say Villars-Sur-Ollon, a resort in Switzerland. My family has been going there for generations and my father lived there for a few years in his youth. Being an avid skier and a winter person, it's by far my favorite place. We are lucky enough to have a home there so we try to go at least a couple of times a year when we can. Another place that I've already touched on is northwestern Greece and a few years ago we discovered a boutique hotel nestled in the mountains about an hour away from the city of Ioannina. My wife and I love it there and we try to go a couple of times a year. It's perfect for admiring the scenery and hiking the numerous trails. It's also a perfect getaway to get some writing done too. What else do you have planned for 2021? I'm working on a number of projects such as a screenplay. But you can find out more about my work and background on my website christianhadjipateras.com and I'm also available on Instagram.