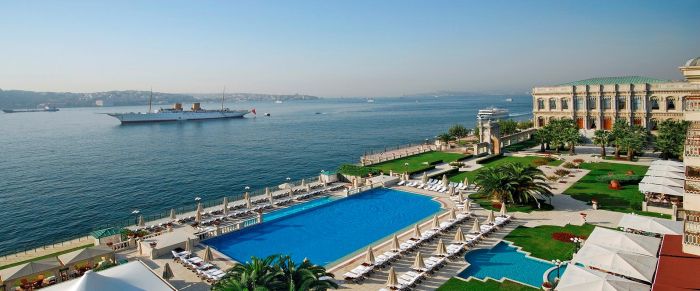 Ciragan Palace Kempinski Hotel Istanbul
Istanbul has been a gateway between East and West, Europe and Asia, and to the Middle East for centuries. Visitors from the world over, come to experience its famous mosques, Grand Bazaar, and Spice Market.
Situated on the Bosphorous Strait, the Ciragan Palace Kempinski Istanbul is comprised of a vintage imperial palace of 11 suites and the main building of 279 rooms and 20 suites. The palace building was the emperor's residence in the 17th century. A Who's Who of heads of state, opera stars, actors and celebrities have stayed here over the decades, and some of their images grace lobby walls. Among the property's many amenities are spa facilities with hammam and infinity pool, Laledan restaurant, Tugra restaurant, Bosphorus Grill. There's a lobby business center, and a fitness facility. Suites either face a magnificent park, the Bosphorus, or the Lilium Garden. Stroll the grounds and enjoy the intricate landscaping, and vessels cruising the Strait. The property is the only one in the vast city, accessible by helicopter and yacht. In the shopping arcade there is a delectable selection of pastries and chocolates, including large block shaped bars in the image of the Ciragan Palace.
Istanbul is a surreal metropolis to tour, with its melange of modern skyscrapers and centuries-old mosques. Its radiant fabrics, exotic spiced and handcrafted jewels. Visit the Hagia Sofia and the Mosque Of Suleyman The Magnificent. At the latter you will see fallen pillars out front, which date to the era of the Biblical Paul. You may also visit the Asian side Istanbul, on the more residential, hipster side of the Strait. See the Galata and Nistansasi districts, with their cobblestone streets, funky cafes and cool galleries. Sample the best baklava on Earth in Karakoy. Baklava Karakoy bakes baklava so delicious and delicate, forty layers of crust are thinner than a sheet of paper. There are narrated tours of the Strait by boat. The old tales, the daily calls to prayer, the views, the varied shopping are all sensory feasts. For a literal feast, try a dinner on the Strait at Ruby. Craft sail by as you eat and converse. Other fine hotels include the towering Raffles Istanbul, with its fantastic views, and the Four Seasons, a former jail which is currently graced with art, sculpture and expertly manicured grounds. Istanbul boasts infinite possibilities and is easy to get around by multiple means.