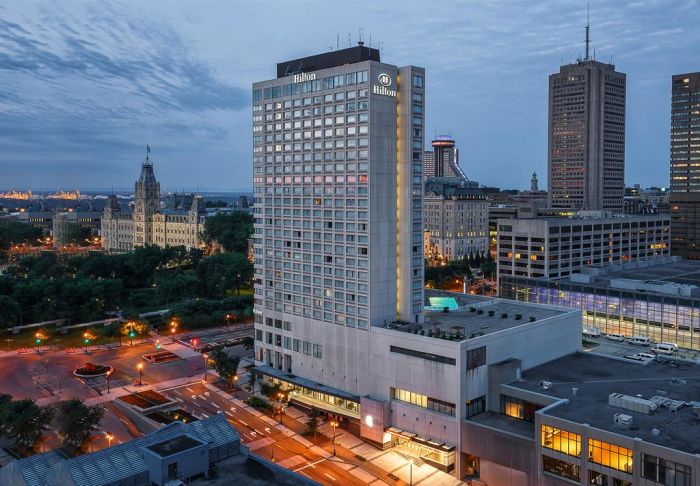 Photos Credit: Quebec City Hilton
Quebec City is the most picturesque urban area in North America. For a destination with so many beautiful vistas, whether of the Saint Lawrence River, distant mountains, or the stately architecture of its municipal buildings and churches, there is no superior vantage point than the Quebec City Hilton. From this towering property, one appreciates the visual marvel that is Quebec City. The hotel is convenient to all the charm and history below, as Quebec City so accessible on foot—with or without a tour guide. Try it both ways. When you return to you're room, you'll recognize the all your recently visited sites—the nearby Fairmont Château Frontenac, the Old Port area, the Parliament Building and the historic Plains of Abraham. During breakfast, or evening happy hours, guests will enjoy the Le 23 Restaurant on the Hilton's 23rd floor. Each floor-to-ceiling window provides a panoramic picture.
There is plenty of local shopping, from souvenirs to the latest fashions. Ride the Old Quebec Funicular, a rail lift connecting the Lower Town to the Upper Town. For another scenic experience, reserve a ride aboard the AML Cruises' steamship Louis Jolliet, which offers a 90-minute excursion along the St. Lawrence River. There is on-board dining, the option of themed cruises, rentals, a gift shop, and passengers are treated to a narrated bilingual tour encompassing coastal scenery, maritime lore, and a look at the white waterfall at Montmorency.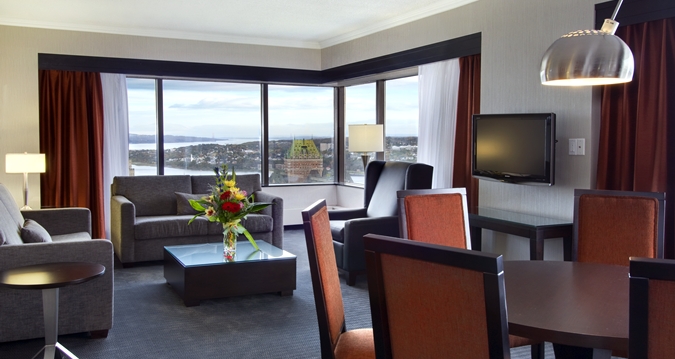 There are dozens of restaurants within a short walk. Bistro l'Atelier for tasty, sensible selections, and a little nightlife later. The Auberge Saint-Antoine, a Relais & Chateaux property, boasts Chez Muffy, with the decor of a vintage country mill. Everywhere inside the property, handsome display cases exhibit pottery, dishware, coins and glass from the early arrival of the French, all unearthed during nearby archaeological excavations. The Fairmont Le Château Frontenac's fine dining establishment is Le Sam, named for city colonial founder Samuel de Champlain. Take a break from the walking, and sample lunch at Monastère des Augustines. Not lot ago it was a convent; now a wellness retreat, it hosts a highly nutritional lunch in a serene setting. The healing hotel also offers an intriguing walking tour, featuring chapels, medical artifacts, and period art.
Quebec City hosts plenty of festivals. The Winter Carnival, the International Fireworks competition, and late summer's Nouvelle France Festival are among the most popular. Active vacationers will enjoy a bike ride along the Saint Lawrence. History buffs will be in heaven, as guides and other hosts throughout the city center are in period costume. A must stop is the Musee de la Civilisation, which lays out the story from The First Nations through the first Europeans, and beyond. Whether looking into its rich past, or looking at its expanse of beauty from the room in the Hilton or its restaurant, there is so much to see in Quebec City.