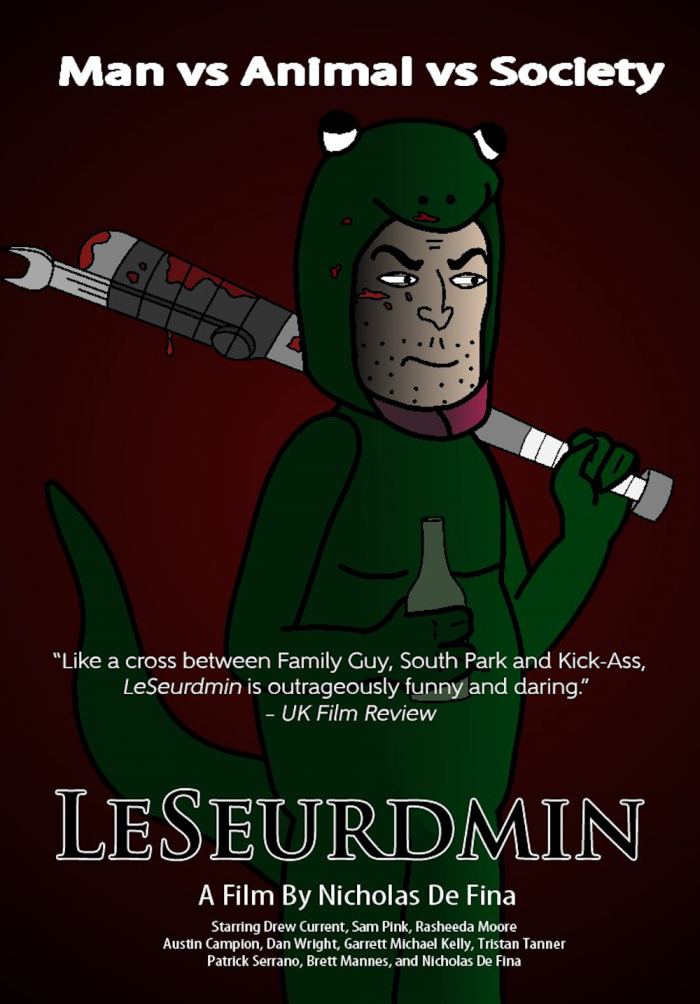 Nicholas De Fina
Nicholas De Fina was a funny kid, and in college he learned that he could transition his interest in comedy into film as a very independent filmmaker. From spending time in Chicago's famous improv scene to creating his own films, Nicholas is a very busy guy. Nicholas has his hand in every aspect of filmmaking from development (without benefit of outside or studio funding) to editing, often voicing his own characters and even learning the ropes of animation. The result is an entertaining, genre-blending first installment of what could prove to be a series. Newlywed Nicholas talks to JustLuxe about his earlier efforts and what's to come next for the characters in LeSeurdmin, the eponymous film of an unlikely hero:
When did you first start working in film?
Back in 2005, while I was in college and performing improvisational comedy here in Chicago. There is such a depth of talent in the improv world that it became easy to grab some funny people and cut my teeth on sketches and short films.
How would you describe your approach to filmmaking?
Exhausting. I try to keep my focus laser-beamed on every stage of production – from writing to directing to editing – so that I don't take any time off and let the project become stale or let myself get too relaxed. At most, I would give myself a couple days off in between any big milestones achieved. Any more than that, and there's the risk I would hear the sweet siren song of the Xbox One and get lost patrolling the wastelands for super mutants.
Comedy seems to be your strong suit, why did you choose to go in that direction with your projects?
I guess it always felt very natural to me, or that I was just drawn to it so much more than creating anything dramatic. That, or I am just a black hole of unhappiness and need to siphon laughter from normal, healthy people.
Incidentally, though, I prefer watching more dramatic film/TV. And horrible action films.
Which filmmakers have most influenced you?
Trey Parker and Matt Stone. The amount of sheer, independent effort they throw into their work is uncanny. Plus, their willingness to take on any topic, often brutally and without apology, is so refreshing in a world that seems mired in mediocrity, remakes, and over-sensitivity.
What was your first film?
PWNERS (2011). It was a mockumentary about two video gamers vying for an open spot on a professional gaming team. I believe it is exclusively available now on YouTube. On a huge plus side though, working on this film is where I met and became very close with my future wife.
Tell me a bit about your film LeSeurdmin?
Basically, it is about an alcoholic, Peter LeSeurdmin, whose life takes a sharp turn one day when his longtime girlfriend breaks up with him, so he decides to go on an all-day bender. When she leaves, she takes everything that she paid for, which is everything save for a couple pieces of furniture, odds and ends, and an old Halloween costume she left in the closet: a lizard suit. So, he dons the suit, goes to a bar and drinks a local craft beer made by Native Americans: ReptiAle, named due to its inclusion of Gila monster venom in the formula. After blacking out, he wakes believing himself changing into a half man, half lizard. While struggling to understand his new species assignment and abilities, he attempts to reclaim his girlfriend's heart while fending off attacks from a mysterious barbecue enthusiast.
You know, a tale as old as time.
How did you come up with the title?
Well, it is the protagonist's last name but also close to sounding like Lizardman. Luh-sirrd-min. It was always a goofy joke between my brothers and me or my friends and me to take a superhero name, tweak it slightly, and apply it to a normal citizen. Like "John Q. Spiderman (pronounced Spiddermin), attorney at law."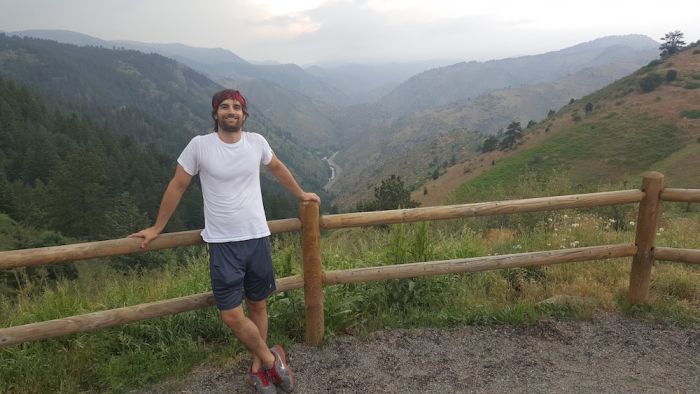 You seem to have worn many hats on this film, tell me a bit about the process.
Well, it honestly felt like I put my life on hold for five years to do this. The only amount of horn tooting I will do here is state that not a single dime of my budget was from any sort of Kickstarter campaign or money I didn't earn, as I can't justify anyone else paying for me to work on something that is my dream. For over two of those years, I was working full time and saving everything I could. During that time, I wrote the script, went to Montreal to learn the animation program directly from Toon Boom, and began storyboarding. The final three years I quit my day job and dedicated myself full time to working on the movie. Much of that time was spent not eating or sleeping enough and in a swelteringly hot apartment that got about two hours of natural sunlight. And I loved it as much as it tormented me.
What surprised you most in the making of LeSeurdmin?
Probably that I finished it. I kept telling myself to eat the elephant one bite at a time, but it was hard not to look at this massive project as a whole. I think I daydreamt of ways to kill myself with every object in my apartment when the task felt too monumental.
What would you like viewers to come away with?
Plenty of laughs and the reassurance that an independent film can hold its own against movies backed by millions of dollars. And a ravenous desire for my next film, of course.
Are you working on any new film project?
Yes. LeSeurdmin was originally thought of to be part of a pseudo-trilogy. He'll be back in Roofcop (Hint: there may be a post credits scene in LeSeurdmin. Bigger hint: there definitely is) and then LeSeurdmin 2. I'm also going to be helping the main voice actor from LeSeurdmin (Drew Current) as he puts together a sasquatch mockumentary.
Check out LeSeurdmin at leseurdmin.com.