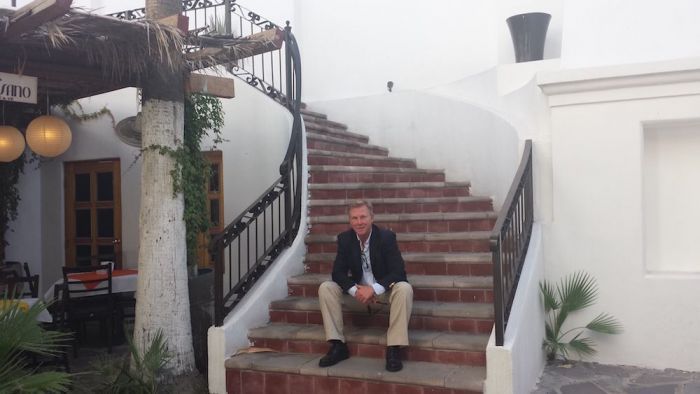 Steve Lyons in Mexico
Expressionist painter Steve Lyons has quickly risen to be one of New England's most highly regarded artists. Growing up in an impoverished home in Portsmouth, Ohio, Steve developed a passion for art at a young age that has blossomed into a successful career as an artist and gallery owner. In 2013, Lyons was the first American to share the main exhibition prize at the Stadtgalerie in Germany, and was offered a mentorship by famed Finnish designer Markku Piri. Steve has gained near instant recognition from the art world for his use of the impasto technique that some critics believe has changed painting. Although, perhaps not the most comfortable way to find out, a recent event did illustrate how in-demand his works are becoming. Not long ago, $100,000 worth of Lyons's paintings were stolen from an exhibition of his work in Berlin. Steve took some time out from his busy painting schedule to talk to JustLuxe about this devastating theft, which was a wake-up moment for the artist, and his new series, "Painted Ladies."
How did your journey as an artist begin?
I grew up in an impoverished home, but I was a very curious child and I listened a lot. From a very young age I learned about the great modern artists of our time, such as Matisse and Picasso. It took me a while to process it all, but at some point I became aware that there were "creative people" who in some way made a life and a living off their creativity. I began college as an art major but became frustrated very quickly. When I voiced that my art professors were trying to turn me into their "idea" of a painter, both my parents told me to drop the courses, saying, "You do not need a professor's permission to be an artist." Looking back, that advice was perfect, because I didn't want to be "a painter" who painted like a Dutch master. I was, am and always wanted to be an artist and a creator. There's a huge difference.
I dropped out of studio art courses and majored in Journalism. I was always drawn to writing, too, but to appease my visual side I minored in Art History in both my undergraduate and graduate degrees. Learning Art History was even more liberating and the perfect training ground for me because it taught me that great art begins with technique, and the more original and organic the technique is, the better (or at least more interesting) it is. By my late 20s I had moved on to being more of the painter I am now, and began having "Y-Art Sales" in my driveway or yard, wherever I was living. Strangely enough I would invariably sell everything I had painted. But it wasn't until 2011 when I began creating my seascapes on scrap lumber -- my "Momento Paintings" -- that my art career truly blossomed into an international event.
What drives you to create art? What is your passion?
I must create to feel like I am alive. It really doesn't matter if it's just doing doodles or gluing something to a board or paper, I have to exercise my creativity or I am not myself. Of course, I have learned that I need time to renew my energies and so I have learned to plan time away from painting (and more recently, sculpting) so that it is not a shock to me when I wake up. During this vacation from creating I try to spend time seeing others' art, whether it is at galleries throughout the world or the museums across the globe. I will often seek out children's art -- whether it is online or at a show in some location -- because children are the most creative and original artists we have, as confirmed by Picasso. It's a shame that at a young age children are taught to "paint within the lines," because it truly stifles or kills the essence of art in them.
You utilize the impasto technique in your work, can you tell me about this technique and why it is important to your art?
The impasto technique was invented in Italy around the end of the 13th century. It simply means using thick paint on the surface. It was a technique I was always drawn to, particularly as I learned to appreciate and love the paintings of Van Gogh. I have become noted for having taken impasto to the next level by using "thick paint" to create image itself. According to many, my use of impasto has created a new form of work that they call "sculptural paintings." I think that is a very good way to describe it. My reinvention of the impasto technique was vitally important to me as an artist because it provided me a means of expressing how I see objects and the world and how I think they should be experienced by others. If one's life is always just a visual experience, you miss out on truly connecting to the world. Of course, many are disappointed that they can't constantly touch the art every minute of every day without harming the painting. But the fact that the painting asks to be touched -- calls the viewer or owner to touch it -- is in itself a unique experience.
How would you characterize your style of art?
The basis of my art is Expressionism, and it is most closely associated with Northern European Expressionism. However, my work does exude a certain level of contemporary Americanization both through the markings and expression. Also, I believe that the difference between the European Expressionists and me is that my palette is lighter, generally speaking. Most importantly, I am an Expressionist and I work to both provide you insight into my emotions as well as trigger emotions in the viewer. When I see a scene, I work to paint what I felt when I viewed the scene not depict what I actually saw, shadow for shadow, highlight for highlight. The other important thing for people to note about my work is that even with my more traditional images, the paintings bridge abstraction with representation. I think this outcome is a hallmark of working from concept and interpreting an image so that it is organic to me and the canvas itself instead of just trying to duplicate an image. For me, an image is meant to be conceptualized and interpreted.
Are there any artists who have inspired you?
I am constantly inspired by all kinds of art. But I think there are painters and there are artists. I am the latter. Paint is just a media that allows me to express myself. But the full expression happens both in my head and brain and from my body. JacksonPollock inspired me by giving me permission to use a variety of tools and means to execute a painting.De Kooning reminded me that each stroke of paint requires bravery and daringness.Gerhardt Richter inspires me for being original in both concept and technique, and for handling his status as our greatest living artist with such dignity.Emile Nolde for helping to give birth to and exalting Expressionism.Picasso for reminding me that if you must create, you must create and that you never apologize for it.Manet for giving us Impressionism -- a new technique that changed art forever. And children everywhere inspire me for reminding me to paint with joy and originality.
Does your local environment have an influence on your choice of subject matter?
Yes and no. I live in a seacoast town with a beautiful but rugged terrain. I would be lying if I said that the sight of the sea, various lakes and thick woods don't influence me. But what is important to know is that I paint from concept (often with a dose of metaphor included). Essentially, working from concept is simply how I am mentally built. With "The Lone Dune," this series is not just about a spit of sand; it's about a lone dune in the sea that survives the storms, the tides and whatever "life" throws at it. In this way, the painting suddenly has, what some say, is a certain level of intellectualism to it. Metaphor is usually applied to written forms of communication; why not use it for the visual arts, too? I create from concepts in the literary arts. I've had heady experiences as a journalist and corporate writer -- but also as a creative writer, specifically as a playwright and film writer. Even in those worlds my output was and is led by conceptual thinking. So, I think I'm a bit unusual in that I bring elements of the written word to my visual arts.
You mentored under Finland's premiere designer Markku Piri, what was the impact of that experience on your art?
Markku Piri is truly one of the great designers, artists and thinkers of our time. His impact, particularly in Northern Europe, will be felt for a long time. My experience interacting with him has been eye opening, to say the least. He is a master of composition and design -- and implementation. He "discovered" me via Facebook, where I post a large percent of my work so that my son, who's a teenager, will have a record of my creative life. Markku reached out to me and offered me a mentorship -- a rare thing he does for a few up and coming artists. I was the first American he extended this to, so I was touched and honored. He introduced me to Finland's cultural world, both past and present, as well as the "art scene" there, including meetings with curators and gallerists.
Today he takes time to nurture and teach me specifically about composition and design. Sometimes his notes are short and sweet, sometimes they are where improvements could have and should have been made. One of my most treasured emails is a reminder of the importance of the "triangle" in composition -- complete with a graphic showing me what he meant (and expected from me). If I'm "stuck" I can also reach out to him and he'll shake the rocks in my head to inspire me.Most recently, Markku has been teaching me how to create a proposal for exhibitions at cultural centers and museums.
You were recently the victim of art theft in Berlin, can you tell me about that experience?
The theft of my art in Berlin was a wake-up moment for me. What most people don't understand is that to be creative you must hang on to a level of childhood within yourself. That innocence and naivety is a wonderful, deep, bubbling spring of inspiration and imagination and it allows you to create. However, the art world is a very adult place. It is about the art, yes, but it is also about finances and prestige, for the artist and for the collectors or owners of certain works. Because it is an adult world, there are people who want to take advantage of what you create. And so the art theft -- of approximately $100,000 worth of my paintings -- was a wakeup call that I must safeguard my work and my artistic self in more stringent ways.
This past March I went to Berlin to paint in the famed Heckman-Hofe. My atelier was on the ground floor there and so there was a lot of foot traffic. I was there for five weeks, painting in preparation for my first international exhibition in Freising, Germany, outside of Munich. During that time, the man who was to take my show to Friesing, art manager Joachim Perez, ended up stealing my art with the intent of selling it on the black market. Thankfully the work was recovered before it was sold, but the theft taught me that I must be diligent in protecting my work, regardless of where I am showing. Art lovers are everywhere, but so are thieves. My managers now take great time and care to insure my work is protected and that, to the best of their knowledge, the persons who are involved with my art are there to protect it, not steal it.
How did you come to create your Momento Paintings? What was the impact of these paintings on your career?
My Momento Paintings originated from my need to be creative -- and that feeling being met with a unique supply of materials. It was late August 2011, and I had just finished a large renovation project on my home on Cape Cod. Because of the renovation, I had many pieces of left over lumber. Needing to create, I painted about twenty seascapes and dunescapes on these different sized pieces of scrap lumber over the course of the weekend. Once I was finished painting I was asked by a friend, "Now what are you going to do with them?" Off the top of my head I said, "Let's put them on the front porch and see if they'll sell." Within two hours all of them were sold and many people were leaving notes asking if I would paint them one. So, between August 25 and October 31, 2011, I ended up selling over 100 of these small paintings that I began calling "Momento Paintings" because they depict little "moments" in the land and sea, and they're small like a momento you might buy yourself while on vacation -- something that reminds you of your visit or vacation.
By March 2012, my porch had become a destination for art buyers and onlookers and I started getting commissions for larger and larger pieces. It was all very frantic because I would work all week at my corporate job, then drive back to Cape Cod on Thursday night and paint and paint and paint non-stop just to keep up with the demand. By July of that year I was too exhausted to do much more painting and realized that I had to make a choice -- to be a full time artist or a corporate marketing writer. I decided to try life as an artist and I never had to look back. Within 6 months I had won the shared exhibition prize at the Stadtgalerie on the island of Sylt, an art colony in Northern Germany, and several months later I was offered a mentorship by Markku Piri.
Can you tell me about your recent series of "Painted Ladies?"
"Painted Ladies" is a new series that I began several months ago. The series began somewhat by accident. For several days I worked very long and hard hours on a large abstract piece. I had been under tremendous pressure to put together pieces for my exhibition in Mexico, and so playing and experimenting was a means of relaxing while still being creative. After many days, I was about to give up and set the canvas aside for another time. And then I found myself alone with nothing but the radio playing and I had a rush of energy. Without really thinking, I created a series of lines and markings that I instantly knew were organic and original and that the canvas had something to reveal. Within minutes, I could see that the image was of abstract bodies of women. I worked quickly, making this mark and that mark with this color and that, and then suddenly "the Ladies" -- both the concept and the faces of the Ladies -- revealed themselves through the creation of their blue eyes.
Recognition for the work was instantaneous. The first four sold off my easel within hours of completing them for record prices. The first one, simply called "Painted Ladies" is up for resell by the collector for $40,000. What's truly interesting is that the Ladies have become their own persons in a strange way -- and they reveal themselves in paintings as ethereal creatures across the canvas, which makes each painting unique and interesting. Three larger paintings of "The Painted Ladies" are on tour in Mexico and return home October 20. But only one of three is for sale, it being the one of the ladies watching over the pink trees in the park. The owners of the other two refuse to sell theirs. I have also secured three commissions for very large spaces in homes in the U.S. and Europe. So the "Painted Ladies" have been very good for me as an artist, both creatively and my reputation.
Are you currently exhibiting your art anywhere? Do you have any upcoming shows?
My work is currently on tour in Mexico and will simultaneously be featured in Poznan, Poland's famed art fair, and Berlin's famed Heckman-Hofe. In 2016, plans are underway for exhibitions in the cultural center in Potsdam, Germany and in Dresden, as well as at the Stadtgalerie in Sylt, Germany. And throughout the year my work is on view at my working studio and gallery in Chatham, Massachusetts. Additionally,I am now creating a proposal and looking for financial backers for a large installation art event utilizing light sources. My goal is to showcase it at the Berlin Light Show, an annual extravaganza where artists use lights to create images across the government buildings and museums in Berlin. I would then like to move it to New York, L.A. and Chicago. I originated the concept thinking it fits best in more urban environments, but with some tweaks the elements of the installation could make it very interesting in other venues, too. If you know of art lovers looking to be producers of an installation piece, please let them know I'm looking for them!
To learn more about Steve Lyons and view his incredible work visit his website http://www.stevelyonsart.com/.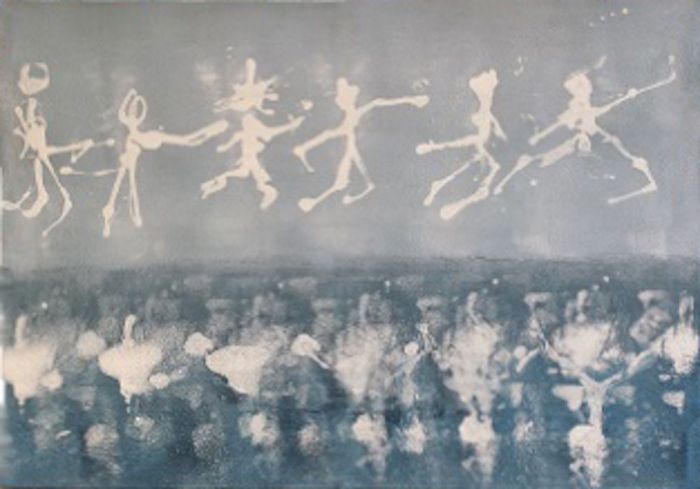 Steve Lyons
Dancing Clouds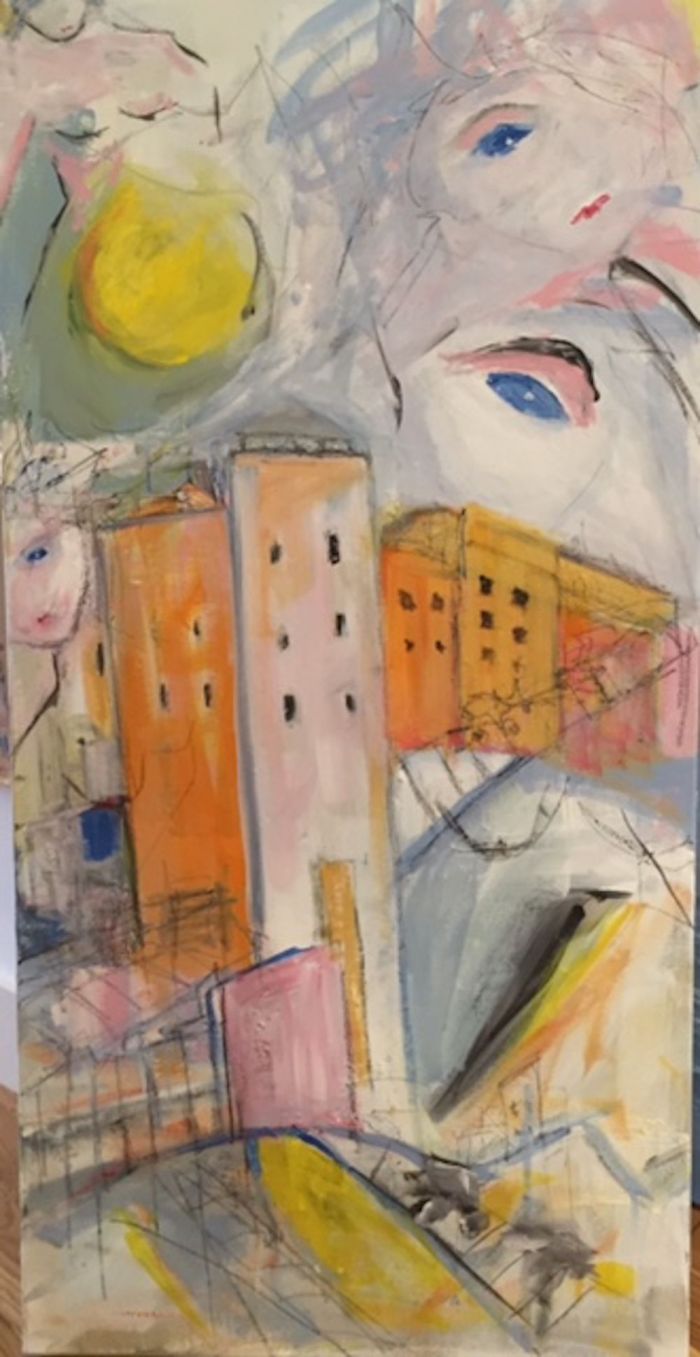 Steve Lyons
A Visit to the City #2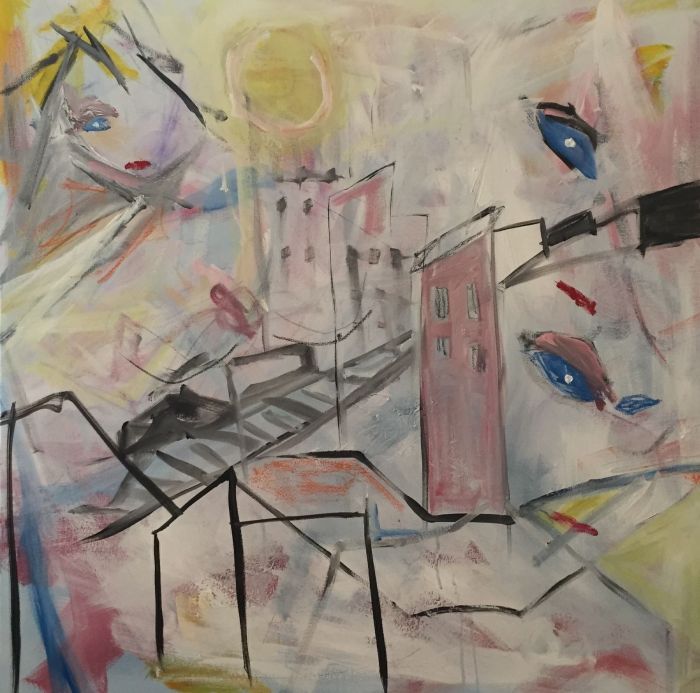 Steve Lyons
A Visit to the City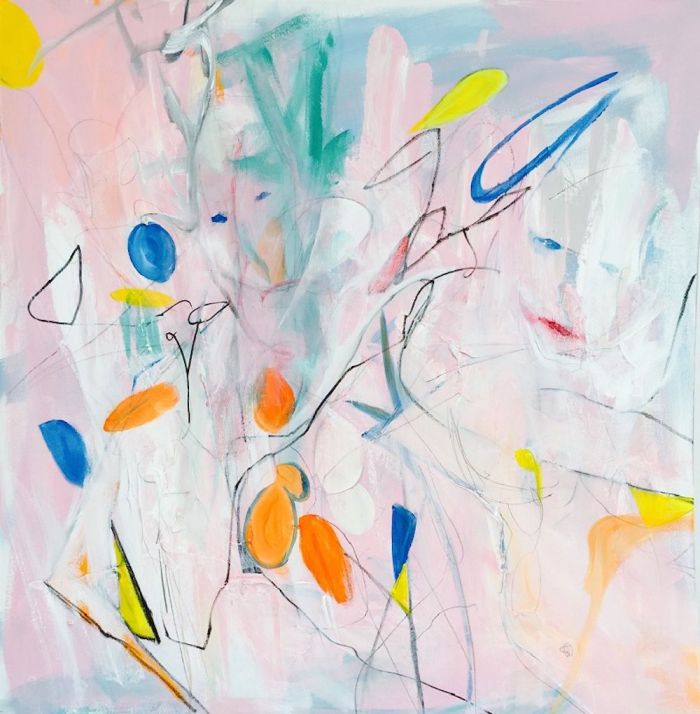 Steve Lyons
Painted Ladies At the Fair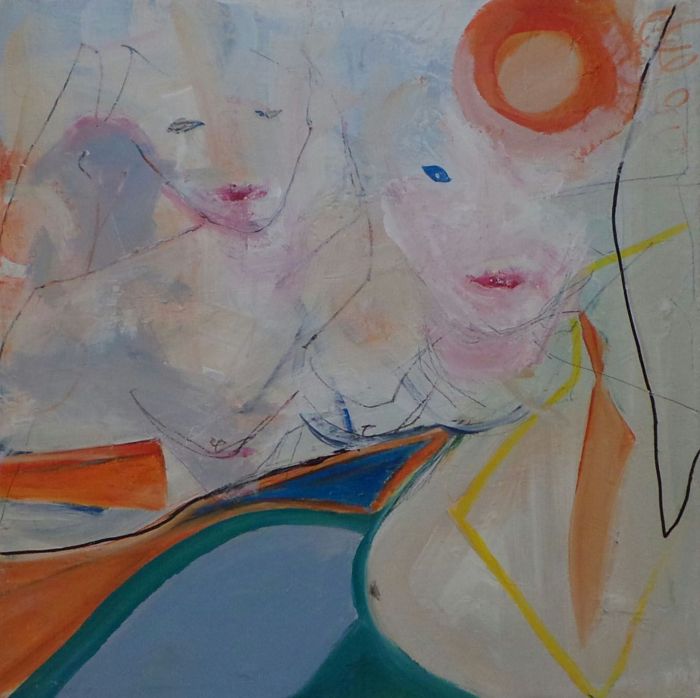 Steve Lyons
Painted Ladies Attend the Ball