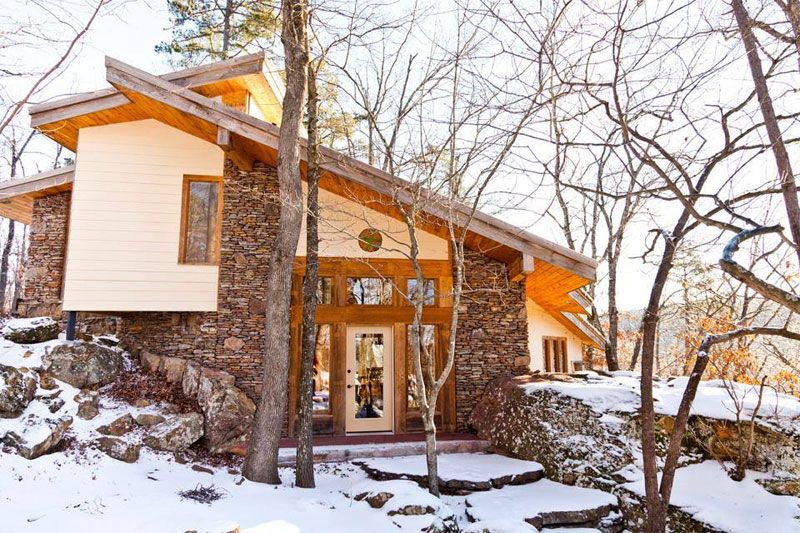 Photos Courtesy of Longbow Resort
Imagine it's just you and your loved one in a quaint cabin, outside its large windows is a roaring waterfall that mesmerizes you prior. Up above in the loft, you drift to sleep to this sound as you dreamily watch the falls through another window from your bed. In the middle of nowhere, Longbow Resort rests in Arkansas, and as described, this unique cabin in the woods is a great place to stowaway and get away from it all.

It's definitely the spot to unplug, since your cell phone probably won't work. It's also best to rent or drive a four-wheel vehicle down the rustic road that leads to the retreat. Inside the accommodations, cozy fires burn in the stove as the waterfall trickles down the side of the massive stone walls that sits outside. The cabin has been built on the side of a rock ledge. This getaway was masterminded and built in 1968 by legendary archery marksman Ben Pearson, who revolutionized archery in the '50s and '60s.

The entry to the dwelling is picturesque, and before you go inside, you may find yourself in awe of the natural beauty surrounding the residence. It may even take some time before to register that the music of the forest and the lush greenery is your own personal oasis during your stay.

Not only is the cabin fabulous and the falls surreal, to the left of the water is a small open cave where a hammock awaits. Spend some time there with your loved one and bask in the grandeur of nature, or hike the Ozark trails, and discover the wildlife. Perhaps you will even spy some wild turkeys, deer or if you are really lucky, a small bobcat…but they are very shy animals.

While a little more rustic than your average luxury hotel, Longbow Resort is perfect for the nature-lover and traveler who wants less glitz and glamour and more rugged simplicity. There are two other very unique cabins on the property to choose from with their own distinctions, check them out, and see which one fits you best. Rates begin at around $175/night during low season and four-night packages begin around $625 depending on cabin.