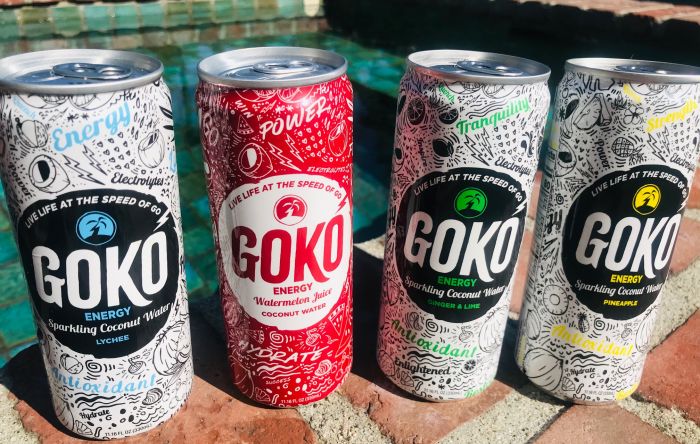 Jill Weinlein
While Entrepreneur Jeff Krishbaum was traveling along the Mekong River in Vietnam, he discovered the coconut trees offered the sweetest coconut meat and water. Drinking the coconut water, he noticed it elevated his mood and offered a boost of energy. This inspired him to bring these health benefits back home to the United States.
Kirshabaum worked on R + D to create and develop four different GoKo Energy Sparkling Coconut Water flavors offering natural watermelon, pineapple, ginger, lime and lychee juice. Each can offers 89-95 mg of caffeine to give consumers a perk up.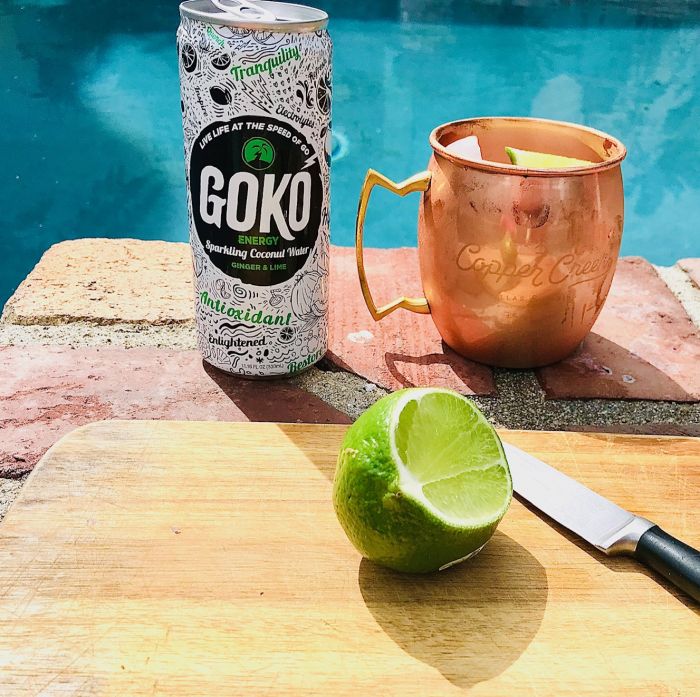 Jill Weinlein
The can is attractive with fun graphic art that features coconuts, lightning bolts, citrus, coconut trees and the words 'Antioxidants, Enlightened, Hydrate, Focus, Tropical, Restore, Fortify and Namaste.'
The Ginger & Lime GoKo Energy Sparkling Coconut Water has 0 Fat, 0 Cholesterol, 66 mg Sodium, 20 grams Carbohydrates, 18 grams Sugar, 33 mg Vitamin C, 314 mg Potassium and 95 mg Caffeine. It also makes a great mixer for a Moscow Mule, offering a non-alcohol Ginger Beer flavor.
Here's how to make a GoKo Moscow Mule:
Pour 3 ounce of vodka into a copper mug
Add ice cubes
Pour GoKo Energy Sparkling Coconut Water Ginger & Lime
Stir to combine
Squeeze and drop a lime wedge into the mug for additional flavor and garnish.
Jill Weinlein
Three other GoKo Energy Sparkling Coconut Water flavors include Watermelon, Lychee and Pineapple. Alone they offer between 80 to 90 calories, Vitamin C, and Potassium.
Also these beverages are a great pick-me-up in the afternoon, and a wonderful margarita mixer for Happy Hour.
Here's a GoKo Margarita recipe:
Ingredients:
Ice Cubes
3 ounces Tequila
2 ounces of freshly squeezed lime
1 can of GoKo Energy Sparkling Coconut Water - Watermelon, Pineapple, Lychee or Ginger & Lime
Shake in a shaker and pour into a glass
Rim the glass with lime juice-salt-sugar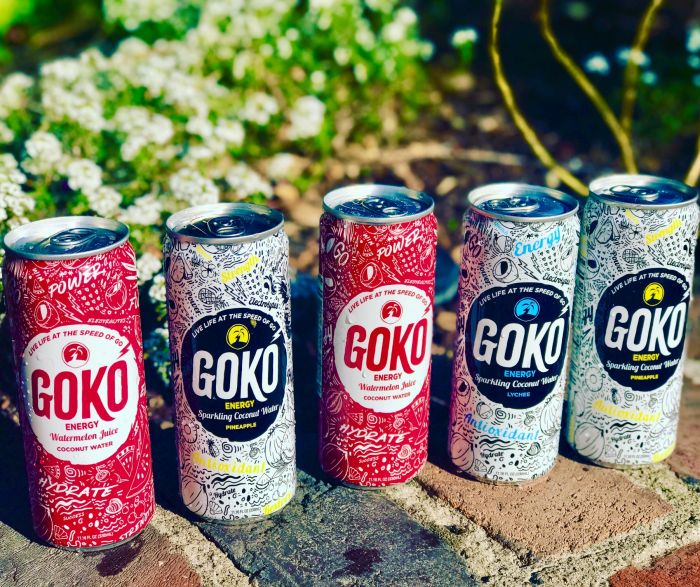 Jill Weinlein
GoKo can be ordered online or for pick-up and/or delivery at a variety of shops in Los Angeles that include Monsieur Marcel at the Original Farmers Market, the Oaks Gourmet Market, the Kosher News Stand on Fairfax Avenue, 7-Eleven stores, and Mini Mart on Venice and on Beverly.