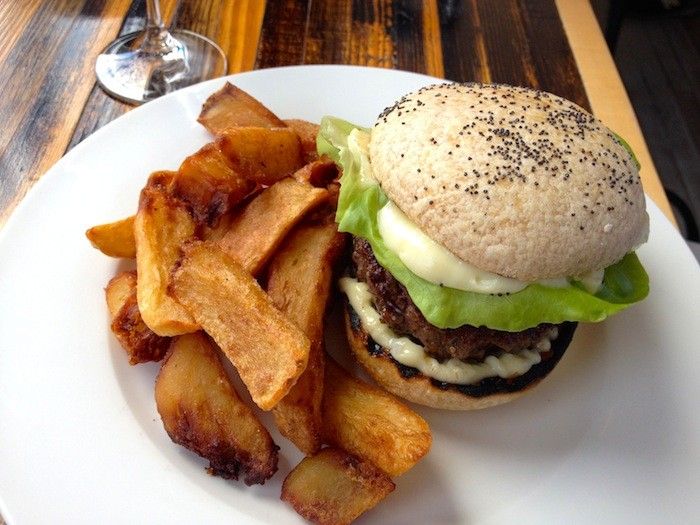 jrn
It's been about a decade since the trendy Mile End nabe started becoming gentrified, but during the last few years it's become the absolute epitome of cool. Full warning: If your first reaction is a disdainful "I'll pass then, thanks" you will be missing out on what has essentially become the microcosm for Montreal's best_____ (fill in the blank with gallery, restaurant, bar, whatever…)
Mile End claims to have the highest density of artists per kilometer in North America, notably Mordecai Richler who wrote about his neighborhood in The Apprenticeship of Duddy Kravitz, the Grammy winning band, Arcade Fire and singer-songwriter, Ariane Moffatt. It's also a multilingual, chop suey mixture of Hasidim and hipsters, young entrepreneurs and old-school shopkeepers and home to possibly the world's longest running bagel turf war.
The main factor behind Mile End's rise to kooldom happened in 1997 when video-game giant, Ubisoft, opened their H.Q. in an abandoned denim factory in what was then a quiet, low-rent corner of Mile End. Nowadays, particularly during lunch hour, you'll find the area packed with about 2,500 Ubisoft designers, who spend approximately $40,000/weekly on their lunches.
Below are my completely biased "Best of Mile End" experiences:
Best Introduction For Food-lovers: For a helpful overview of the nabe (perfect for getting the gastronomical lay of the land before striking out on your own) sign up for The Mile End Montreal Food Tour. At the end of three hours you'll be stuffed full of both historic fun facts and fabulous food. Our enthusiastic and highly knowledgeable guide, Marc André, took us to about six food stops (many are listed below) where we met the owners, heard their stories and sampled some delish local food products. He also showed us some off-the-beaten track non-edible spots. No surprise that this tour consistently scores a 5 star rating on Tripadvisor!
Best Coffee: Café Olympico- this legendary coffee bar, with an old school, Italian sports vibe doubles as a informal community center where the locals gather for a little chit-chat on the wrap-around patio. When I was went it was so jammed with fans watching the World Cup that I couldn't get in to try the coffee- though supposedly it's killer. Olimpico is aka Open da Night because the sign out front used to read "Open Day and Night" but some of the neon letters burned out and they never got around to replacing them.
Best Savory Treat: Phyllo Bar Mélina, a teeny Mediterranean blue and white café, named for the late Melina Mercouri, feels so authentic you'd think it was airlifted from Athens. Even if I didn't care for the phyllo delights served here, I'd be tempted to add it to the list simply because the entrepreneurial, Haitian/Greek owner, Joanna Chery was such a delight. But the good news is I was totally hooked after my first bite of her spanakopita, which showered a cascade of hot, crumbly pastry flakes down the front of me before I reached the oh-so-tasty cheesy spinach interior.
Best Designer Chocolates: Chocolats Geneviève Grandbois is the perfect end to a perfect day, or the perfect antidote to a crummy one. Even if you think you can't fit in another bite, clear a petite space for a bite of chocolate heaven. Best selling classics include Gianduja (caramelized hazelnut butter) Caramel à la fleur de sel (salty caramel) as well as more exotic flavors such as Balsamico (a balsamic vinegar flavored ganache), Truffe blanche (white truffle oil ganache), and Piment (3 types of chili peppers).
Best Bookstore: Drawn & Quarterly is a one of a kind geek/chic bookstore featuring locally produced stories, fine art books from around the world, graphic novels and indie comics. D & Q is one of the leading alternative comic book publishers in Canada. This is a fun spot for browsing away a rainy afternoon.
Best Pasta Sauce This Side Of Italy: The sophisticated looking Drogheria Fine is a 300 sg. ft. minimal, culinary jewel box that specializes in one main product, "La Salsa Della Nonna" or "Grandma's Sauce". There are a few variations on the traditional tomato sauce such as a spicy pesto flavor but make no mistake this is a tomato sauce house. After leaving the restaurant industry, owner Franco Grattuso's (who could play a starring role on "The Soprano's") passion was to "continue the history of my culture and of the history of Montreal culture" one bottle of quality sauce at a time.
Best Secret Cooking Classes: Les Touilleurs is an airy white on white on wood kitchenware store that caters to the gourmand in search of cheerfully colored French oyster knives or handcrafted maple kitchen tools by Quebec artisan, Tom Little. If you plan (way, way) ahead you might be able to score a spot at one of their famed cooking classes taught by top local chefs.
Best Jewelry I Wish Someone Would Buy For Me: Although Galerie Noel Guyomarch looks like an art museum filled with exquisite pieces of contemporary jewelry, there is one important difference- these works of art are for sale! Guyomarch is also the curator for Remarkable Contemporary Jewellery, whihc is currently showning at the Montreal Fine Arts Museum.
Best Gallery/Boutique Two-fer: Open since 1998, the adorably quirky Monastiraki is clustered with collectible curios curated by Greek-Canadian owner/artist Billy Mavreas and partner Emilie O'Brien. You never know what you'll unearth as you paw through piles of avant-garde flea market finds or original prints layered in stacked metal drawers. Rotating exhibits by over 70 local artists keep things fresh and exciting. When I asked Billy what one thing he would save if the store were on fire he replied, "That would have to be the Expo 67 print byRaymond Biesinger, which is only $50."
Pssst: Billy said to invite you all to Monastiraki's Sweet 16 celebration on Sunday, the 17th of August 2014.
Best Burger Of All Time: The comfy, casual/chic Lawrence Restaurant not only serves the most succulent burger I've ever devoured but it's also touted as the best brunch spot in the 'hood, or perhaps the whole city. It stands to reason once you know that the uber-talented British chef, Marc Cohen, also owns Boucherie Lawrence, an artisan butcher shop just a few doors down, "offering locally and respectfully raised meat."
Best Designer Mix & Match Boutique: Lowell Boutique is a new kid on the block, featuring the finest Canadian designers in a bright artsy space decorated with vintage finds. One standout is the RF Collection by local designerextraordinaire, Rachel Fortin, who spends hours upcycling second hand clothes, furs, and leather into her unique line of handmade accessories. "Because we live in an over consumption world, we should take advantage of this opportunity to renew existing materials," claims the young fashion designer.
Best Time-warp Luncheonette: The nostalgic Wilensky's Light Lunch has been serving their popular "Wilensky's Special" (grilled all-beef salami and baloney sandwich with mustard) exactly the same way since 1932, although the price then was only 32 cents. If you're a newbie you need to know the rules:
1. The Special is always served with mustard.
2. They are never cut the sandwich in half.
3. No tipping.
A classic example of "if it ain't broke, don't fix it!"
Best Outdoor Treasure Hunt: Get off the main drag and stroll along the quiet, tree-lined residential streets to see some of the typical houses with quaint wrought-iron balconies and twisting staircases. Keep your eyes peeled and you might find some of local installation artist, Glen Lemesurier's, hand welded iron sculptures.
Best Renovated Theater: The Rialto Theatre hosts an eclectic blend of live music and theatre ranging from PastaOpéra, authentic Italian cuisine, accompanied by operatic arias performed by the chef, to the POP Montreal International Music Festival. Even if there isn't a show stop in to tour this beautifully renovated Louis the XVI style cinema, originally built in 1924 to show silent films.
Best Love-at-first-lick Ice Cream: When you need a little pick-me-up, look for some rainbow-colored, circular benches filled with happy people licking their ice-cream cones and you'll have found teeny- tiny Kem CoBa, owned by Vincent and Ngoc, a lovely French/ Vietnamese couple, who were both professional pastry chefs. Kem CoBa is Ngoc's nickname which translates to "third auntie's ice cream".
Rotating flavors are made from the purist ingredients, resulting in some crazy-good flavors such as burnt butter, 72% chocolate, Masala chai, pandan leaf, and soursop sorbet. But the real draw here is the homemade artisanal soft-serve. There are always two flavors available, which are optimal when you order the two-flavor twist. Their almond milk and sour cherry soft serve twist is like cherry pie ala mode in a cone.
Best Seriously Fun Brew Pub: Dieu du Ciel has reached a cult-like status for its wide range of craft beers both on tap and in bottles, served by a friendly staff who are more than happy to make some excellent recommendations. Grab a table, sit at the small bar or head out to the terrace to enjoy your brew of choice or opt for a sampler (about $2.50 a glass) before you commit.
The owner, Jean Francoise, is like a mad scientist (he actually did study molecular biology) throwing exotic fruits, herbs and peppers into the brew to create taste sensations such as a wonderful "Peche Mortel" coffee Imperial Stout and an astonishing black pepper "Route des epices".
Best Bagel war of the century: Is the winner Fairmount Bagel or St.Viateur Bagels? I'm so not going to touch this one, since I think it would be easier to broker a peace deal between Israel & Palestine. Suffice it to say that both bagel institutions have been open for eons. They both make identical looking, hand-rolled, wood-fired baked, delicious, sesame encrusted bagels, and they each have their legion of followers. After a side by side tasting, I thought that St. V's were a bit saltier while Fairmount's were slightly sweeter. Since they are just a few blocks apart you can do your own taste test.
jrn
Dieu de Ciel
Drawn and quaterly
Drawn and Quarterly
jrn
Bagel turf war
jrn
Galerie Noel Guyomarch
jrn
Lively street murals
jrn
Enjoying the Wilensky Special
Sauce
Nothing but the sauce
jrn
LesTouilleurs
jrn
Lowell Boutique