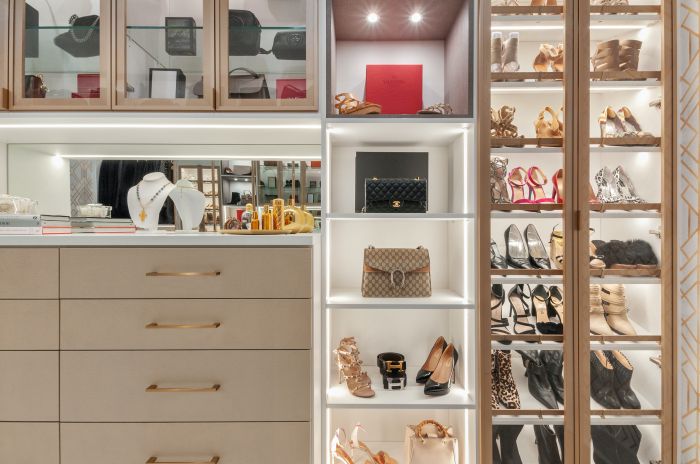 unsplash/Chastity Cortijo
A glamorous closet always makes us smile. It's stylish and it's a reminder that life isn't always chaos! And a luxurious closet is exactly the kind of space that your beautiful clothes deserve, whether it's luxury sportswear or international designer fashion.
Say it with us: Let's do a closet remodel!
You can't change the size of your closet, but you can change how you use the space inside, and you can change the closet doors. This might not sound like much, but if you've never done a closet remodel it's going to blow your mind.
Closet Doors: Designing the Perfect Wrapper
Your closet is often going to be shut, so the doors have to look good—just like the wrapping on a gift box.
Changing the doors on your closet is pretty easy, and there are many luxury closet door systems out there with clean, minimalistic designs that will complement rather than clash with your bedroom's decor style.
Closet Interior Design: Creating an Artwork
A glamorous closet needs to make good use of vertical space, keep the eye interested, and of course provide necessary storage. There are three main factors to keep in mind when creating your new design:
- Heterogeneity of layout
- Uniformity of theme
- Classy lighting
1. Heterogeneity of Layout & Materials
You know what looks bland? A closet that only does one thing. Your bog-standard closet is just an upper shelf with a clothes rod below it, and maybe a shoe case stuffed into the corner. It's boring. That's boring!
Transform your closet layout by incorporating some heterogeneity, i.e., different types of storage:
- A chest of drawers works great as your main storage for socks, underwear, and foldable clothes.
- Shelves that are spaced close together vertically are good for relatively flat objects like shoe boxes.
- Cube shelves are perfect for showcasing hat boxes, luxury shoes, and flashy purses.
- Closet organizer accessories like extension hangers can help you to store unwieldy clothing when space is limited, while pull-down closet rods can be a lifesaver if you're short or have high ceilings.
- Standing cabinets with their own doors can add layers of visual depth while protecting your belongings.
- Naturally, keep the rod for hanging clothes. Bonus points if you can come up with a design that divides your hanging space into two different parts of your closet.
In addition to different types of storage, embrace different types of materials. Dark wood and glass are both popular right now, and are going to stay in style for years to come.
2. Uniformity of Theme
If your closet's layout is the place to go wild with heterogeneity, its theme is where you need to bring it all together into a harmonious whole.
- To unify your closet's theme, here are a few guidelines:
- Use complementary colors. Avoid colors and textures that clash with each other. Don't overthink it; just follow your intuition.
- Punctuate your color scheme with vibrant splashes of more intense color in a few places.
- Use the same decor styles for the various components. A sumptuous vintage-style chest of drawers might look silly next to a minimalist 2000s shoe rack.
- Integrate freestanding pieces of furniture together with creative use of shelving so that your entire closet feels like one, single piece.
When you're getting dressed for going out on the town, having a really good-looking, unified closet design is going to hype you up and make you feel so good.
3. Classy Lighting
Adding lights is probably the single easiest thing you can do to make your closet more glamorous. (This is also true for cabinets and bookshelves.)
You don't have to run a new circuit in the wall. You can use battery-powered lights. Alternatively, you can discreetly conceal the electric cords where they will not be seen, or use decorative electrical cords that you display with pride. For the switch, put a wireless remote unit in the outlet and plug the lights into that.
Safety Tip:Make sure any exposed electric cords are never placed where they can be rubbed up against, such as by clothes or by a drawer opening and closing. Use low-power lighting i.e. LEDs. No incandescent bulbs and no halogens.
In addition to the main lights in the closet ceiling, most or all compartments should have their own overhead-mounted light.
Stick with uniform-shade white LEDs of color temperature 3000K – 3500K. Some people like to add string lights around shelves and drawers, or lights of different colors as accents.
If you do nothing else to your closet, promise yourself that you will add some lights!