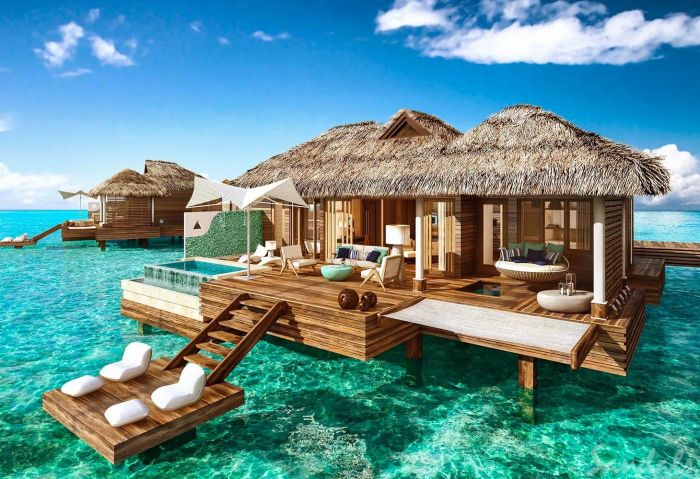 Sandals Royal Caribbean
72 Hours of Bliss at Sandals Royal Caribbean
When asked to describe their destination wedding, how many couples respond with the words "over water?" For those who choose the neighboring Sandals Montego Bay and Royal Caribbean resorts as their dreamy setting for island nuptials, "over water" becomes synonymous with "I do."
Sandals Montego Bay is the flagship resort for the all-inclusive dynasty know for luxury accommodations, epic Caribbean beaches, and pleasant daily surprises for their guests. The beauty of choosing Sandals Montego Bay as your next vacation home base is that guests have access to all the amenities at Sandals Royal Caribbean, located just a five-minute shuttle ride away.
For newlyweds, honeymooners, anniversary celebrants, and couples seeking a romantic getaway, this Sandals best of both worlds proximity means double the "over water" possibilities. This also means you have the option of plunging deep into your favorite Sandals resort for your entire stay or explore the ambiance, activities, restaurants, and accommodations at the neighboring sister resort.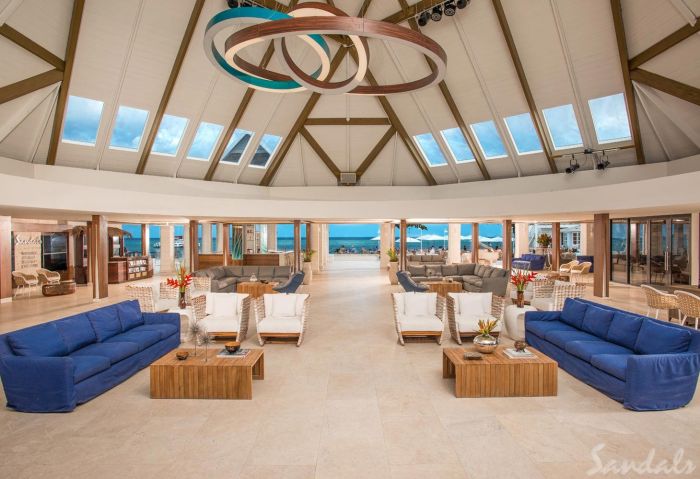 Sandals Montego Bay
Day 1 - Your Over Water Journey Begins
A Sandals Jamaica destination wedding offers endless Over Water possibilities. When combining Sandals Montego Bay and Sandals Royal Caribbean, a great wedding evolves into one that soars beyond your wildest dreams. Why not conjure a three-day, 72-hour plan of Over Water bliss? Why not a wedding that has you feeling like you've walked on water?
After a long day of air travel, you're eager to decompress after checking in at Sandals Montego Bay. The entrance to this sprawling all-inclusive is impressive and offers stunning views of the Caribbean Sea. You've chosen to kick off your Sandals first day with a Beachfront Swim-up Honeymoon Suite that includes a butler and patio soaking tub.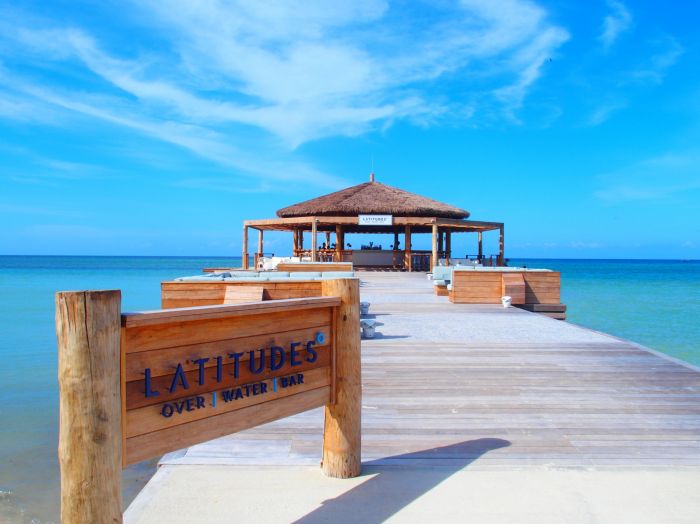 TimCotroneo
The beach is calling and your eyes veer toward a serene open-air structure positioned 50 yards out into the sea. Your first Over Water encounter begins with the words 'Latitudes Over Water Bar.' The bar boasts cushy seating and hammocks, all pointing toward the emerald green ocean. Javell, the bartender, smiles and says, 'Welcome home. Which one of our refreshing cocktails do you prefer?' Javell mixes a Lovers Leap for the newlyweds to be. The couple raise their glasses in an Over Water toast to Javell, the beauty of Montego Bay, and a pledge aimed at making a Latitudes return before their departure.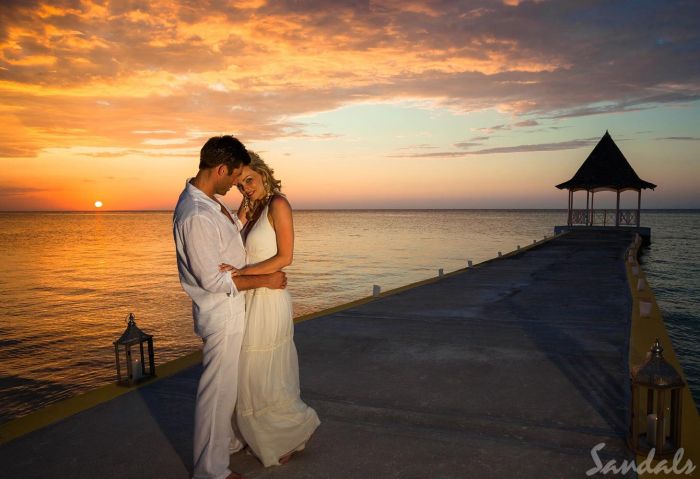 Sandals Montego Bay
Day 2- Your Over Water Wedding Day
Today's the big day! One wedding venue option is the picturesque on-property chapel featuring an enchanted garden at Sandals Montego Bay. This chapel seats up to 80 guests. You desire something more quaint, more intimate, and more Over Water.
The idea of an Over Water wedding is just too good to pass up. You selected Sandals Montego Bay's new Over Water Chapel. You walk barefoot on the beach, and then take 40 steps on a walkway flanked on both sides by the Caribbean Sea.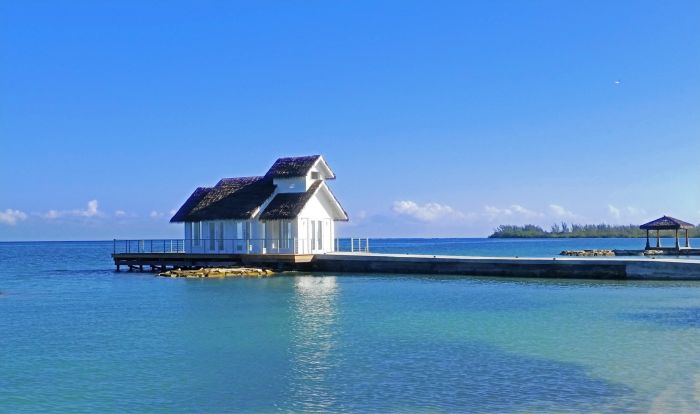 Tim Cotroneo
You look up at the petite white chapel adorned with a wedding bell at the top. The newlyweds can't help but smile at the overhead inscription that reads, 'Love is all you need.'
The minister greets the bride, the groom, and your special guest, the Caribbean Sea. The Over Water Chapel is framed in glass, all the better for connecting to the calm, the turquoise waves, and the soothing vibe that is Montego Bay. 'One love,' a favorite Jamaican lyric, captures the mood of your extraordinary Over Water wedding day.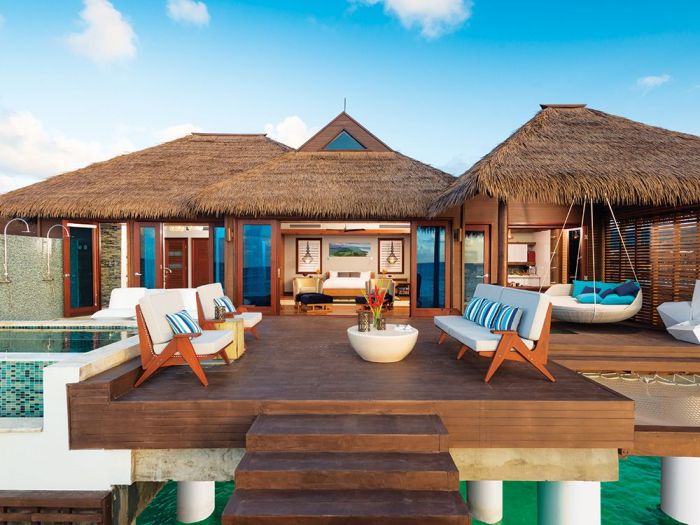 Sandals Royal Caribbean
Oh My! Your First Glimpse of Your Sandals Over Water Bungalow or Villa
Sandals offers accommodations that promise a night you'll never forget. You are whisked five minutes away to the sister resort, Sandals Royal Caribbean. Upon arriving at the Royal Caribbean, you hop on a water taxi for a five-minute ride to Jamaica's first Over Water bungalows and villas.
Upon docking, your 24-hour butler leads you along an elevated walkway to your new Over Water home away from home. Imagine stepping inside and viewing a glass floor that reveals turquoise water and Jamaica's famed marine life. Your butler shares that your floor, ceiling, and mirrors can all be lit to fit your mood. It's hard to ignore your regal bed, your well-stocked liquor cabinet, your indoor/outdoor bath, and your array of outdoor seating. It's time to simply indulge in this surreal Over Water honeymoon environment.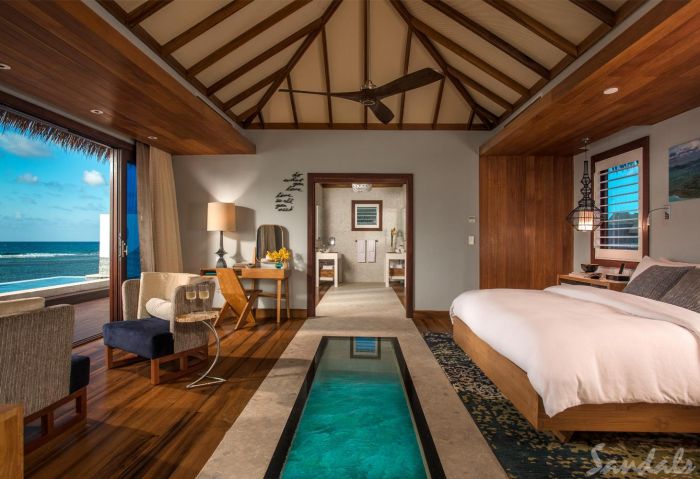 Sandals Royal Caribbean
After a sensational wedding and cozying up to your Over Water surroundings, the sun goes down and you are ready for a special meal to cap a special day. It's time for your wedding dinner on Sandals private island.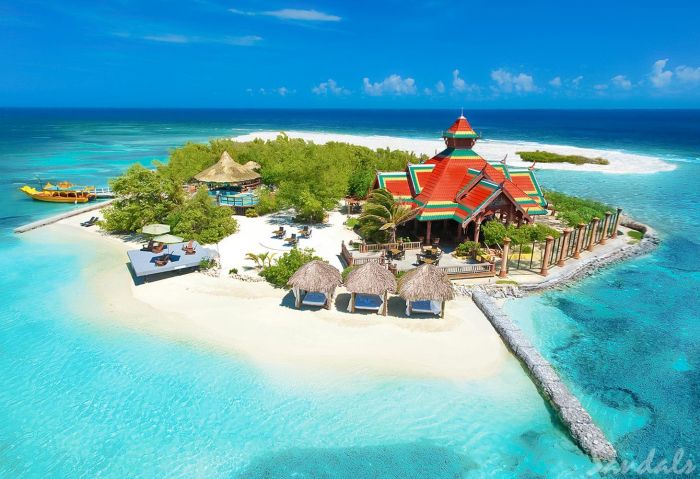 Sandals Royal Caribbean
Oh My! A Private Island Dinner
For tonight your palette is treated to another can you top this Sandals experience. The bride and groom eagerly anticipate their dinner reservations at the Royal That Restaurant.
The couple stroll from their Over Water villa to the island known as Sandals Cay, and the ornate entrance of the Royal Thai. You choose an open-air table looking out at the sea and beyond to the lights of Sandals Royal Caribbean. As the moon and the stars twinkle down on the newlyweds, they agree that the Royal Thai was the perfect cap to a perfect day.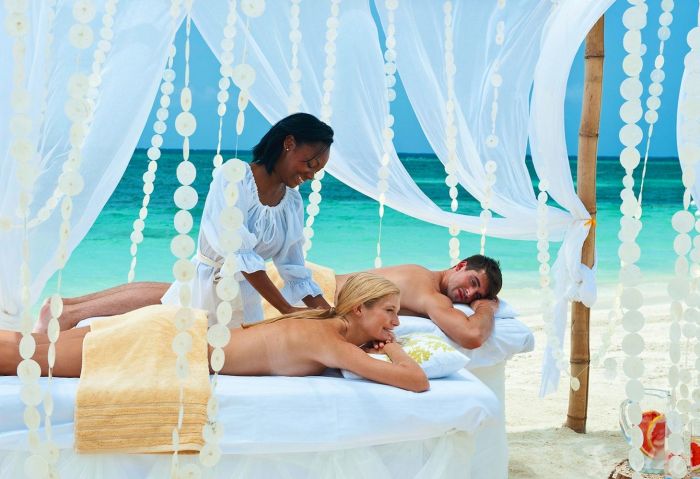 Sandals Montego Bay
Day 3 - Wellness and Renewing an Over Water Vow
On day three you head back to Sandals Montego Bay for a last bit of indulgence. You want to bond as a couple at Sandals renowned Red Lane Spa. You've chosen the Couples Caribbean Glow Body Treatment.
The newlyweds learn their massage can take place at the spa, on the beach, or in their Over Water Villa. Decisions, decisions, decisions. After a massage featuring a paintbrush and the delicate aroma of Chinese jasmine, the newlyweds are revitalized and have one last spontaneous task on their Over Water wish list.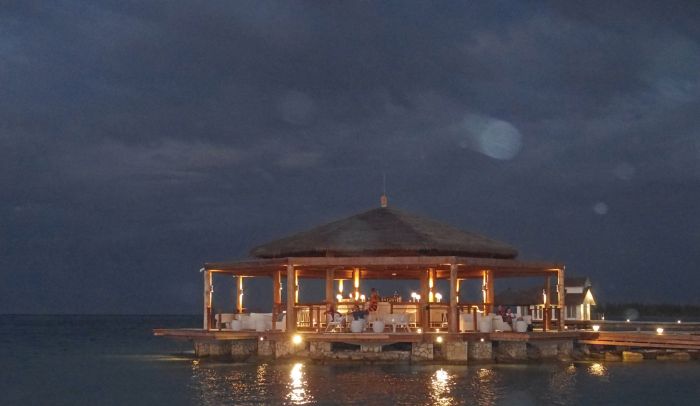 Tim Cotroneo
The new husband and wife made a vow that they'd return to the Latitudes Over Water Bar before returning home. In the evening, Latitudes takes on a whole new ambiance with lighting that basks in the moonlight. The newlyweds discover that Latitudes after dark is wrapped in the warm glow of the three fire pits positioned along the walkway leading to the bar.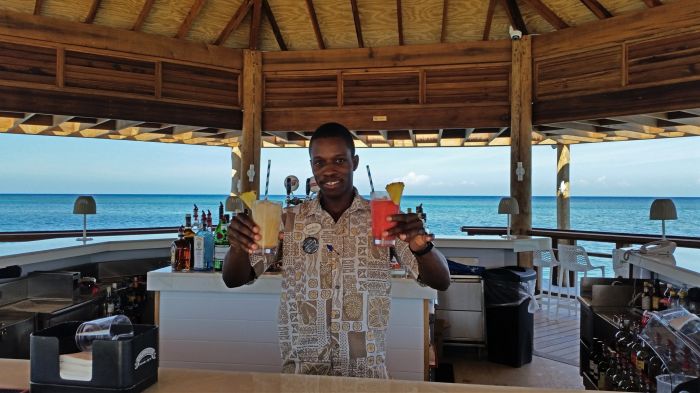 Tim Cotroneo
Unforgettable Over Water Destination
This time Javell suggests cocktails named SunDowner and Caribbean Delight. This time the newlyweds need only one word to describe their Sandals Over Water destination wedding experience. This time they click their glasses and say, Unforgettable.'