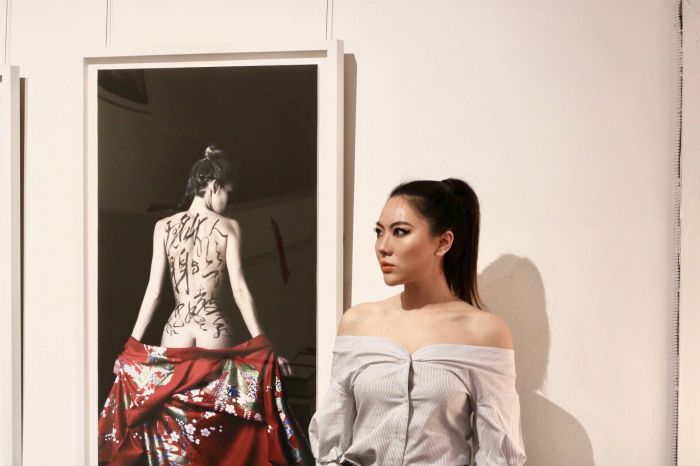 Photo Credit: Austin Alfaro
Los Angeles based artist Ni Li has founded her artistic career on transforming the ancient art of calligraphy. Having grown up in China, she began learning about calligraphy and classic Chinese prose at a very young age, Li continues to find inspiration in her native culture as well as contemporary style, technique and life in Los Angeles. Li has created an exciting new life for this ancient art form by merging traditional texts and poems with modern images for an innovative, artistic expression that has attracted collectors, enthusiasts and galleries around the world. Here, Li tells JustLuxe about the historic importance of her art and her path of contemporary expression.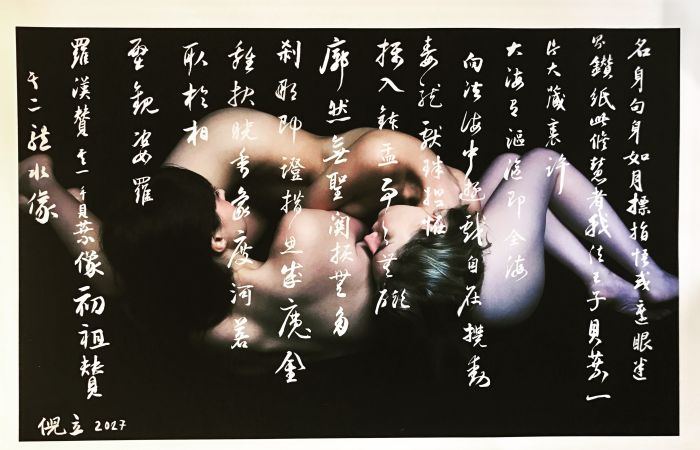 Photo Credit: Ni Li
How did you become interested in calligraphy?
I'm a person that has been eager for new knowledge since I was young. As the visual art form is prized above all others in traditional China, calligraphy embodies the most well-crafted art form; it requires time, practice, talent and a profound understanding of ancient Chinese language, as well as traditional Chinese characters. I'm eager for challenges and excitement, and calligraphy is something that won't bore me. It allows me to be alert and at the same time play with my creativity.
How does your career as a talk show host and columnist relate to your current career as an artist?
My experience helps me connect easily with people and understand how they feel. I also get lots of inspiration from people from time to time simply by talking to them, which allows me to better work on my own ideas. My interviewees come from everywhere, from the president of AMEX Asia Pacific to the most famous tattoo artist alive. As a private person who needs a lot of time to contemplate and work on my own, it doesn't feel comfortable for me to be in the limelight. My previous career path simply made me realize life is a journey that challenges you, wakes you up and helps you become who you are meant to be.
You were born in China, and now live in the U.S., how do you think living in different cultures has informed your artwork?
My artwork is rooted in Asian/Chinese culture, so I still keep some traditional and reliable Asian values, which makes me an old-fashioned lady for my age. I believe in well-crafted work and thoughts. I believe in beauty. I believe in history and time.
Meanwhile I'm deeply inspired by west coast culture, that's all what we consume nowadays. Here in L.A., it is so free. This is where I am meant to be, as the freedom is also what I have inside of
Photo Credit: Austin Alfaro
How would you describe your art?
Through my artwork, I want to convey ideas, values, and energy. I want my work to be powerful, bold and truly boundary-less in time.
How would you say your art has changed over the years?
I have become more expressive, true to myself and consistent everyday. Every day I get new inspiration and every quarter a new milestone has been made in terms of new exhibitions, new series, a breakthrough in my work, lots of press attention etc. I feel blessed everyday.
What artists have most influenced you and your work?
I like Van Gogh. He is passionate, honest and he's also able to express—you feel the fire from his heart though his works. I love Impressionism, Chinese calligraphy from the Tang, Song and Ming Dynasty, and Spatialism, such as Fontana. I see my art becoming more contemporary in the future, with the use of new technology, science and ideas.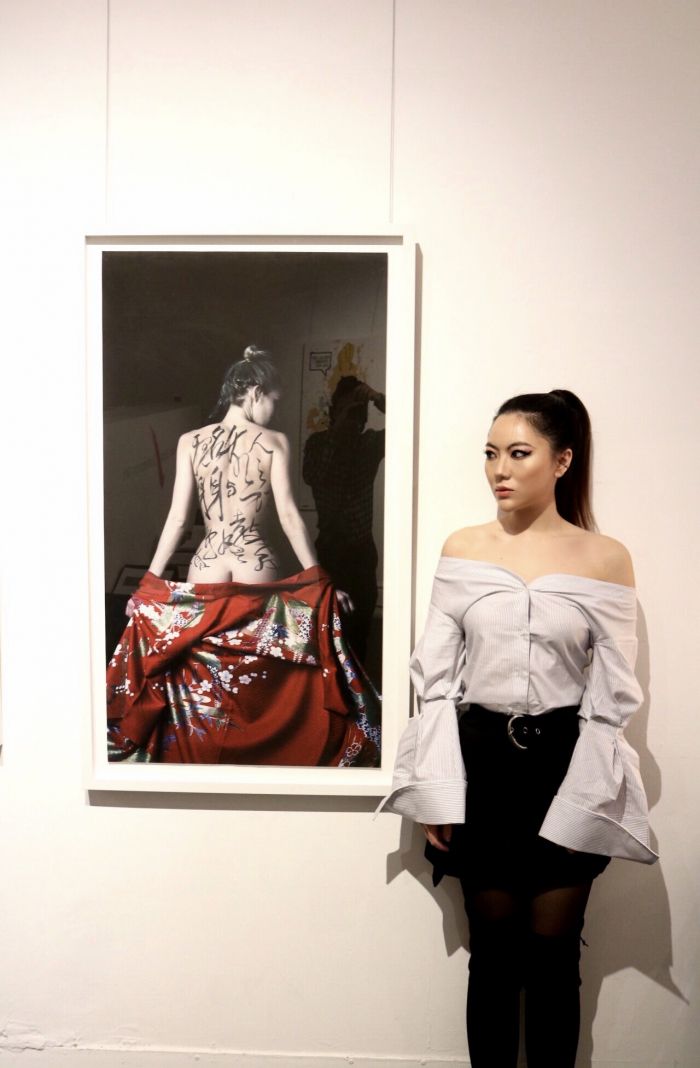 Photo Credit: Austin Alfaro
Can you each describe your personal aesthetics?
I'm subtle and direct. Subtlety is one important feature of Asian aesthetics and philosophy, the opposite of which is aggressive. I consider subtlety to be a feminine energy/Yin, and aggressive as Yang. Yin is an energy flow that is more receiving, learning, giving, tolerant, nourishing and humble.
I'm very straight forward at the same time, and I'm also very intuitive, sensitive, progressive and bold. I don't like any excessive ornaments or procedures if they are not necessary. I don't like pretentiousness or politicians.
Who is your typical clientele?
Right now, my Los Angeles team just set up an online Saatchi store where people can look up and buy my work. I also have people collecting my work from art shows. There are personal museum owners, the dean from a traditional Chinese medicine hospital, the director of Milan's biggest museum, property companies, the U.N., and government officials. They all highly appreciate Chinese calligraphy no matter who they are, and are open minded enough to appreciate my value as a young female in this male-dominated realm.
What are your hopes and plans for the future of your work?
There is always room for improvement. I want to make my work boundary-less between nations and cultures. I want to create artwork that will be remembered for all time.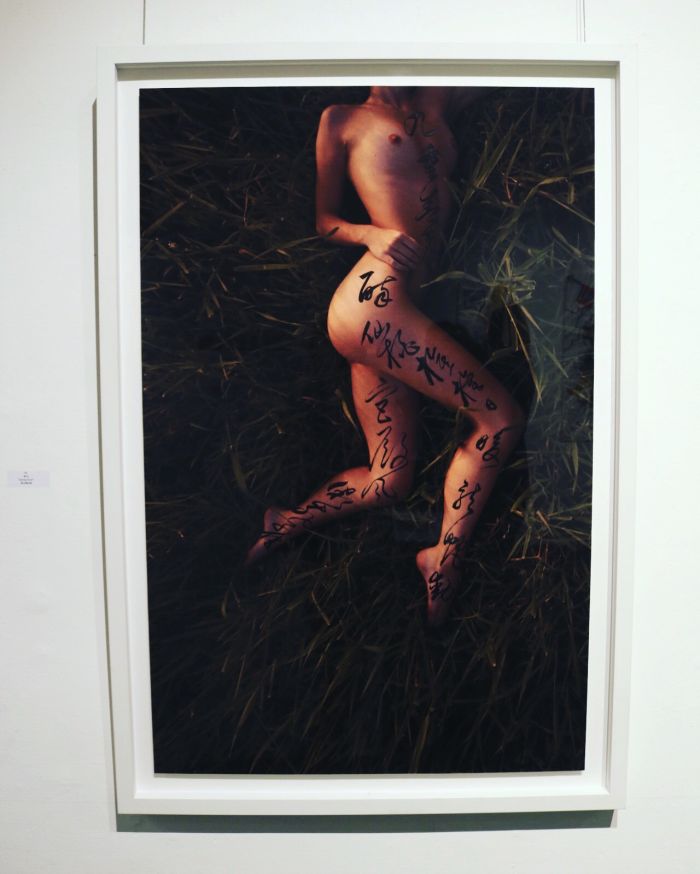 Photo Credit: Austin Alfaro
What are you currently working on?
I'm currently working on pieces that combine painting and calligraphy, showcasing different dimensions as well the eastern aesthetic in a contemporary, western way. You can either check it out online, or, this April at NYC's oldest art show, the ArtExpo!