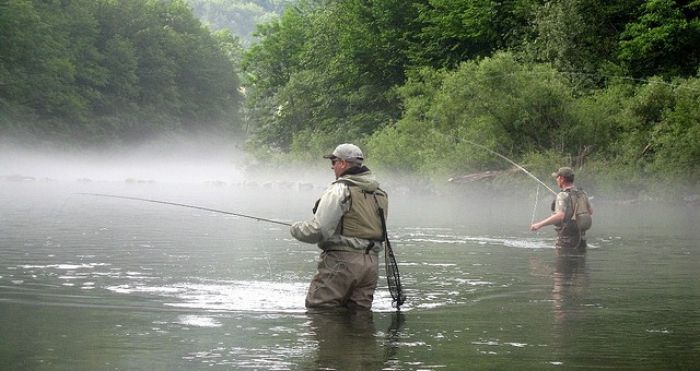 Flick User helti
If you long to be at one with nature, but don't wish to sacrifice the first class amenities of the civilized world, a luxury fly fishing vacation in Canada's north may be your ideal getaway. 

Home to unspoiled terrains and crystal clear waters stocked with impressive fresh water fish, the adventurer in you will be awed by your surroundings. And, after a day of fishing, you will return to the resort to enjoy the finer things that life has to offer including luxurious accommodations, top-notch dining, exquisite spa services, and attentive staff.

Heli-fish off the West Coast

Nothing grants you greater access to unspoiled terrain than a helicopter manned by expert pilots and wilderness guides. With access to over 50 waterways, Nimmo Bay Resort is ideally located in the middle of British Columbia's Great Bear Rainforest. This catch and release facility provides you with the opportunity to catch Coho, Sockeye, Pinks, Rainbow Trout and more.

An abundant array of amenities include billiards, a waterfall hot tub, paddle boats, a floating fire dock, and relaxing massages abound. You may also choose to partake in whale watching or bear watching tours and fully immerse yourself in your glorious surroundings. 

Whether you long to lunch at the top of an ancient glacier, sip cocktails on the dock, or feast on a scrumptious four course meal, there is something to satisfy even the most discerning of taste buds--and keep them coming back for more.

Get pampered in the Far North

If you long to fly fish, but don't relish the thought of "roughing it" in the bush, Scott Lake Lodge may be the perfect fit for you. Situated near the 60th parallel on the Saskatchewan and Northwest Territories' borders, this angler's paradise has access to over 500,000 acres of well-stocked waters. 

The location may be remote, but Scott Lake Lodge has made it easy to get there thanks to a private charter from Saskatoon. Upon your arrival, this stellar personal service continues as a staff of thirty-two caters to a maximum occupancy of twenty-four guests.

Three Beaver floatplanes will grant you access to sparkling waters filled with Northern Pike, Arctic Grayling, and Lake Trout. After your outing, return to excellent cuisine, a Finnish sauna, and a soothing hot tub. And no visit would be complete without experiencing the tranquility and restorative powers of the Stone Haven Spa. With a plethora of services to select from such as hot stones therapy, deep tissue body massage, paraffin treatments, and more, your trophy trout-catching muscles will be ready to cast the fly the next day. 

Hit a Canadian Grand Slam 

Accessing 5 million acres of unspoiled wilderness including 12 rivers and 100 lakes, Gangler's North Seal River Lodge and Outposts have gained fame as a prime fly fishing location--having been featured on television and in many magazines. It is known as the best spot to achieve the Canadian Grand Slam--catching Northern Pike, Lake Trout, Walleye, and Arctic Grayling--in one place. 

Located two hundred miles from Manitoba's Northernmost road, Gangler's North Seal Lodge affords visitors the perfect blend of the great outdoors and the amenities one would expect in a luxury resort. Impressive craftsmanship and masterful woodworking abound, accompanied by a stately fireplace and breathtaking vistas. Partake in billiards, ping pong, enjoy the extensive DVD library, or simply lounge in the Timberwolf bar. And indulge in an exquisite dining experience--five star cuisine designed to satisfy a robust appetite. Gangler's maintains a ratio of one guest to each staff member, ensuring excellence in service.

This is a mere sampling of the luxurious fly fishing resorts available to you north of the 49th parallel. Research your options before making your reservations. And check out a resort's online reputation for reviews--warnings or recommendations--before deciding which one to choose.

You can enjoy the rustic adventures of the great outdoors without forfeiting your indoor comforts. Catch trophy fish and spot grizzlies by day. Dine on five star delicacies and enjoy relaxing massages by night. And have a memorable vacation that affords you the best of both worlds. 

What did you most enjoy about your Canadian fly fishing vacation?