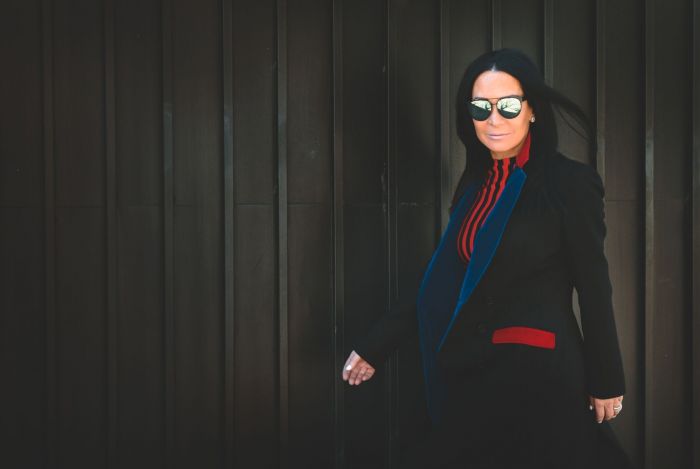 Photo Credit: NJ Goldston
NJ Goldston is not only The Brunette at The Blonde and The Brunette, but also an internationally recognized fashion trendsetter, style icon, and often referred to as the "Daphne Guinness of the West Coast." Recently named a "Style Icon" by Louis Vuitton and recognized as one of LA's "Leading Ladies of Style" by Angeleno Magazine, NJ gives use her glimpse into the LA luxury life.
With so many truly LUXE options in LA, these are her top ten list of LALA experiences that are worth every penny run the gamut from favorite restaurants and exclusive venues to the tried and true.
NOBU Malibu. With summer fast approaching this is the perfect spot for a special dinner by the beach. Even better, arrange to book the Chef's Table and bring your friends for a decadent dining experience or a special celebration. It will be a night to remember. If you're lucky enough, pick a separate day to head to the Soho Malibu Beach House with a member for brunch or dinner for another singular beach experience. To heighten the experience, consider a helicopter ride from LA Helicopters to beat PCH traffic or a luxury or exotic car rental from BH Car Rentals to get your there in style.
The BROAD. Head downtown late in the day, but book your tickets in advance, to explore The BROAD museum. Be sure to take in the Yayoi Kusuma Infinity Mirror Room and the Jeff Koons collection.
Portofino of Beverly Hills. Hands down the best spray tan salon in all of LA, you'll see every A-list starlet (and guys too) getting their famed, signature sugar scrub before the ultimate, proprietary one-hour custom sunless tan. Spray. Shower & Go. They also do house calls at almost any hour. Book in advance especially during awards season as they spray absolutely everyone including Met Gala attendees before they head to New York for the first Monday in May. The added bonus is they also have some of the best skin care treatments, skilled waxers, andthe best LPG machine in the country. If you don't know about it, the LPG LipoMassage & Endermologie Treatment is designed to tighten, tone and reduce cellulite while smoothing the body. Yup, that's how some of these celebs have the perfect skin tone.
The Beverly Hills Polo Lounge and The Tower Bar at Sunset Tower. Take your pick. After an über glam night in LA, especially after a black-tie event, nothing is more decadent than stopping by in the wee hours for cocktails and caviar at either of these hot spots. Plus, it's great people watching. Call in advance to reserve one of the power booths at the Polo Lounge and famed Maître D,Dimitri Dimitrov, curates the scene at The Tower Bar. Good luck.
Rodeo Drive VIP Suites/Lounges. If you are lucky enough to be invited in as a VIC (Very Important Client) you're in for a real treat at one of the exclusive VIP suites at Louis Vuitton, Christian Dior, Burberry, Gucci, and the newly relaunched 3rd Floor Saint Laurent VIP celebrity dressing floor. Most of them have stunning outdoor terraces and consider yourself extra special if they offer up one of the salons to invite a small group of your friends for a cocktail parties, lunch or rooftop dinner.
Just One Eye. Off the beaten path on Romaine Street, the famed totally under-the-radar luxury boutique, entered through a hidden side door, is the go-to destination for fashion insiders. Owner Paola Russo has perfectly curated one-of-a-kind designer clothing for women and men, accessories, jewelry, shoes, artwork, and furniture. The perfect blend of ultra-luxe fashion with emerging cult designers.
Lily & Cie. A Los Angeles institution, owner Rita Watnick has assembled and curated one of the top vintage fashion collections (in the world) by famous designers, including red-carpet apparel, that regularly appears on the Oscar and Met Gala Red Carpets as well as as part of The Metropolitan Museum Costume Institute. The biggest secret of all is Lily & Cie has one of the top-selling jewelry collections in all of LA. The Olsen twins are huge fans of Rita's trained eye and I have personally worn two of the boutique's vintage gowns to The Met Gala on separate occasions. One of mine is in the store windows right now. Thank you, Rita.
LACMA Art + Film Gala. Sponsored by Gucci and held each Fall, many consider it a West Coast version of The Met Gala.LACMA Museum Director Michael Govan has put fine arts and film togetherto draw a glamorous, star studded, heavily Gucci-clad Hollywood and art world crowd. The LACMA Development Office is happy to make this experience come true for the right donation.
71Above. High atop the US Bank Tower, this new landmark DTLA restaurant destination is worth the trip. I went for drinks and dinner pinching myself the entire evening. The sweeping, literally staggering views of the city in all directions are the perfect match for the elegant yet modern dining room. A do not miss that has a wide menu to accommodate every type of taste bud.
Waldorf Astoria Beverly Hills. Brand new on the LA scene, the just opened luxury tower hotel designed by Pierre-Yves Rochon is a 12-minute walk from posh Rodeo Drive and 6 miles from the Hollywood Walk of Fame. With its Art Deco-influenced design and 51 suites, it's going to change the LA hotel paradigm for the better. With stunning views, The Rooftop Bar is already the new hot spot to meet for drinks followed by dinner at the famed Jean-George Restaurant. Finally a hotel worthy of LA.