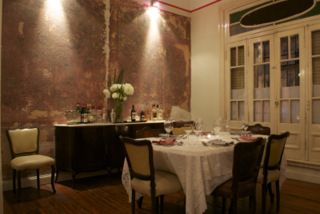 The positive – or the negative if you are an outsider – is that Ocho Once lives up to all of the contradictions and cliques of being a puerta cerrada. The Spanish term literally means "closed door" and, like the rum-running bars of prohibition, you have to know where to find it.
Advertising? Far too crass, darrlingggg; word of mouth only, pleeassseee. That is what makes an evening at Ocho Once exclusive and leaves you feeling in the know. And once there you will understand the double innuendo of the name that is also a secret code.
Miriam buzzed the bell of another wise rather non-descript house in Palermo, the door opened and we stepped into a private restaurant world. The purpose-renovated house oozed ambiance without clutter. A 1950s or so mural found behind a false wall was left intact; the huge mirror cut to fit a specific space. You can smell that a lot of thought and effort went into the design. The entire ground floor can accommodate 30 to 40 dinner guests. And the space is prepared to handle the hoards that will descend once the word gets out that Ocho Once – only two-months old --is now open for dinner at 21:00 from Wednesday to Saturday.
The chat with chef Gonzalo Bazterrica and manager Angeles Ruiz Moreno while we sipped a welcome cocktail slid between a delicate mixture of intimate and professional topics. And that is a social ingredient that will make this puerta cerrada work.
The menu of local organic produce changes weekly and is a project bent around matching wine and meat. Vegetarians and vegans options are also available for those so inclined. Gonzalo was trained in three-star Michelin restaurants in Paris and New York. To lighten the heavy French influence, he leans towards healthier Latin options and substitutes almond milk and coconut products. 
We toured the dining space in the adjacent room and then went into the kitchen. Really, when was the last time you popped into a restaurant kitchen, inspected where your food was prepared and talked with the people who cooked it? Another tick for the puerta cerrada.
Miriam and I were seated at a table for two. Neighbouring tables could accommodate up to ten, so you have choices about being alone or mixing and mingling. The seating is also a social option for those who are travelling on their own and/or want interesting company for a meal.
The home-made bread rivalled that of my mother, who has been baking it every Saturday morning for decades. Next was white fish with a passion fruit sauce. I baulked slightly at the second course of crispy sweetbreads with lemon. Ick! I don't do offal. But, never mind, as I've developed a mechanism to eat almost anything when all eyes are upon me. You know, like when people watched to see if I could cope with fried snake in a bush village in Nigeria, eat dried dog meet in a university town in China or choke down boiled beaver on a reserve in northern Canada. But the sweetbreads were good. As in so good, in fact, that were it were not impolite, I would have asked for seconds.
Next up was the terrine of carrots and artichoke chips, followed by the bife de chorizo with chimichurri sauce, baked potato and sautéed peas. The organic Argentine beef -- as was expected for the piece de resistence -- was of the melt-in-your-mouth variety. But it was the potato that twisted my taste buds and made them perk up and take particular notice. I would have asked for the tuber recipe to drool for, but, alas, my culinary skills are right up there with my non-existent math ones.
Time for a cigarette break, so I grabbed my wine glass and headed for the patio. Even though I don't smoke I wanted to hang out with the others who did and find out what they thought of the meal. Galo from Ecuador gives Ocho Once the highest possible recommendation: He and his friends have been there before and will be back again.
Then it was back inside for a dessert of roasted pears in a lemongrass coconut sauce. A custom-made herbal tea appeared to finish the meal.
The five-course meal at Ocho Once was – without a doubt – the best I've had in Buenos Aires – and possibly forever. In addition to the food, it was the personable interaction between chef, manager and guests that added to the camaraderie of private dining. And being in the chef's home was intimate and engaging. Rather like going to dinner at a new friend's place.
But how do you find Ocho Once? Shhhh, quiet. Come close so I can whisper softly in your ear. Call Gonzalo on 5491-3614-5719 or Angeles on 5491-5108-4375. Or send a message to ochooncemail@gmail.com and ask to be put on their mailing list. Then make a booking, get the never-advertised address and prepare for a memorable puerta cerrada experience.
Dining at Ocho Once