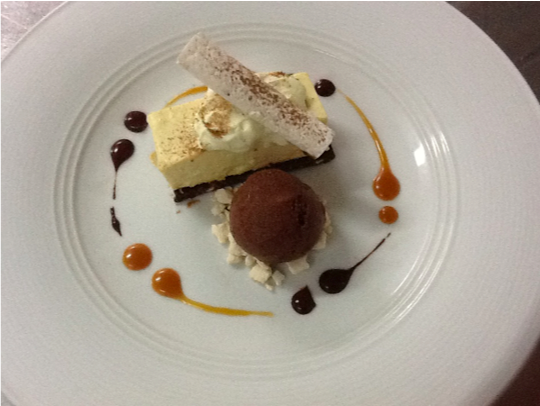 Oliver's Restaurant stretches across the front of the main building of the luxurious Spice Island Beach Resort. Slide up to a table that opens onto the Grande Anse beach-front or opt for an inside one if you don't like the sea breeze with your meal.
Deciding on a pre-dinner drink may present a challenge. Consult the extensive bar list for innovative drinks; ask the bartender for suggestions; tell the waiter to surprise you. Or, if you are still in doubt, order a "Classic," the Spice Island Beach Resort's signature Champagne cocktail.
Marrying local products and spices with international standards is a balancing act. The menu – which changes daily – offers a choice of two appetizers, two soups, five entrées (with a vegetarian selection) and four desserts. According to chef Jesson Church, "The key to the menu is the prep the night before."
That, plus getting the freshest of the fresh from the gardens and orchards of Grenada. Here exotic fruits and vegetables abound and the just-picked end up on your plate at Oliver's. And, of course, there are the spices: nutmeg, cinnamon, allspice. Look for them in the ice-cream and the cocktails as well as the entrees and desserts. 
At Oliver's virtually everything on the menu is prepared on-site. The baker comes in at 23:00 and works through until 07:00. With those hours he has the kitchen to himself and doesn't trip over the people who make the pasta or the ice-cream. The bread of the day includes a variety of white, whole wheat, multigrain soda, beet, carrot or glutton free, just to name a few.  
And if you are a hearty enough eater to get through all five-courses, you may well waddle out of the dining room. Ryan Hopkin, son of Sir Royston and Lady Betty, owners of the resort, claims he has a healthy appetite, "But I can't get through more than three courses."
Insider Tips:
Go on Friday evening if you want to listen to some local music. During the high-season there is a buffet and the tables groan under the weight of fresh seafood.
The restaurant is open to the public, so even if you aren't staying at the Spice Island Beach Resort go there for a memorable meal. Reservations are recommended and the evening dress code is "elegantly casual evening attire."
The resort's reputation is built on service, so expect to be pampered. The wait-staff are always nearby without being intrusive. 
A Photographic Tour of what you can expect to eat at Oliver's:
Assiette of guava - served with guava tart, mousse and spring roll.
Lo-grilled sushi grade tuna - served with cous-cous and lemon ginger dressing.
Trio of cane-smoked marlin ? served with tartar, fritter and roulade.
Slow roasted veal shank ? served with saffron risotto, mini rattoulle and big thyme jus.