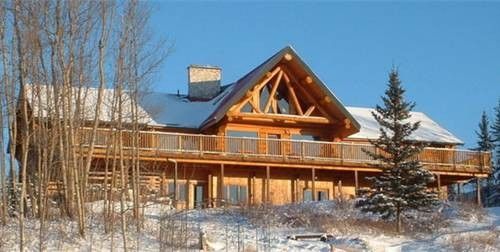 JRN
I recently returned from my first visit to the forbidding yet glorious Yukon, where the temps often dipped under 10, 20, or even an unbelievable 35 degrees below zero. I ignored everything I knew about sensible San Francisco layering and simply threw on everything I had in my suitcase. The exhilarating winter activities, which included dog sledding, snowshoeing and snowmobiling, were well worth braving the frigid conditions, however after a fun-filled day in great outdoors I was really looking forward to arriving at the Inn On The Lake, located about ½ hour drive from Whitehorse, where I could indulge in explorations of a more culinary nature.
The hospitable chef/owner Carson Schiffkorn and his staff provide a warm setting perfect for a little indoor pampering. Thaw out as you sip a fine Canadian wine in front of the huge stone fireplace in the Inn's Great Room, Music Room or one of its three solariums, before indulging in a gourmet four-course meal featuring organic vegetables, freshly foraged mushrooms, local bison, salmon and Arctic Char- all artistically presented by Schiffkorn and Chef Coralee. I was hooked after my first spoonful of the wild morel soup enhanced with the haunting flavor of spruce needles.
Although the 15 rooms and cottages are all comfy with rustic/chic style, try and dibs the Executive Jacuzzi Suite, where you can appreciate the Northern Lights neon lightshow from your hot tub!
"But wait, there's more!" As magical as the Inn is for a just-have-to-getaway spot, the real foodie bragging rights come if you're one of the lucky dozen who will join Chef Eric Pateman (head of Edible Canada) and Schiffkorn for an epic culinary adventure in Canada's wild and mysterious north! This progressive Whisky Dinner will be held in a variety of unique locations, ranging from a Trappers hut to dining with the sled dogs!
JRN
Here's all the important deets:
THE DATE:
April 11th 2015
THE DINNER:
5 courses, each served in a different ICONIC (to the North) location complete with unique Canadian whisky pairings:
In a Trappers Hut
Upon a Frozen Lake
With Sled Dogs
Under the Northern Lights
In a Luxurious Northern Lodge
JRN
TICKETS INCLUDE:
Return airfare from Vancouver to Whitehorse on Air North, Yukon's Airline
2 nights accommodation (based on double occupancy) at The Inn on the Lake
Iconic whisky dinner (as listed above)
Breakfast both mornings
Shuttle service to and from the lodge
A Canada Goose jacket to wear during your stay
Many more surprises all weekend long!!
Price: $1100 – $1200 per person (depending on accommodation)
ONLY 12 TICKETS AVAILABLE – DON'T MISS OUT! Contact events@ediblecanada.com to purchase your tickets today!
- See more at Edible Canada
WhiskyYukon
Inn on the Lake