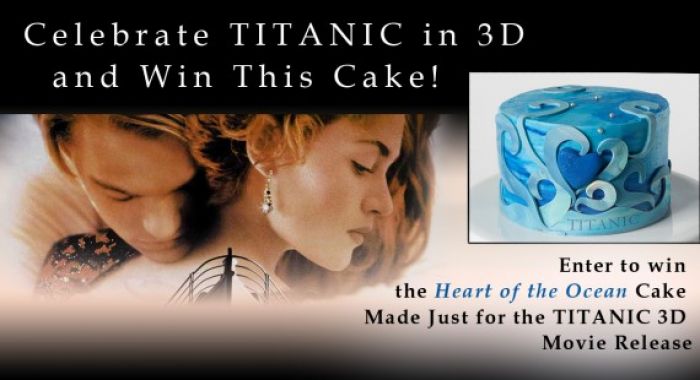 We Take The Cake has been selected by Paramount Pictures to celebrate the re-release of TITANIC in 3D. We Take The Cake is a small bakery with one location in Ft. Lauderdale, FL, who was also featured as one of Oprah's Favorite Things. This week Paramount chose We Take The Cake to create a one-of-a-kind gourmet cake honoring the film. The "Heart of the Ocean" cake designed by We Take The Cake will be given away to four (4) lucky winners in the We Take The Cake TITANIC 3D Sweepstakes. Fans are encouraged to enter to win the "Heart of the Ocean" by visiting WeTakeTheCake.com/Titanic or We Take The Cake's Facebook Page beginning March 29, 2012. Winners will be chosen after the Sweepstakes ends April 12, 2012. Cakes will be delivered right to the winners doorsteps packaged in signature packaging with a Titanic 3D T-shirt and mini-poster.
The custom designed "Heart of the Ocean" cake is also available for sale on WeTakeTheCake.com site in limited quantities from March 29 - April 12 for $47. This one-of-a-kind TITANIC 3D inspired cake valued at $150 includes layers of golden butter cake and chocolate cake, filled with chocolate cream cheese frosting between each layer. The cake is decorated with blue tinted buttercream frosting, marbleized with blue fondant waves inspired by the classic movie. The "Heart of the Ocean" necklace, like in the movie, is depicted floating down to the bottom of the sea.
About TITANIC
James Cameron produced, wrote and directed the 11-time Academy Award winner, TITANIC. Released by Paramount Pictures and Twentieth Century Fox, TITANIC is the second highest grossing movie of all time, behind Avatar, another James Cameron film. Starring Leonardo DiCaprio and Kate Winslet, the film won an Oscar for Best Picture and Best Director, among 9 others.
The original film has been remastered and enhanced with StereoD 3D technology. Opening in theaters on April 4, 2012, the re-release of TITANIC also marks the 100th anniversary of Titanic setting sail April 10, 1912.
Experience it like never before in 3D!
About We Take The Cake
We Take The Cake is a bakery founded in Ft. Lauderdale, Florida, made famous by Oprah when she choose their Key Lime Cake as one of her Favorite Things in 2004. We Take The Cake delivers gorgeous mail-order cakes around the country packed in their signature packaging.
We Take The Cake also creates custom wedding and event cakes for the Miami/ Ft. Lauderdale, FL area.
Contact Information
For more information on We Take The Cake, please contact us at (888) 901-2253, email us at marketing@wetakethecake.com or visit on the web at www.wetakethecake.com or on Facebook/WeTakeTheCake.
About Paramount Pictures Corporation
Paramount Pictures Corporation (PPC), a global producer and distributor of filmed entertainment, is a unit of Viacom (NASDAQ: VIA, VIAB), a leading content company with prominent and respected film, television and digital entertainment brands. Paramount controls a collection of some of the most powerful brands in filmed entertainment, including Paramount Pictures, Paramount Animation, Paramount Vantage, Paramount Classics, Insurge Pictures, MTV Films, and Nickelodeon Movies. PPC operations also include Paramount Famous Productions, Paramount Home Media Distribution, Paramount Pictures International, Paramount Licensing Inc., and Paramount Studio Group.