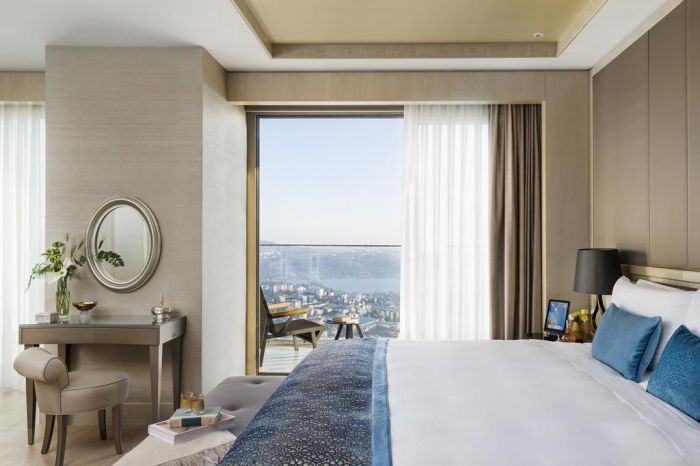 Raffles Istanbul
Istanbul is a storied city where East meets West. One of its most luxurious properties is the Five Star Raffles Istanbul, a modern high rise affording endlessly panoramic vistas. The lavish lobby is resplendent in art, chandeliers and vivid carpets. There are 3,000 square meters of spa and wellness for the traveler seeking relaxation, or adherence to fitness routine.
In Rocca Brasserie, the Executive Chef prepares a sharing menu. Lounge 6 is ideal for both dinner and cocktails. Guests may also nibble on bites at Long Bar. Back on your generous balcony, you'll marvel at the sweeping views of a sunny day, or jeweled elegance of the Istanbul nights. In every direction, the juxtaposition of contemporary skyline and ancient steeples is special.
The property has an adjacent walkways to Zorlu Center Mall, home to Tiffany's, Saint Laurent, Dolce & Gabbana, Louis Vuitton, Burberry, Prada, MontBlanc, & Michael Kors. The Center occupies 105,000 square meters. The H & M store alone is 3,000 squ. meters.
Tour the cities marvelous mosques and famed museums. There are myriad options to cruise the Bosphorus. One may also visit the city via guided walking tour, or cross over into the chic and gradually gentrifying Asian side. Istanbul boasts upscale shopping, fine cuisine, top flight deejays, thousands of years of history exemplified by its cisterns (which one may tour), Blue Mosque, and Topkapi Museum. Sample the fine mint teas, unique candies and treats, traditional spices, and cafes with the fine coffees Turks enjoy. Istanbul also boasts a spacious, state-of-the-art airport with more routes than any other, and its dynamic, 5,600 square foot Turkish Airlines Business Class Lounge, which seats 765 guests, and offers all manner of cuisine, overnight accommodations, showers, dry cleaning, and virtual golf. Istanbul has everything, and you can see it all from the Raffles Hotel.