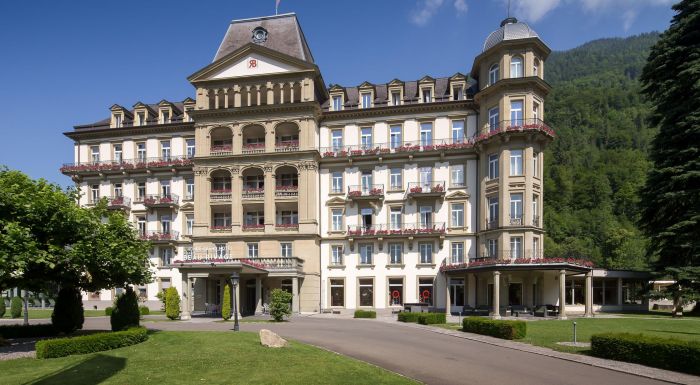 Grand Lindner Beau Rivage Interlaken
Switzerland's Jungfrau region is storybook picturesque, amid the grandeur of The Alps. Interlaken is its tourism and cultural base. The city is a friendly, walkable burg with varied shopping, a vibrant restaurant scene, and unmatched opportunities to experience skiing, hiking, and fine chocolate. Not only do Europeans arrive from everywhere to do so, but more than half the visitors are also from China, Japan, Taiwan and India. Located in downtown Interlaken, the Grand Hotel Beau Rivage Lindner is an ideally luxurious base. The hotel has 101 rooms. Dine in La Bonne Fourchette or Le Vieux Rivage. Breakfast is a grand buffet. The property has an indoor pool, fitness center, sauna, steam bath, Clarins Beauty Center, and Panorama Spa. The mountain view from your suite is breathtaking. For convenience, leave your brass key with the front desk while you walk the main streets to purchase fashion, taste chocolate, get wristwatches as gifts, or dine out.
In Interlaken, tourists enjoy boat excursions on Lake Thun, play golf at Unterseen or Thunersee, and board trains to attractions such as Schynine Platte (which has its own restaurant with commanding views). Disembark in pedestrian friendly villas like Wilderwil. You might encounter a small parade of cows. 90 minutes away in Biel, one may tour the OMEGA watch factory and museum. OMEGA is the official brand of the Olympic Games, the 007 franchise, and was for the U.S. space program. Tours are guided, and you will observe watchmakers in practice, and hear about methodology, history, brand spokespersons, and OMEGA placement in blockbuster movies. Back at the Beau Rivage, walk across the road to ride the funicular to the crest of Harder Kulm. There are great photo ops in each direction from here, and a lovely restaurant overlooking it all.
Hop a train to Grindelwald, a prime perspective to view The Alps after your lift to 13,000 feet. There are restaurants at the summit, including Eiger, and a Lindt chocolate shop (just like the one in downtown Interlaken). The Aletsch Glacier here, 22 KM long, is the longest ice stream in The Alps. Grindenwald guests also have fun with the First Glider attraction, the Cliff Walk, and First Flyer. Perhaps this is the evening for your walk to the pier at Interlaken West Station, for your Sunset (dinner) Cruise to Thun.
The skiing, the spas, the sunsets, and chocolatiers Lindt or Laderach, make this storybook section of Switzerland special. Experience by foot, train, bus or boat, but by all means, experience Interlaken and the Jungfrau Region.
For more Luxury Travel Destinations