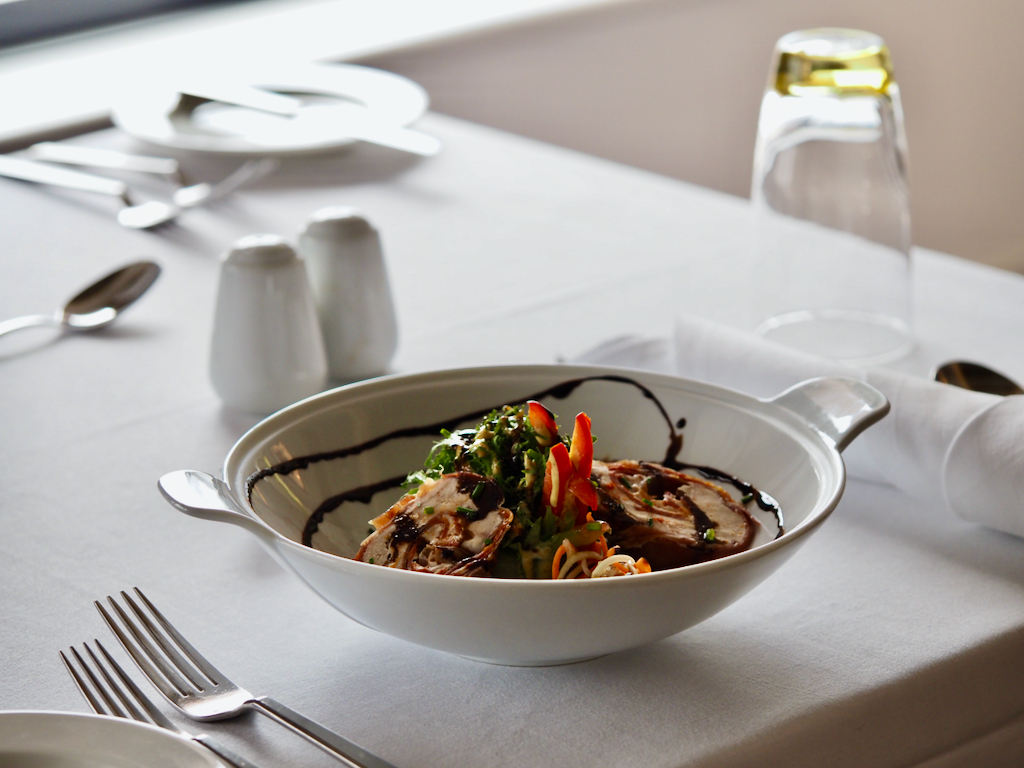 Columbia Hillen
My wife, Columbia, called it a "dangerous restaurant" - one of the highest compliments she, a medical herbalist and a fine amateur chef - could bestow.
The restaurant she was referring to is simply named 106 Atlantic, after a fishing boat that sank off the northwestern Irish coast, and it is the flagship of the Waterfront Hotel, a 4-star property located just outside the charming Donegal town of Dungloe.
Columbia Hillen
As the popular seaside town prepares to celebrate its annual 'Mary From Dungloe International Arts Festival,' hotel officials are formally unveiling their gourmet restaurant, complete with one of the first-ever tasting menus in the county.
Sampling some of the dishes last week, I was impressed, not just with the taste but also the diversity and the presentation, each dish set in a differently designed plate. Appropriately entitled 'Land Meets Sea,' my wife and I enjoyed a leisurely seven-course lunch well into the afternoon in the comfort of the re-decorated dining room with wonderful views over the Atlantic Ocean and its rocky, rugged coastline.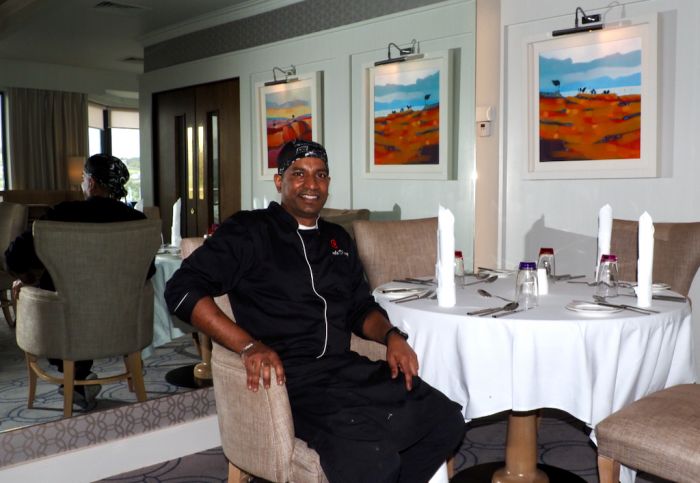 Executive Chef Agnelo Cruz. Photo by Columbia Hillen
Much consideration has been given by Executive Chef Agnelo Cruz, 40, as to the elements that constitute a varied yet complementary tasting menu and his decisions are top-notch. His international culinary experience as executive chef for the Celebrity Cruise Line five years and chef de cuisine for Disney Cruise Line for three years, as well former head chef at Donegal's Clanree Hotel, is much in evidence.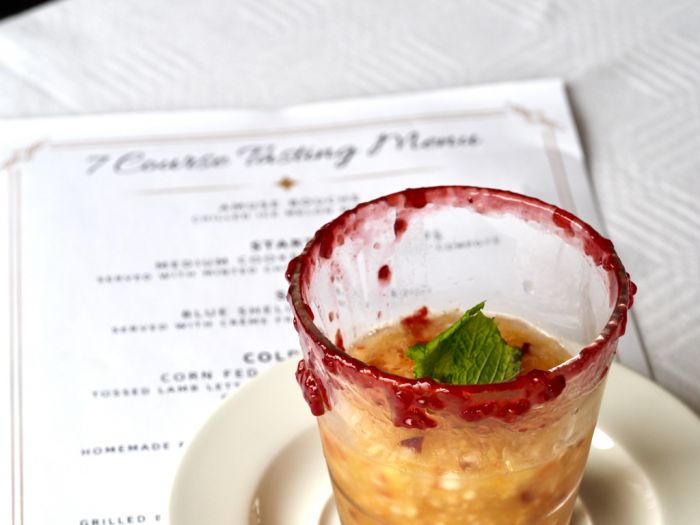 Columbia Hillen
Our lunch began with a refreshing amuse-bouche of chilled ice melon bisque featuring honeydew melon from local supplier, Foyle Fruit, with apple, raspberry and fresh mint.
Our palates thus prepared, our starter arrived - in a very timely manner too - medium cooked lamb chops served with minted chorizo, the sauce being homemade, and - surprisingly - hazelnut compote, the latter adding a crunchy texture to the whole. The meat was well cooked, tender and medium, with just a hint of rose-red.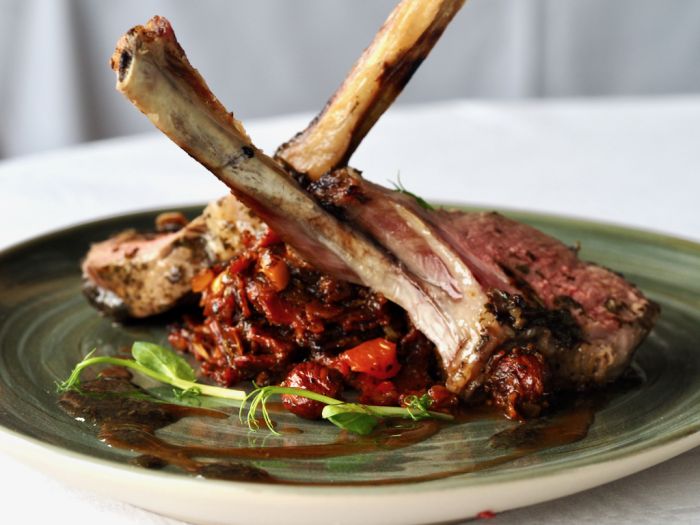 Columbia Hillen
Soup followed next, a rich, tomato-based blue shell crab bisque, the seafood delivered straight from Killybegs, one of Ireland's premier fishing ports, a 45-minute drive away. Unlike some seafood soups, this one was generous in its portions of soft crab, a sea creature usually found well out at sea, and served here with crème fraîche and garlic rouille. Adding to the occasion, Sebastian Dawczynski from Kraków in Poland, the hotel's restaurant manager, ceremoniously poured the sauce into our bowls table-side, thus adding to the occasion.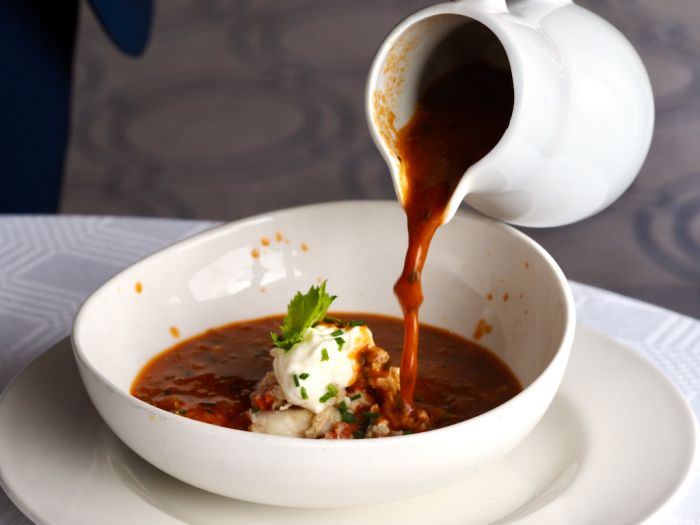 Columbia Hillen
Interesting conversations with Agnelo, hotel general manager, Martina Rafferty and Sebastian provided congenial between-course interludes whereupon we learned how Falcarragh-native Martina is a fine musical multi-instrumentalist and has travelled worldwide gaining broad hospitality experience in various settings; how Agnelo is a native of Portugal, like his father, his mother being from India; and how Sebastian, who formerly worked at Harvey's Point hotel in Donegal, now calls peaceful Arranmore Island a few miles away his new home.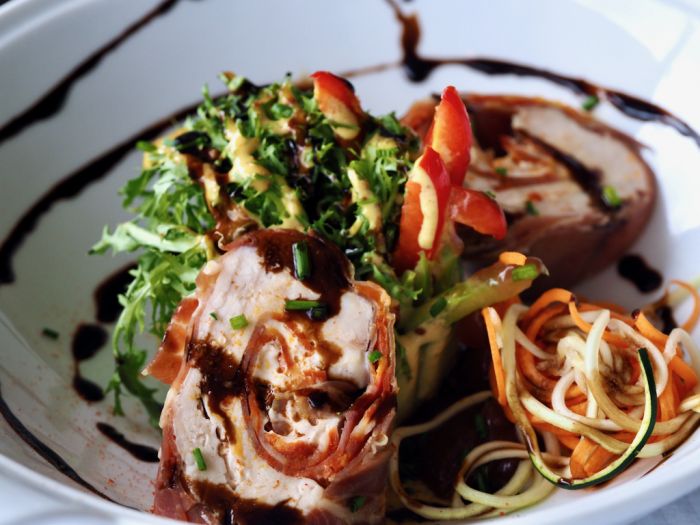 Columbia Hillen
Up next on the menu was Agnelo's version of a cold salad with corn fed chicken gallantine, comprising tossed lamb lettuce served with port wine jelly, carrot noodles and creamed curry yoghurt, my companion describing the plate presentation as "zucchini boat with two sails." Enhancing the flavour of the dish, the chicken was pressed with thin slices of Parma ham and salami.
A time-out before the main dish arrived in the form of a palate cleanser of cool, homemade passion fruit sorbet served with Prosecco.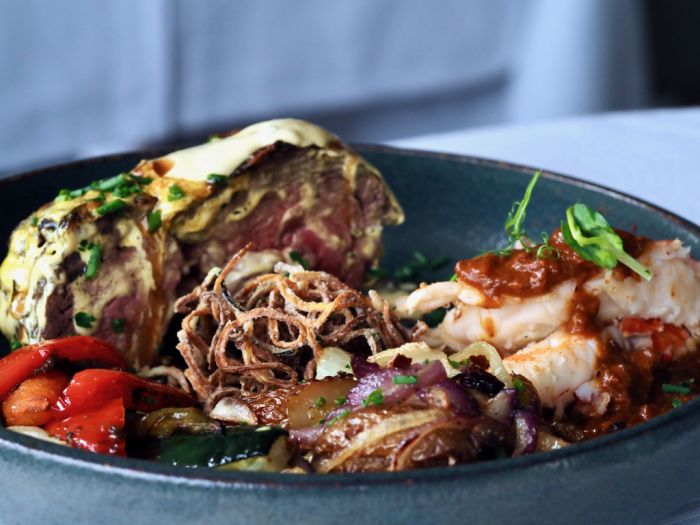 Columbia Hillen
Our rising sense that we had no belly space for the entrée dissipated immediately when a tantalising 'Land Meets Sea' combo of grilled beef tornado with Lyonnaise potatoes, Béarnaise sauce and baked lobster with brown butter potato mousseline and Nantua sauce (named after the French city of Nantua, known for its crayfish) with roasted chateau vegetables, appeared before us. My wife poetically described the presentation of this plate as "a miniature map of Donegal with rocky cliffs, the ocean and beaches."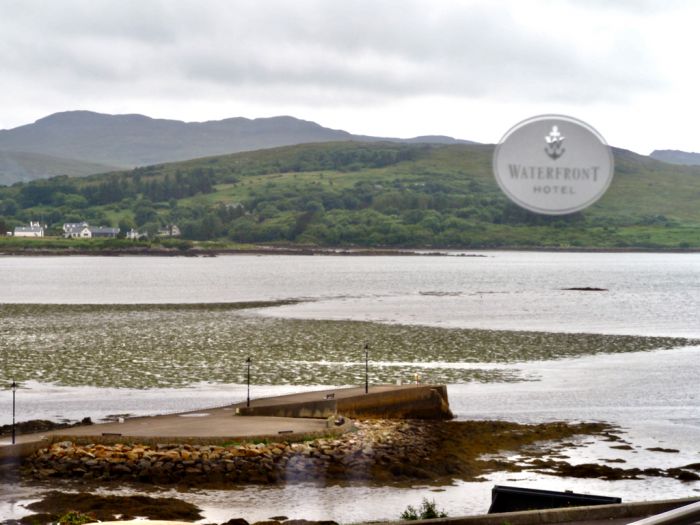 Columbia Hillen
It has been many years since I last tasted 'Baked Alaska,' a name coined by a chef at a New Orleans restaurant in 1867 to honor the acquisition by the United States of Alaska from the Russian Empire that same year. My experience was in Kansas City, Missouri where I was working as a television reporter. It proved to be an unforgettable occasion. A nervous waitress, who sadly had just broken up with her longtime boyfriend, poured a profuse amount of brandy on my dessert and when lighted, set the entire crisp white tablecloth ablaze, causing smoke to billow to the ceiling and a madcap rush to other diners' tables to extinguish the fire with 'stolen' jugs of water.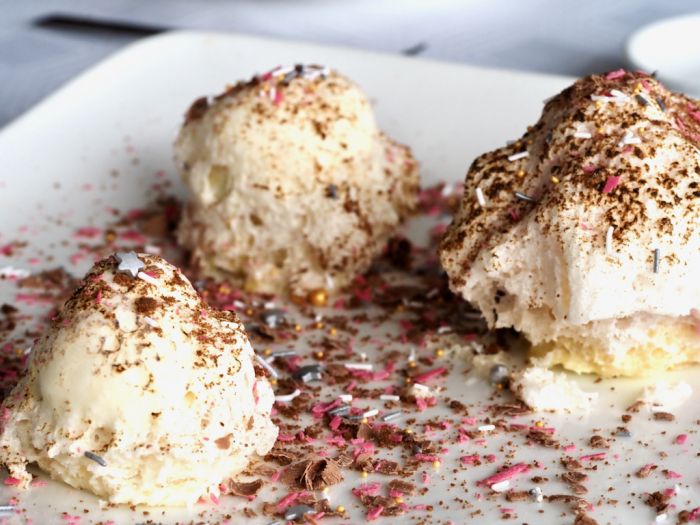 Columbia Hillen
Thankfully, under Agnelo's expert guidance, the local Dungloe fire brigade didn't have to be called out. His innovative version of the dessert called 'Baked Alaska Droplets' - though the three sweet mounds of sponge with caramelised meringue embracing a berry compote and ice cream on each of our plates - were certainly much larger than droplets - came flameless, thank Heavens, and delicious.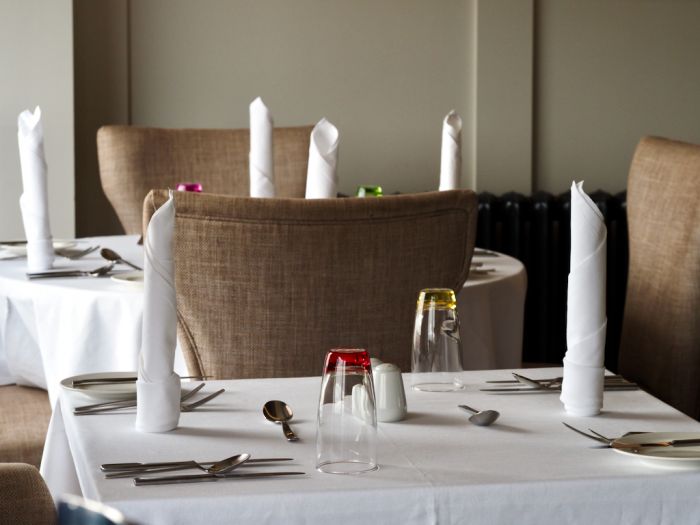 Columbia Hillen
As festival celebrations get underway this weekend at this scenic coastal town on the famous 'Wild Atlantic Way,' perhaps it's the perfect time to savour the occasion even more at the Waterfront Hotel.