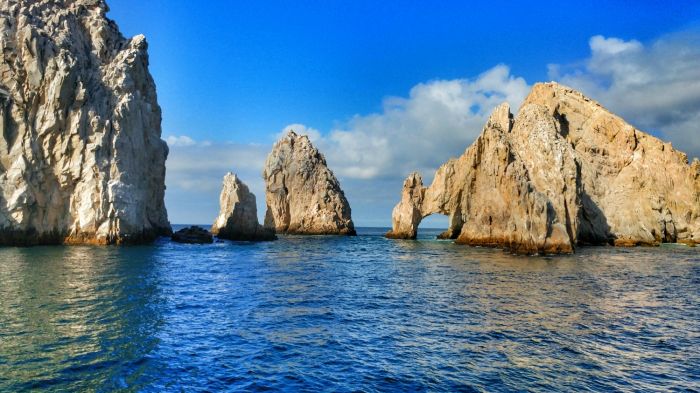 Photo Credit: Shea Peters
Believe it or not, it's that time of year again. Time to begin thinking of your Fall and Winter getaways. But you're not the apple cider, fire pit, and leaf peeping type. You're a summer baby...even when it snows. Though we're still in the throes of afternoon thunderstorms, happy hours, and hair-hating humidity, it's important to get a few steps ahead and begin planning where to spend those soon-to-come grayer days.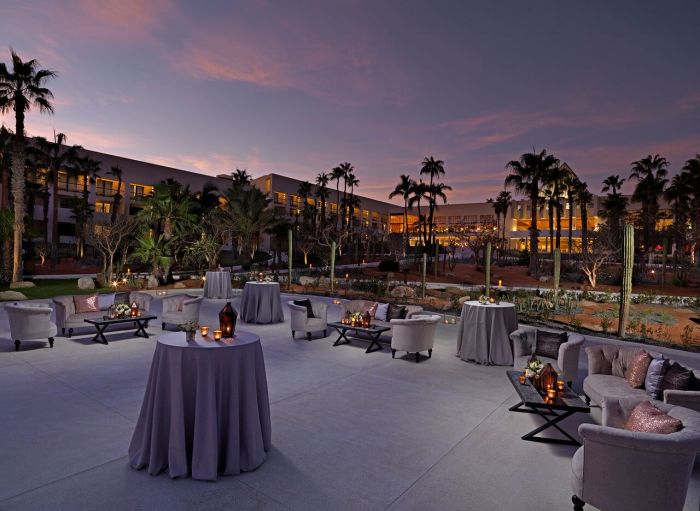 Photo Credit: Paradisus Los Cabo
Mexico is never a bad choice when you're looking for blue waters, white beaches, and a name-your-color adult beverage. Cabo San Lucas is a well-known getaway for many North Americans on or near the West Coast. But with only a few direct flights from the East Coast to Cabo San Lucas, mostly on the weekends, visitors from cities such as NYC, Boston, and DC have a tough decision to make when it comes to visiting the Western areas of Mexico. With Cancún a doable four-hour flight from New York and a bit less from cities further south, why would an East Coaster travel so much further to see "just" another Mexican city?
For divers, and for the less adventurous snorkelers, Cabo also has beautiful aqua-life, from the brightest yellow snapper to stingrays to gorgeous coral reef, getting on and in the water here is a requirement. In contrast to places like the ever-popular Cancún, vistors will also find considerably less humidity, with a dryer heat that is quite a bit more comfortable for outdoor activities that don't involve water, like golf, shopping or even just outdoor dining.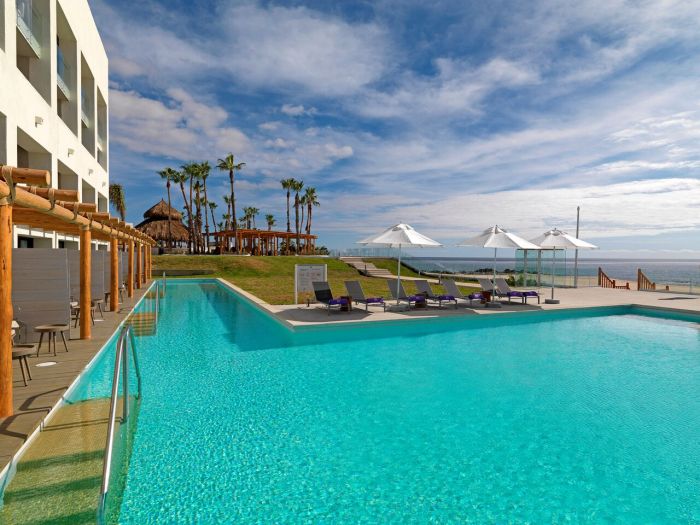 Photo Credit: Paradisus Los Cabos
There are some awesome places to stay in Cabo, with many recently rebuilt or refurbished after being wiped out by hurricane Odile a few years back. For travelers looking for an all-inclusive experience, Paradisus Los Cabos should be the prototype for the newer resorts popping up in the area. Many all-inclusives have donned a reputation for mediocre food and drinks, and college-aged shenanigans. But Paradisus Los Cabos has raised the bar with high end eats, mixology on par with big city bars, and grown-ups on vacation. The resort is bathed in neutrals in order to reflect the sun and serves a stark contrast to the Sea of Cortez. The 15-acre property is the perfect balance between party and relaxation, making it an easy few days from the East Coast. Less than a year old, this pretty resort offers 24-hour room service, a Royal Service Lounge with a private check-in, plus a separate breakfast area that faces the beautiful azure waters you traveled to view. If you eat anywhere while staying here, make sure you check out the Gastro Bar by Martin Berasategui, a seven-Michelin star rated chef...that's kind of a big deal.With only 350 rooms to choose from, a Paradisus Los Cabos fan favorite tends to be the adults-only swim-up suites. So, if interested...reserve these popular rooms far in advance and pat yourself on the back later. Also, a little known fact about the Sea of Cortez is that most of it is not swimmable. While many locals brave the fierce currents, tourists are not recommended to do so. Paradisus Los Cabos has one of the only swimmable beaches in Cabo, a plus if you want to take a break from the beautiful pools at the property.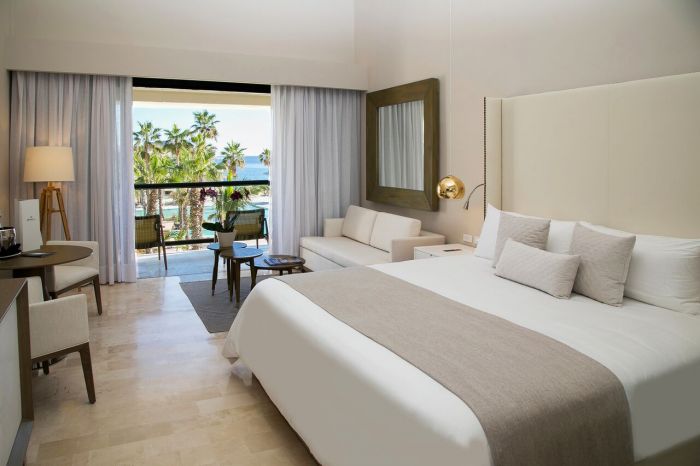 Photo Credit: Paradisus Los Cabos
While in town, a must-do is a visit to the only microbrewery in Baja California, the Baja Brewing Company. Located near the popular marina, the tiny, yet touristy destination fits right into the Cabo mindset of drink, eat, and chill. The surrounding area is full of shops, restaurants, and is an easy way to enjoy a day off the water before heading back your hotel.
Cabo San Lucas has sunsets made for Instagram and beaches made for lovers, if you travel from the East you'll understand why this is and will always be a West Coast favorite.