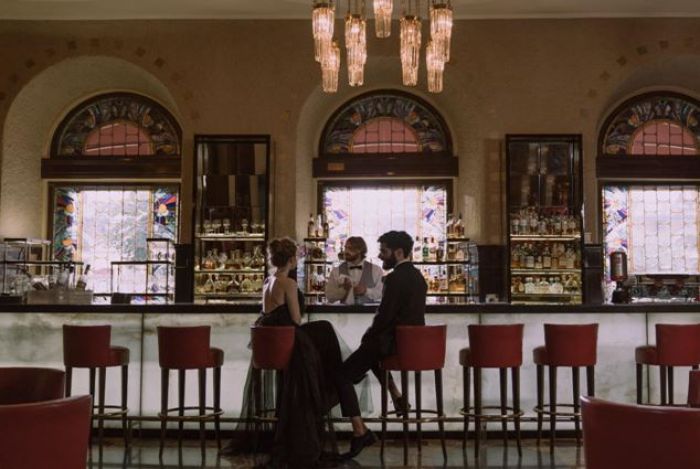 Source: www.pexels.com/photo/couple-having-a-date-at-the-bar-5378979/
The entire online dating environment, which has seen an immense increase in the last couple of years, with so many individuals relying more and more on social media platforms to network, has become a thriving industry. Because of this, there are many more websites and apps for online dating than a few years back, when you could only find a handful of matching sites.
What used to be a rare endeavor has become a profitable market full of online dating services. There are many online dating services to choose from, from apps where only women can message first, challenging a change in antiquated rules that only men should make the first move, to other apps that help you find a match based on similar interests. Depending on your interests and preferences, chances are you will find something of your liking.
Another relatively new type of online dating is based more on the financial aspect. This is where sugar dating comes in. Truth be told, sugar dating is still considered relatively new, and there are many misconceptions and assumptions people make when it comes to this type of dating. While there are some stereotypes involved, sugar dating is a reality and an option that many people prefer, especially if they have money problems. Plus, sugar dating is still dating, meaning that the individuals involved are looking for a partner with whom they have chemistry and are compatible. The only difference – although a significant one – is that the sugar baby is also taken care of financially.
So, if you wish to become a sugar baby, whether you are a man or woman, it is advisable to learn a few things about this to make sure you find the right sugar daddy. Here's what you should know:
Choose The Right Sugar Dating Site or App

If you decide to use a sugar dating site or any other app meant for online dating, it is crucial to recognize that there are potential dangers involved. With so many websites online and the possibility of anyone creating a profile, it is of the utmost importance to choose the ones which are the most reputable and reliable. This way, you have the assurance that your personal information will stay secure.
What's more, using a reputable sugar dating site where all users are verified is what you should do if you wish to become a sugar baby. Such websites take the security of their users seriously, providing a safe environment where you can match with your sugar daddy. An example of such a site is SugarDaddyMeet.com, which only has verified members from the top 20 wealthiest countries.
Take Time to Get Acquainted with The Apps
Once you have narrowed down your list with only the reputable and trustworthy sugar dating sites and apps, it is crucial to get acquainted with them before you start using them. This will allow you to learn all the ins and outs of the site and what is needed from you to create your profile.
Another aspect you should consider if you wish to become a sugar baby is whether you prefer a paid or free site. This depends on what you are looking for. A noteworthy mention would be that free sugar dating sites may have fewer security levels, and there is a higher possibility of encountering a scammer.
Taking the time to browse the site is crucial, as this can also show you the privacy policy of the website and what type of information you will need to fill out. Given that you are on a sugar dating site, some of the personal data required can be quite detailed, such as where you live, marital status, and so on.
Create A Realistic Profile
There is no denying that, as a sugar baby, you want your profile to be incredibly attractive and appealing so that you can attract great candidates. But it is highly advisable to create a realistic profile and not disclose too much information. Therefore, when it comes to filling in your location or what you do for a living, for example, you should stick to naming the city and your job. After all, you still want to create a connection with your sugar daddy, so the rest of the details should be left to be discovered.
When it comes to choosing photos for your profile, you should choose the ones who describe you best. For instance, you could post a selfie, a picture where you can see an excellent outfit, and perhaps another one of you doing an activity you enjoy. Your profile should be a representation of your personality while also clearly showing your appearance.
Set Boundaries from The Beginning
When signing up on an online sugar dating site, it is crucial you set boundaries from the beginning with all the possible candidates you interact with. Safe communication is a vital aspect, and all reputable sugar dating sites take this seriously. For instance, SugarDaddyMeet has introduced further verification techniques to ensure any fake accounts are blocked. After the verification process on SugarDaddyMeet, approximately 45% of applicants are passed. No online-only arrangements are allowed.
SugarDaddyMeet advocates that their goal is for users to meet face-to-face.
Apart from choosing a reputable sugar dating site based on characteristics such as the one mentioned above, it is also crucial you set boundaries. This means making arrangements that are mutually confirmed and agreed upon, consisting of clear terms of the relationship. This way, it is ensured that you and your sugar daddy are on the same page. Because sugar dating is different than any other form of dating, it is crucial to set straightforward boundaries.
Steer Clear of Catfishing
In the world of online dating, catfishing is, unfortunately, all too common. This is when an online dating app user pretends to be someone else, creating an identity not their own. Catfishing can be harmless most of the time. However, this can also be quite dangerous, given that it is a tactic to trick people and not for good reasons. Therefore, it is vital to steer clear of catfishing. To do so, you must learn how to spot suspicious behavior.
If you ask for a recent photo and you find your possible online partner trying to get out of this one too many times, this is a sign that they are trying to get out of this. Another red flag could be that the other person constantly refuses to meet in real life.
For this reason, it is best to choose paid sugar dating sites and platforms that are highly reputable to steer clear of scammers.