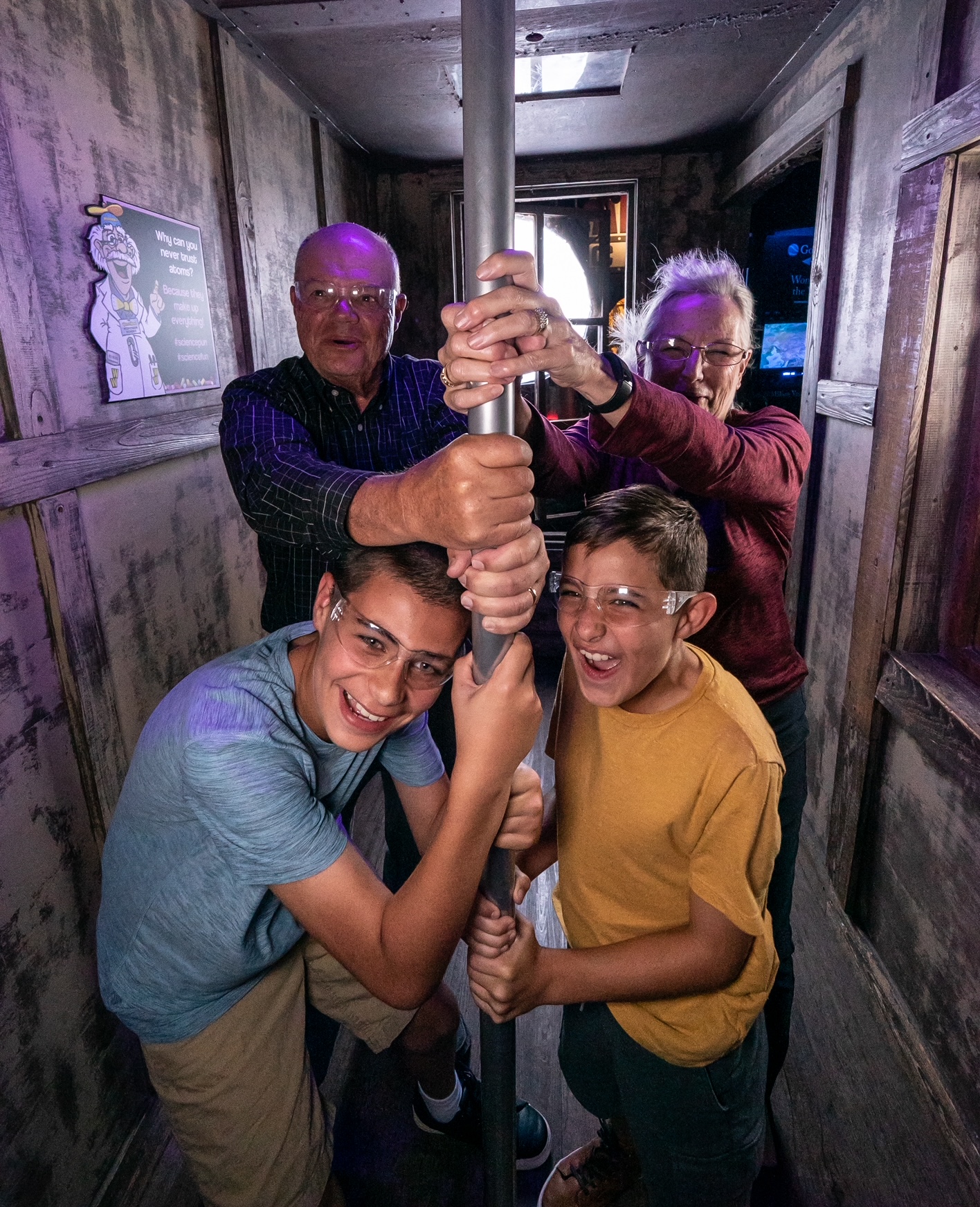 Photo courtesy of WonderWorks Destiny
Striving to make the holiday season even more memorable, WonderWorks Destiny is hosting a Family Fun Day on December 11, 2022 for all to enjoy. Families are invited to stop by the upside-down house and play before the holiday traffic and guests roll in. During this special day, WonderWorks will offer admission tickets at a discounted rate of only $10 per person, plus tax.
"Family Fun Day is always a great time," says Jonathan Cascella, general manager of WonderWorks Destiny. "Come have some discounted fun before the busyness of the holiday season ramps up."
There's nothing better than making great memories with loved ones, especially during the holidays. This Family Fun Day will be filled with engaging ways for everyone to laugh, learn, and create long-lasting memories together. Discounted admission rates make it even more special, giving families of all sizes a fun and affordable day out.
Families can take part in various activities including playing a song on the giant piano, holding a family challenge on the Canyon Climb ropes course, going head-to-head in a game of laser tag, and being transported into the action of the 4D XD Motion Theater. The $10 tickets are available for both locals and tourists and can be purchased upon arrival.
WonderWorks Destiny is also hosting a Sensory Day on Sunday, December 4, 2022, from 10 am to 1 pm. Sensory Day focuses on inclusion, allowing everyone in the community to enjoy the facility during the holiday season. This special day will be sensory-friendly, meaning the exhibits will be altered so that there is limited stimulation for those with special needs. In addition to the altered exhibits, some louder exhibits will be turned off, the inversion tunnel will be stopped, and music in the facility will be lowered. The event's mission is to help create a safe environment for those with sensory issues so they don't feel overwhelmed during their visit. Tickets for Sensory Day will be discounted to $10 per person, plus tax, and can be purchased upon arrival.
"We strive to provide as many fun and educational experiences as possible here at WonderWorks, so we love hosting these sensory-friendly events as a way to create a safe space for all sorts of community members to enjoy the facility," says Paige Perry, education sales manager of WonderWorks Destiny.
Along with family-friendly events, WonderWorks also hosts several educational programs for students and teachers to participate in. Young artists still have time to enter their artwork in the annual youth art contest at WonderWorks Destiny. Get more information about this year's theme online and enter before the December 14, 2022, deadline. Teachers are also invited to nominate top students for the WonderKids program, which aims to highlight student achievement in and outside of the classroom.
WonderWorks Destiny offers a variety of educational programs and promotions throughout the year for local students and families to enjoy. It also offers group rates, scouting programs, homeschool days, and corporate events. WonderWorks features an indoor, 70-foot-tall, suspended ropes course, laser tag, a 4D XD motion theater, the Wonder Zones, and more. For more information, visit the site at: https://www.wonderworksonline.com/destiny.