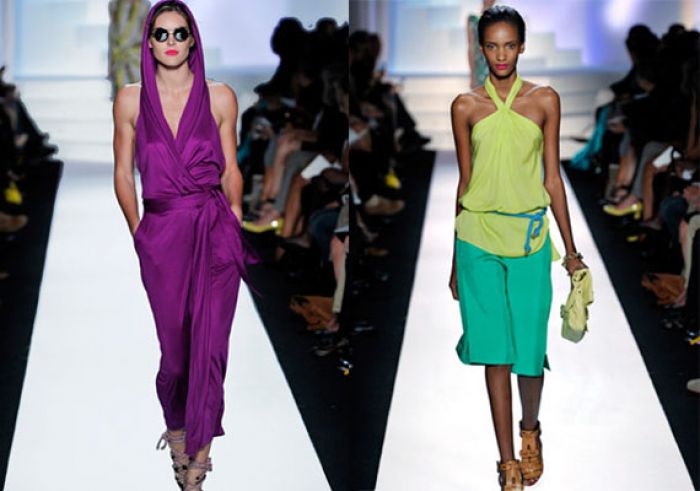 Photo Courtesy of DVF
Fashion's biggest and best
spring collections
are luminous this season with the popularity of a bold, bright color palette. But, keep in mind fashionistas, there are a few tricks to pulling off this trend to avoid looking like a bad 1980s spring breaker.
The first rule is you really only want to play up one piece at a time. Wear a neon blouse, but anchor it with a grey or nude colored skirt. Neons and neutrals pair beautifully together and make the look appropriate for daytime and even office friendly!
Diane Von Furstenberg
's spring collection illustrates this beautifully. Now, keep in mind, this is not a look for the weak of heart, so when it comes to
accessories
, you might as well go all out with a bold, patterned bag OR shoe - but not both.
I love bright yellow or pink paired with a leopard or snakeskin clutch and a nude colored shoe. Or vice versa, a bold blue or green paired with a patterned shoe and a nude colored clutch. The one hint of nude will anchor the rest of the edgy look.
When it comes to selecting a hue, you want to go with a color that compliments your skin tone and this can be tricky. To play it safe, look for brights in jewel tone palettes - such as emerald, cobalt, mustard and purple - as these colors flatter most complexions.
Lastly, be sure to wear a pair of killer sunglasses, as you're going to be shining bright.