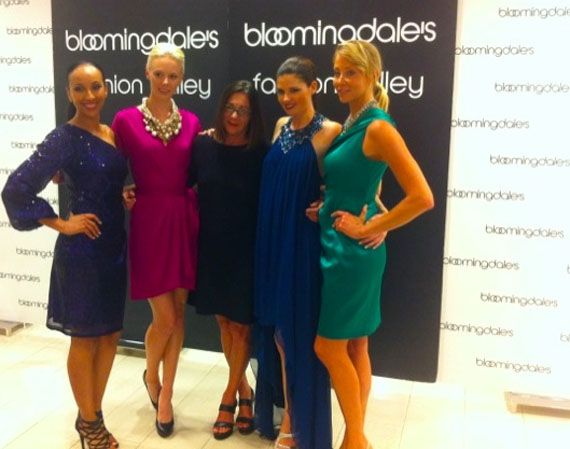 Photo Credit: Kristi Brooks & Bloomingdale's
I recently had the good fortune to sit down with Bloomingdale's dynamic Fashion Director, Stephanie Solomon and pick her brain about fall trends. Aside from being one of the most down to earth and relatable women in the industry, Stephanie's vast knowledge of fashion and trends never disappoints.

Citing Kate Middleton, or Princess Katherine as she is now known, as fashion's newest icon, Solomon spoke about a new silhouette that is lady-like, refined and "covered up." It's a look that hasn't been embraced by the younger generation of fashionistas in decades. Miniskirts have been replaced by pencil skirts, itsy bitsy camisoles with silk blouses and platforms with pumps. While most fall collections are rich with classic pieces, Solomon suggests a few modern touches.

1. Go with head-to-toe tonal; purples with pinks, burgundy and reds with a deep orange or salmon, emerald green with teal. With colored denim being such a huge trend this fall, it's the perfect place to start. Top with a complementary colored silk blouse and fall's white hot accessory, a fur vest, and you're good to go.

2. Coats are the perfect way to top off any look. Go for a structured look with interesting details; an exaggerated collar, a cinched-in belted waist, a bold color. Many times people only see your coat, so be sure it makes a statement.

3. Bold colored dresses are the new "little black dress." Every woman has a LBD hanging in her closet, so up the ante this season and dress in a hue that stands out. Jewel tones are a safe bet and flatter almost everyone.

4. Accessories this season are not discreet. Kiss that delicate pendant goodbye and look for "important and glamorous" pieces. Mix your metals, go for a bold necklace that makes a statement; but be mindful of proportion here. Go for either a big earring or a big necklace, not both!

5. Most importantly, where can you find all these trends? Why, Bloomingdale's of course! Solomon promises that you will find high quality on-trend pieces that last; and with this season offering so many modern takes on classic pieces, you'd be wise to invest in a queen-size wardrobe.