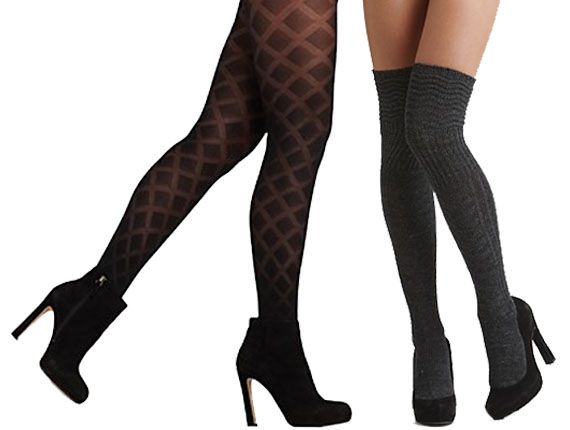 Photo Courtesy of Bloomingdale's
Arriving in
Paris
recently, I was eager to step off the Metro to see what fashion trends the women of the Left Bank were wearing. Of course, I needn't even leave the basement trains to discover that already making a splash in late fall fashion — to my hearts greatest delight — an accessory that I have harvested for years...on the itty-long legs of the St. Germaine jet-set: patterned tights.
An accent so fantastic, that it gives women of every size and shape extraordinary style on every single budget, while shielding legs from impending cold temperatures that invariably blow in this time of year. Patterned tights are back on ladies. And not only can every woman can wear them, but there is a pattern for any time and every place — professional, sexy, subtle, playful — for every
shoe and boot
.
Now, I am not going to go over every possible way to wear tights and with what, because you have your own personality and sense of style, but here is a quick run through of how different styles, colors and fabrics can bring you from a Thursday night on the town to a Sunday afternoon date.
For the workplace (professional, conservative): Try tights with vertical lines and small cutouts. The larger the cutout the more it attracts the eye — the key is to keep it understated and non-distracting.
On the Metro (urban, chic): Think motorcycle maven meets hipster meets fashionable guys-best-friend with effortless style...you know, the girl who looks like she fell out of bed, done, undone, and totally chic. Find tights that have vintage-inspired patterns. Throw on a pair of ankle boots and a mini and poof! You're effortlessly chic too.
For a night out (sexy, sultry): Swirly lines, floral patterns, muted colors and delicate shape patterns are sophisticated and ultra feminine. Ornate designs make the statement: "I'm a lady...a fabulous one." Saturday at the zoo (playful, fun): Bold colors, yarn, plaid (schoolgirl) patterns...these tights are a nod to your childhood and shout "I'm fun!"