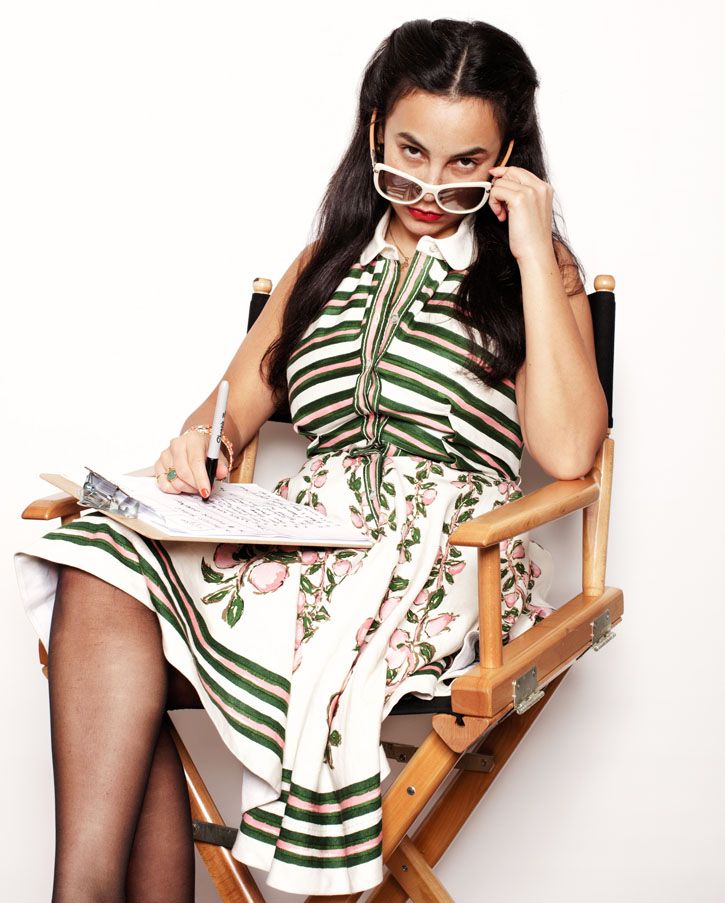 Cleo Le Tan, Casting Director, Louis Vuitton
All eyes are on
Louis Vuitton
after a recent marketing effort that proved to be fun, quirky, and above all – genius. The international fashion house recruited a dozen international personalities and artists to participate in an Andy Warhol-esque
video series
of flash interviews. Each personality was asked to choose one pair of sunglasses from the Louis Vuitton Spring Summer 2012 collection that best fit his or her personal character or mood.
Andre
Andre:
Graffiti artist practically since he could walk and king of the night from New York to Paris to L.A., Andre needs no introduction. Very masculine and stylish, he wears the Conspiration Pilote Canvas model, one of Louis Vuitton's earliest designs.
Annabelle
Annabelle Dexter Jones:
Artist and muse, this fresh and impish New York socialite has more than one string to her bow. The Anemone model perfectly captures the side of her that's creative, eccentric, yet still preppy.
Malcolm Ford:
Frontman of the group the Dough Rollers, the son of Harrison Ford is cooler than cool. The proof? He was the opening act for Bob Dylan's U.S. tour! The very rockabilly just-a-tad-minimalist Intrigue model suits him to a T.
Maluca
Maluca:
The year's pop hip-hop artist to watch, the striking New Yorker has all the makings of a rock star and proves it by wearing the Anthea Black model with a Perfecto, acid-toned dreadlocks and fringe. Flawl.
Mary
Mary Charteris:
Model and It girl, this London aristocratic effortlessly lights up runways with her poise and panache. Her charisma wows audiences day or night and the very Swinging London orange Antha model goes perfectly with this new Twiggy's char.
Cassie
Cassie Coane:
This hip-chick American DJ often teams up with Harley Viera Newton and no New York club can resist her. Cassie chooses the Anthea model to dazzle even when lights are low : Sunglasses are part of her California-girl DNA.
Emily Weiss:
This lovely brunette knows beauty like the back of her hand and gives brilliant readings of that world's latest trends on her blog, IntoTheGloss. The Charlie model in white gives her the look of a Sixties icon, very Ali MacGraw.
Olympia
Olympia Le-Tan
The book-minaudière designer single-handedly embodies the French touch with irresistible style that's spirited, playful and seductive. Olympia has her own inimitable way of wearing lipstick Betty Page-style and does the same with the glamour-oozing Anthea model.
Langley
Langley Hemingway:
Daughter of Mariel, sister to Dree and great-granddaughter of the legendary author of A Moveable Feast, Langley has truly found her path: illustration. This Californian is discreet, but has innate style sense, so she wears the Audrey Hepburnesque Magnolia model.
Xan Aird:
Guitarist with the Virgins and bassist for the Dough Rollers, Xan dons an Eighties punk look with the Attirance model in a shade of blue as electric as his music.
Tom
Tom Guiness:
Fashion Editor for L'Officiel Hommes and model in his spare time, this true-Brit boy criss-crosses the globe between New York, Paris and London. He's passionate about fashion, so he chose the sleek and trendy Audace Black model.
Venus Soto:
The most radical DJ of the up-to-the-minute New York scene and a must-have at Fashion Week parties, Venus is wearing the Fuchsia Flore Oversize model, perfect day or night.