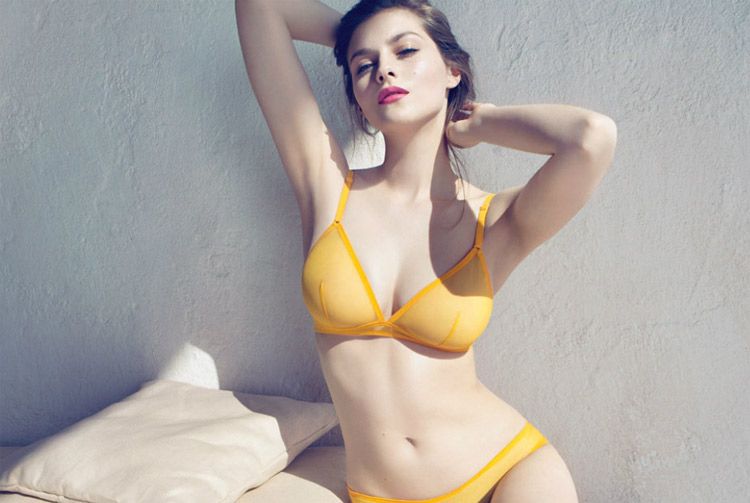 Photo Courtesy of Eres Paris
The House of Eres Paris always has two of the best destinations in mind when designing: the bedroom and the beach. One, a destination for dreams, the other a dream destination. Authentic and original, Eres is a brand synonymous with
luxury lingerie
and swimwear. Why and what is it that sets them apart, you ask?
"The woman is the center of our attention," answers Valérie Delafosse, artistic director at Eres since 2007. "Confidence is key and I design each piece with that in mind." The focus of the House, or "Eres aesthetic," has always been this confidence Delafosse speaks of, who shared with me why wherever my destination is, Eres should be my confidant.
"I believe that people lose sight of how important fit is, and focus on what they think will look 'sexy,'" Delafosse explains when asked about the minimalistic embellishments of Eres swimwear. This is not a critique. It is a compliment when compared to others overly ornamented with hardware and print, skimping on the fabric (quantity and quality).
Sometimes I am not sure if the design is supposed to draw attention to me, or divert it. "We do not follow trends," Delafosse admits, "Pattern and embellishment will not make a woman feel sexy. It's the fit and confidence she carries when she puts on the pieces that make her feel sexy."
It was very appropriate and an innovative concept that Eres offers swimwear year round to cater to jet setting clientele of Paris since its inception in 1968. Their style has consistently been subdued elegance with the upmost quality. "Eres suits are always described as clean and modern. My standards are to design pieces that quiet luxury with understated sophistication."
The inspiration for the stunning 2012-swim collection "was Egypt, Syria and Morocco," which Delafosse clarifies are reflected in the colors and design in the Babylon, Sultan and Hammam swim suits. I'm in love with the color combos in the Bazaar line, the button details on the Sultanes, and spearhead-like peepholes seen throughout the Perseé. Their "expertise" and exclusivity is also partially due to their fabric. Delafosse justifies, "the fabric Eres uses in their swim and lingerie are special patent fabrics that only Eres uses."
All photos by Eres Paris
As for feminine foundations, the House stays true to itself with attention to quality, design and the feminine form. "The Galatée collection from the Spring/Summer 2012 is my favorite," says Delafosse, "the colors are bright and bold while the lace trims are delicate and feminine."
Interesting how the designer has to design one line of garments that will not be seen by (almost) anyone but you (God forbid), and another line intended to be view by all (God help us). "Our pieces are designed to give the best fit possible, designed for a woman's body and shape," reassures the designer. Personally, my favorite is the lovely Ondée in Venin color.
Comfort is still an important element for Eres lingerie. Comfortable lingerie? This may conjure up unfavorable mental images: visions of your mom in a fat terry robe. But wrong you are, and let me erase that thought for you. Think sexy, soft, sheer and elegant. Now, that's better.
New this year to the company is nail lacquer to compliment the bold colors in the swim collection. In addition, "We are working on extending our product line and to expand the Eres lifestyle." Keep an eye out for more Eres boutiques popping up all over the world. "We opened our first store in Toronto, Canada," Delafosse states while a location in Moscow and San Francisco are in the works.
"I think being comfortable and sexy are one in the same. You can't feel sexy if you don't feel comfortable."
–Valerie Delafosse
Visit to
EresParis.com
to see more.