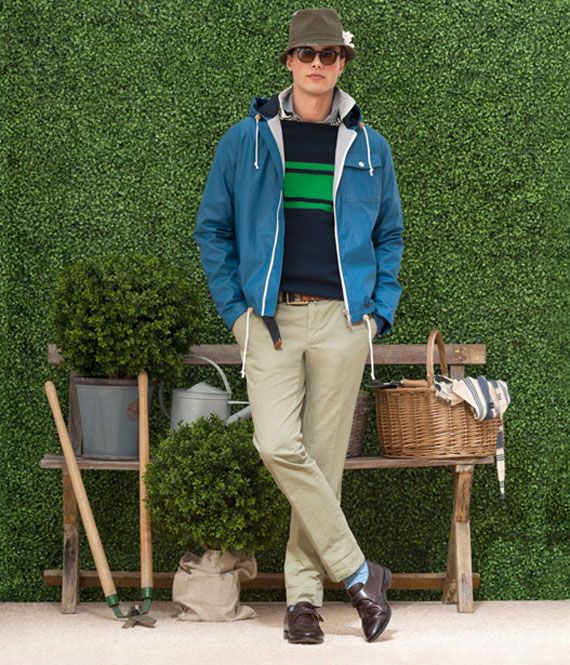 Photo Courtesy of Gant
It's January, which means we can officially start looking ahead to all of the spring and summer collections that are patiently waiting on deck in the
luxury menswear
department. If you've got a vacation planned, are the work-from-home type, or simply plan on having some casually stylish weekends this spring, Gant by Michael Bastian's in-between Cruise Collection may just be right up your alley.
In his seventh collection for the classically preppy New England label, Michael Bastian took inspiration from the Galapagos Islands. The result is a range of closet staples that answer all of your questions about what to wear in those awkward months between when the snow melts and when it's finally time to pull out your favorite pair of swim trunks.
Though consisting of mostly relaxed sportswear, it's Bastian's use of impeccable tailoring that brings his collection from potential island bum status to the enviable, effortlessly put-together look. The line's individual pieces overall vary from animated, like one particular Baja hoodie, to smartly sartorial, like the windowpane tweed suit. Some great everyday items that come from this collection include contrast collar button-downs, khakis, and the brand's now-famous skinny six-pocket cargos.
As we always like to see in spring and summer collections, Bastian was not afraid to play with color in Gant's cruise collection— a warm welcome into 2013 after the earth tone-heavy collections from Fall. Additionally, we take it from the paisley scarves, quilted suede vests, and striped lambswool sweaters that the materials, textures and patterns in this collection vary, as well. As with every line, it's how the wearer chooses to mix and match the items that will allow him to decide just how laid back or formal he wants to go on any given day.