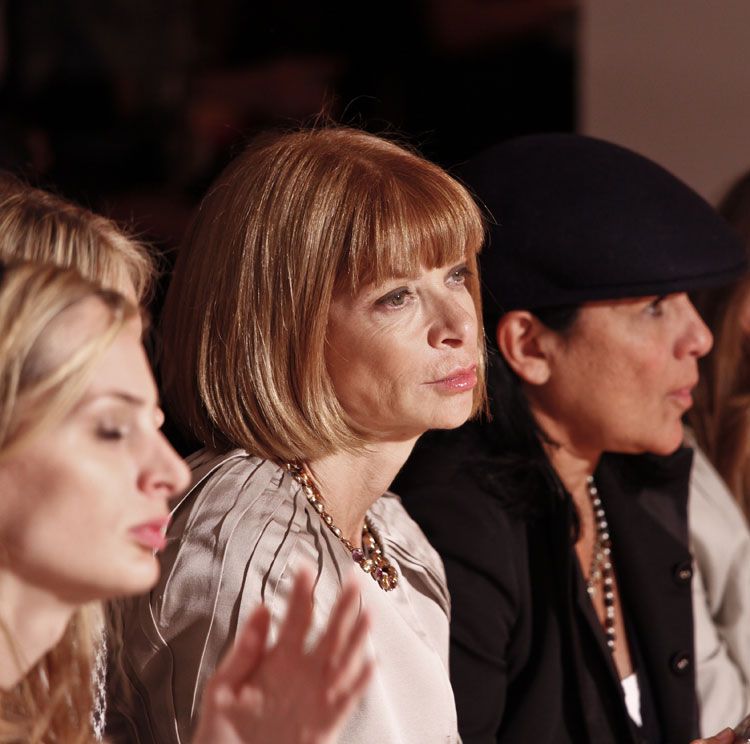 Photo Credit: Lev Radin / Shutterstock
The best luxury designers tend to be held up on a pedestal, their dreadful blunders and embarrassing moments casually overlooked for fashion's sake. While we admittedly have strong obsessions with these icons, we can't overlook the few times that they made (or almost made) devastating mistakes. We decided to compile a list of the five worst moments from our favorite designers. From cringe-worthy collections to potential career-ending mistakes, here is our list of the worst moments from the
world's best designers
.
Photo Courtesy of Anton Oparin/Shutterstock
Karl Lagerfeld
clearly has difficulty keeping himself out of the spotlight— from his extravagant collections to his
vicious comments
, Karl knows how to get a rise out of people. But who would have thought that he would ever offend fashion BFF Anna Wintour? Back in the early '90s when Karl was designing for Fendi, he truly surprised some of the world's top fashion editors when he sent his 1993 collection down the Milan Fashion Week runway. Instead of using the typical rail-thin models, this luxury designer opted for strippers and pornographic actresses to model his line of swimsuits. Wintour,
Vogue's
editor-in-chief, found this display highly offensive and promptly exited the show.
Photo Courtesy of Alexander McQueen
Fashion designer
Alexander McQueen
certainly had a fascination with highly avant-garde designs and bold style — a particular characteristic that gave him great fame in the '90s. It wasn't long before the president of LVMH, Bernard Arnault, appointed McQueen to Head Designer at Givenchy in 1996. While the outlandish designer's new position at a sleek brand caused a stir, many fans still hoped for the best. However, McQueen's first couture collection for Givenchy was a major flop, and in an interview with
Vogue
in 1997, McQueen even called the collection "crap." As if he couldn't have made things worse, the bold English designer also took this as an opportunity to call the label's founder "irrelevant." Surprisingly, McQueen ended up staying with Givenchy until his contract with the brand ended in 2001.
Photo Courtesy of Maxene Huiyi/Shutterstock
Zac Posen
has always been the "nice guy" in fashion, so it came as a shock to everyone when there was a scandal at his runway show in September 2012. Making for a true PR nightmare, fire marshals decided to pull 60 seats from the room (mostly from the front row which is reserved for the most elite show-goers) a mere 30 minutes before the start of the presentation. In response, Posen's public relations firm, HL Group, had to play one of the worst games of musical chairs ever and try to reorganize the entire seating arrangement at the last minute.
The fiasco, coupled with Naomi Campbell's reported late arrival which caused a 40-minute delay, was enough to make anyone feel a little agitated— above all, French publishing executive and president of Jalou Publishing House, Marie-José Susskind-Jalou, and her daughters, Jennifer Eymere and Vanessa Bellugeon. According to
WWD
, Susskind-Jalou didn't have a seat, and although HL Group cofounder Lynn Tesoro was frantically trying to find a solution, the French family grew impatient. It was then that the vicious smack heard 'round the fashion world occurred. While some witnesses claim it was Susskind-Jalou who slapped Tesoro across the face, daughter Eymere took credit (and unashamed pride in it) in the
WWD
report. While Zac Posen wasn't directly involved in the scuffle, Eymere said she received a note from the designer later that day apologizing for the seating squabble.
Photo Courtesy of Versace
Who doesn't love seeing a little lace strutting down the runway? We, for one, adore the material, as it adds sultry femininity to any outfit. That's why we were a bit confused when the Donatella Versace chose to don her male models in little lace numbers for her Fall 2013 fashion show in Milan. Now, we realize that
Versace
caters to men who enjoy extravagant— and at times even borderline ostentatious— clothes, but to have men wearing what one can only refer to as male lingerie is a bit over-the-top, even for Donatella. Certainly bold, these lacy shifts and biker shorts aren't designed for your Average Joe, and we can only imagine the most fearless of fashionistos rocking these sexy ensembles.
Photo Courtesy of Riccardo Tisci
Italian-born Riccardo Tisci has made a huge bang in the fashion industry the past few years; however, this luxury designer certainly had a bit of a rocky start. It is a well-known fact that breaking into the fashion industry is no small task. This is one area where every stitch, swatch, and cut is meticulously analyzed and critiqued by essentially everyone in the business, and Mr. Tisci wanted that terrifying evaluation to be done on his own name. So when offered the position of creative director at
Givenchy
, Tisci originally turned it down. It wasn't until he learned that his mother was planning on selling her home in order to support his sisters that Tisci changed his mind. Fearful for the future of his family, Tisci chose to accept the position and went on to create the modern Givenchy elegance that we know and love today. We consider this one to be a close call as far as fashion mistakes go— in our opinion, today's fashion world simply wouldn't be the same without Tisci's edgy take on classic luxury.
Photo Courtesy of Vera Wang
Earlier this year, it was discovered that the queen of bridal fashion,
Vera Wang
, was committing a major faux pas at one of her international boutiques. The American luxury designer's first store in China opened in Shanghai in January, and the boutique was charging customers a RMB 3000 (US $480) just to try on the famed wedding dresses. For that amount of money, shoppers could try on Vera Wang wedding gowns for 90-minutes, and the non-refundable fee would be credited towards a purchase. Unsurprisingly, the Shanghai store's shoppers cited discrimination, but Wang abolished the appointment fees and assured
WWD
that, "The store in Shanghai has only been open to private VIP preview appointments. The official opening to the public will take place on April 29."
Photo Courtesy of Hakaan
Turkish-born, London-based designer
Hakaan
Yildirim established his fashion line in 2010. He was doing pretty well for himself: his first ever show at London Fashion Week that year attracted an impressive celebrity-studded front row audience, and for the Spring/Summer 2013 event, he had secured a coveted spot between Chanel and Valentino on the penultimate day of Paris Fashion Week. But just a day before he was set to present, Hakaan's PR company, Karla Otto, was forced to send out emails to those invited to let them know the show had been cancelled after it became clear that the entire collection had disappeared while being transported by a courier company. Although Hakaan could not get a "re-do" on Paris Fashion Week, the designer promised to re-make the show pieces for an exclusive press screening later in the season.