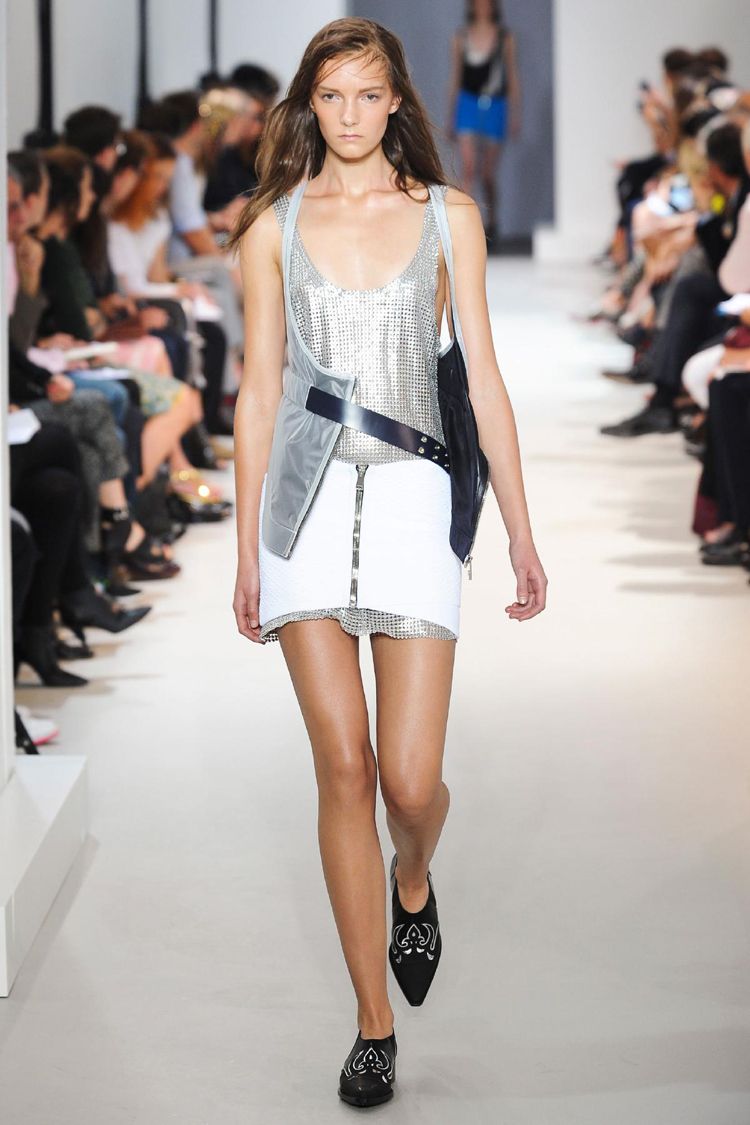 Photos Courtesy of Paco Rabanne
The first collection from
Paco Rabanne's
new Creative Director
Julien Dossena
premiered today during Paris Fashion Week, and we think he did a pretty good job. Maybe it's the thigh baring skirts or low slung belts, but there's no way to look more fashion-forward than to look to the future for inspiration—literally. Space age metallics, heavy zippers and tailored latex held the collection together surprisingly well. It looks fun, youthful and not a bad breakout collection for the new designer of Paco Rabanne.
There's a great balance in this collection between creative design and wearability. While the clothes are obviously inspired by science fiction imagery, there's nothing on this runway that you couldn't realistically wear. There are tank tops, skirts, minidresses and zip up jackets that are all fairly simple considering their inspiration. Sure, he could have gone with over the top space suits or kitschy intergalactic blasters and really let his creative juices flow, but it was his ability to show restraint within such a vast medium that really made the collection relatable.
The color scheme was, of course, packed with metallic leathers, chain and lamé, but paired with bright blues and small hints of orangey-pinks made it look modern and youthful instead of a trend-heavy. The stark whites that were paired throughout the collection helped keep everything new and looking futuristic without the use of more metals.
The materials used in these pieces were not the usual fabrics you see coming down the runway—scuba miniskirts, metal mesh tank tops and dresses covered in plastic. And if you're wondering if you could ever wear a plastic dress, the answer is yes. Absolutely, yes. Plus it's so easy to clean, right?
The collection overall had a youthful, urban vibe that despite its sci-fi appearance is so very of-the-moment. But if the human race is ever living in a dystopian
Logan's Run
society in the 23rd century, I hope our wardrobes look half this good.