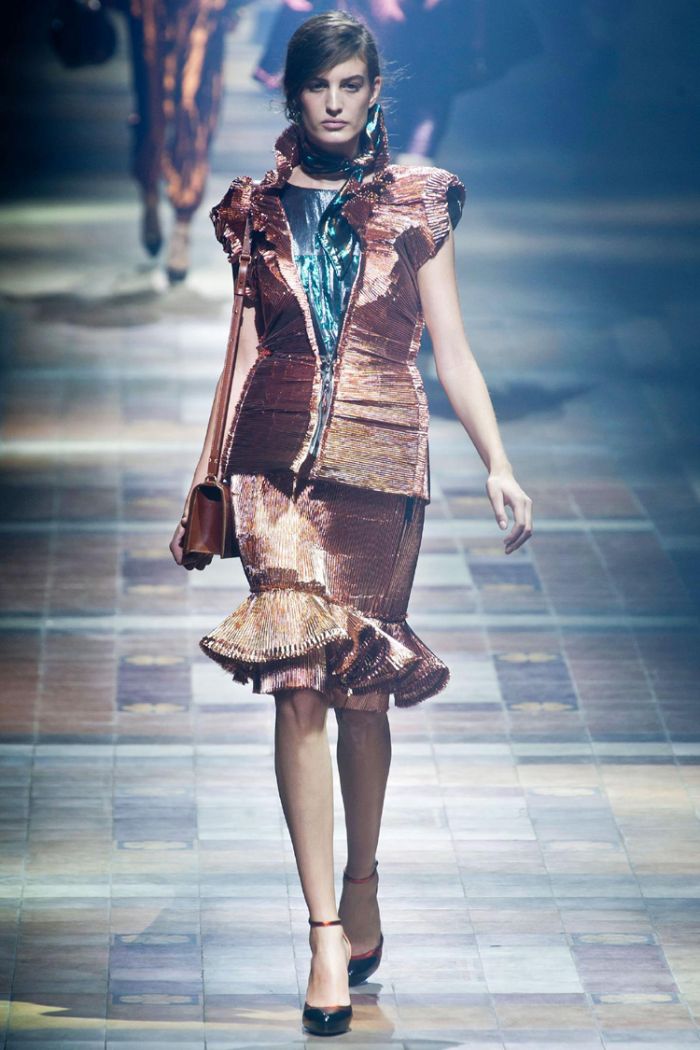 Photos Courtesy of Lanvin
It's possible that I'll get some backlash from the fashion community, but I'm going to say it anyway. I was not a fan of the
Lanvin
collection. His Spring 2014 show yesterday during Paris Fashion week was just too much. I could count the number of pieces that weren't shiny, shimmering, or glittering from top to bottom, on one hand. The majority of the silhouettes were beautiful, feminine, classic Lanvin, but the blinding material on these dresses was too garish and too gaudy. And normally, I
love
gaudy.
With metallic being such a huge trend for spring, it's hard to see a collection without it, and as beautiful as it can be when done correctly this is such overkill. And yes, there may be a dress or two I could feasibly see myself wearing, like the shimmering champagne bodice piece, which is absolutely gorgeous. But for the most part, they're like a prom gown right out of a 1980's coming-of-age movie. Believe me she
does not
look pretty in pink.
Since black and white is big all over the runways I'm always looking for a little color—just not
every
color. Lanvin apparently did not get the memo as a whole spectrum of hues is seen throughout the collection. Literally, the entire ROYGBIV of color. On their own, a green glitter jacket or shimmery red skirt might not be so bad, but styled together with sparking accessories is enough to make your eyes water.
There was no clear look, as there have been in other runway shows, here we saw mixtures of lady-like frocks, androgynous jumpsuits, modern, loose fitting separates, flapper dresses and menswear pantsuits. The feminine silhouettes were beautiful of course, and some of them could be excellent evening gowns—assuming they wouldn't be toting those offensive looking trash bag purses, of course.
As far as this line goes, I'll be excited to see the toned-down version that they release to department stores, as an all-encompassing collection of metallic in and of itself isn't a bad idea. It was more the shaky execution than the individual pieces. And quite honestly the longer I sit here flipping through runway images the more it begins to grow on me—except for that pink dress.
No one
should wear that pink dress.