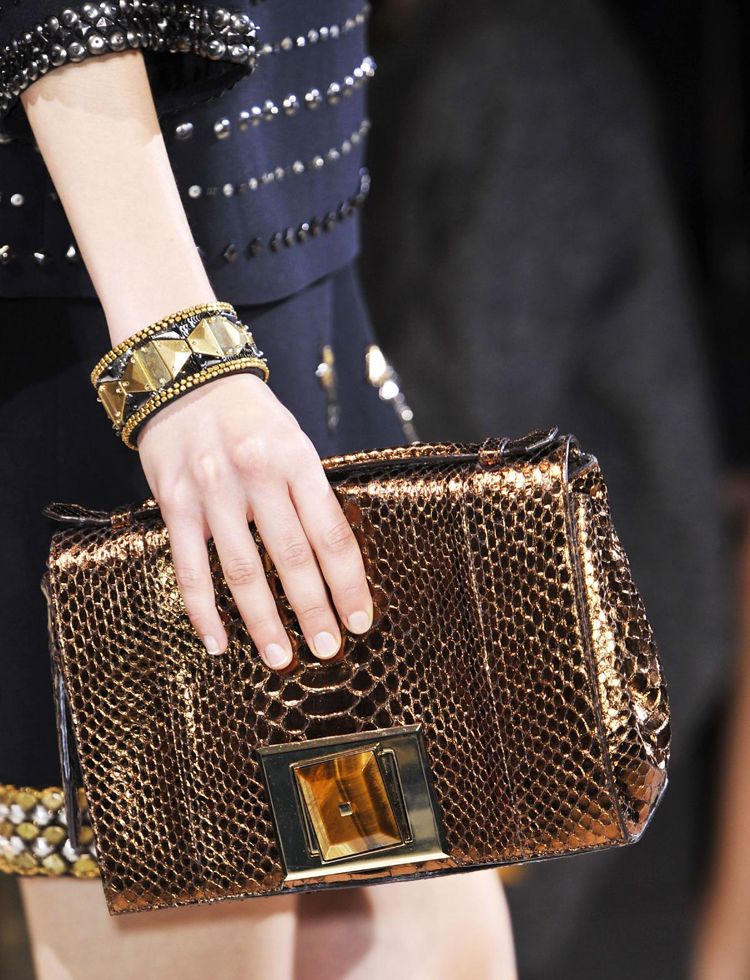 Photo Courtesy of Andrew Gn
Now that Paris Fashion Week is over, it's time to go through all the pieces we've filed away in our heads for that dream closet of ours. Mini dresses, crop tops and metallic jackets have all made the cut, but while we've been gawking over must-have pieces and dream-worthy designs, some of those hot little accessories have been slipping under our radar. I will confess I'm a total bag lady, and although I own more purses than I actually
use
, it doesn't stop me from wanting to snag a few of these right off the runway. Taking a look back, here's a quick look at the 17 hottest handbags from Paris Fashion Week.
Photo Courtesy of Akris
Akris
: The look of this white leather tote is pure sophistication. It'll hold a laptop, iPad, makeup bag, books and anything else you can think of. The best part is the two different carrying handles for wearing it over the shoulder or in your hand.
Photo Courtesy of Andrew Gn
Andrew Gn
: It's so hard to pick just one Andrew Gn bag. The mini box clutches are so cute, but with a double box styling and shoulder strap, this purse is like a two-for-one. Plus the navy and black together make for some serious drama.
Chanel
Chanel
: The minute I saw this on the runway I had a mini freakout. This tiny ombre crossbody bag is so hot I could wear it anywhere and everywhere—and I don't even care that it's only big enough for a lipstick.
Photo Courtesy of Chloé
Chloé
: The Baylee as a clutch. This is such a simple but brilliant way to refresh a favorite purse. Now I'll have to go through the bags I own just to see which I can fold over into a whole new look.
Photo Courtesy of Emanuel Ungaro
Emanuel Ungaro
: Tiny clutches were all over the runway, but none were as bedazzled and blinged out as this itty-bitty box. I would plan an entire trip to Vegas around this bag.
Photo Courtesy of Giambattista Valli
Giambattista Valli
: The emerald marbling on this white trim clutch is bold enough to wear with almost anything and the color palette makes is perfect for day or night. Plus, I am loving those earthy gold bracelets.
Photo Courtesy of Ground Zero
Ground Zero
: A functional clutch! With room for things and even a wrist strap! The floral patterns and bright colors on a black and white background are on-trend for spring. And everyone loves a little patent leather—especially in electric blue.
Photo Courtesy of Hexa by Kuho
Hexa by Kuho
: I loved the shape of this bag when I first saw it. It's a new take on the popular side flaps and has a totally fresh shape. And then I noticed the camera slot. I'm going to need this in every color—immediately.
Photo Courtesy of Kenzo
Kenzo
: Pastels are probably some of the hottest shades right now. And while they're intended for spring, pairing them with black will allow you to give in to your pastel cravings this winter. This mint, black and white handbag offers the perfect hint of color.
Photo Courtesy of Lie Sang Bong
Lie Sang Bong
: Speaking of color, this clutch was probably one of the brightest on the runway. It totally pops and the optical illusion flowers give it a funky edge we haven't seen before.
Photo Courtesy of Miu Miu
Miu Miu
: I'm pretty sure my grandmother owned a purse like this. The perfectly structured handbag that will stay a timeless classic. Aside from being fashionable for years, this purse will go with literally
everything
.
Photo Courtesy of Olympia Le Tan
Olympia Le Tan
: If you're going to have a nautical themed collection, you need a blowfish clutch. It's basically a must. Sure, I can't imagine anywhere you could wear it, but it's just so bold and funky I can't help but love it. And the color and texture? It's all
beading
.
Photo Courtesy of Rochas
Rochas
: This metallic bowling bag is bright, bold and beautifully textured, while still being large enough to carry everything. See, you don't need a clutch for
every
outfit. And that zipper goes all the way to the bottom so you're not losing your chapstick in the infinite void of your purse.
Photo Courtesy of Roland Mouret
Roland Mouret
: While those Madonna wristcuffs are appealing to the '80s kid in me, it's the clutch that really has my attention. It's big, totally functional and those colors are perfect to carry you from winter to spring and back again.
Photo Courtesy of Talbot Runhof
Talbot Runhof
: Usually, blends of gold and silver are not my favorites, but after seeing this bag I'm totally changing my mind. This holographic leather mini purse is probably one of my favorites from Paris Fashion Week. And that's saying a lot.
Photo Courtesy of Valentino
Valentino
: This show was so good. So very, very good. It was intricately decorated right down to the golden griffins on this clutch. And while there are definitely a few party bags on this list nothing looks as luxurious as gilded gold.
Photo Courtesy of Vanessa Bruno
Vanessa Bruno
: This bag is so funky, it's almost bad. But the mix of clashing colors and prints, not to mention the gigantic tassels, make this little purse so fun. The rounded shape is small, but perfect for say—carrying your breakfast grapefruit to work?