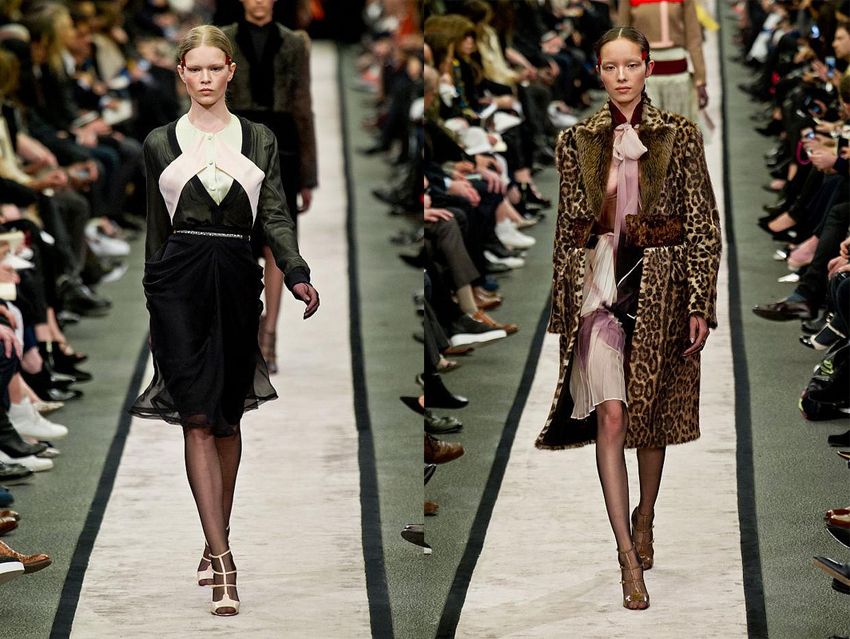 Photos Courtesy of Givenchy
It's a little hard to believe that the same man that is giving us a designer collaboration with Nike is giving us these runway dresses, but it's totally true. At the Givenchy Fall 2014 show at Paris Fashion Week this weekend Riccardo Tisci showcased one amazing collection. It was sleek, it was chic, it was fierce, but not in that intense Tyra Banks sort of way. Tisci's designs have become more feminine with each season, and this growth is spectacular to witness. From Spring 2014's designs which seemed forced and a little awkward, this season seems to have improved tenfold—looking very new and of-the-moment.
There's something to be said for a little blend of high fashion and street style which Tisci has always excelled at, but taking one look at this runway left us pretty much speechless. There were sheer fabrics, strappy pumps, pleating, draping, puff shoulders and butterfly prints—it was a delicate and powerful all in one breath. To balance the femininity of such lady-like pieces, he also sent structured boxy suits and sportswear down the runway—all of which could be easily broken down into street style separates if you must have your old Tisci.
A butterfly print motif ran through the collection starting with sweet, itty-bitty prints that slowly grew in size until they were abstract contortions of the original image. As the print enlarged the designs coming down the runway grew edgier, sexier and had an almost untamed presence about them—leopard prints were layered over busy, bright patterns and even the color scheme that has been so demure at the beginning of the show with its greys and browns, was now giving way to harsh reds and bold yellows.
Color palettes were as varied as the prints, from neon green to burnt orange, but what mattered wasn't strictly the hues, but how with were paired together. By the end of the show the sportswear and feminine pieces had melded into one look so that mint green, lace skirts were paired with boxy jackets with bright slashes of color across the front. Fabrics like lace, fur and leather were used as catalysts throughout the collection to make a piece feel more subdued or sexualized.
This collection is by far one of Tisci's most progressive, and the struggle between his desire to create feminine pieces while staying true to his most iconic aesthetics seems blatantly clear. Undoubtedly, these pieces will fly off the shelves come fall, when we'll be scooping up the leopard print coat, mini butterfly dresses and boxy blazers, but until then we can just content ourselves knowing that something amazing is coming to our closets this winter.