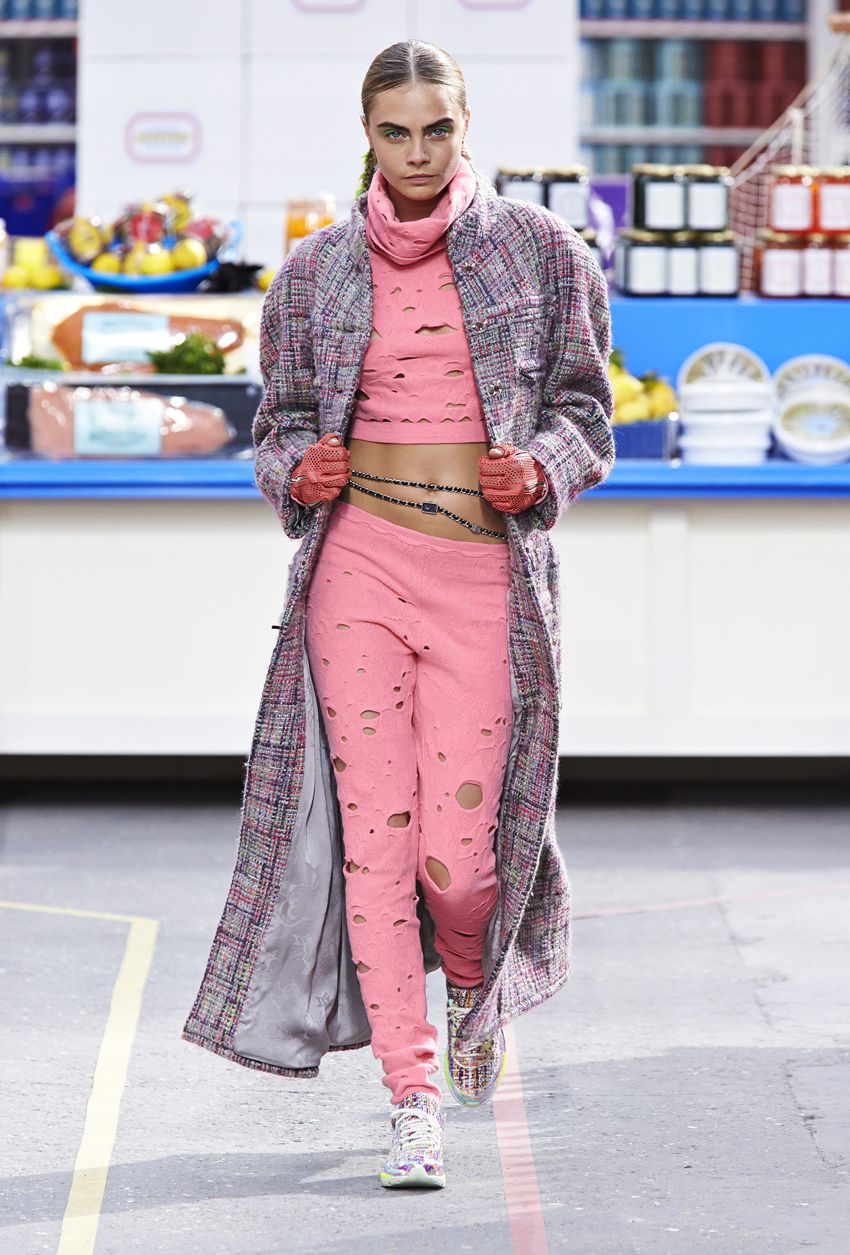 Photos Courtesy of Chanel
Even if you're up to your ears in Chanel tweeds and double C jewelry, you've never gone grocery shopping like this. Chanel's Spring 2014 show, held Tuesday near the end of Paris Fashion Week, displayed a casually luxurious collection amid a 139,930 square foot supermarket runway that was stocked to the brim with produce, home goods, and dry foodstuffs all imprinted with the French house's iconic symbols. Pasta boxes were emblazoned with the Chanel logo, Mademoiselle Coco's silhouette was found on bottles and tins, and reportedly even a chain saw featured a real Chanel chain. By the end of the show, Karl Lagerfeld's Chanel Shopping Center had garnered more media attention than the collection.
Models trotted through the grocery store labyrinth, following color-coded guides along the floor to make their way from hardware to produce, scanning the shelves as they walked. Shopping baskets threaded with Chanel chains held small leather goods and accessories—some were large enough to actually carry groceries (should anyone be so inclined), while mini versions were barely large enough for a wallet. It sounds like a terrible idea in theory, but the execution was quite brilliant.
We can never bring ourselves to love any kind of fashionable riff on sneakers, but we have to applaud Lagerfeld's excuse for sending them down the runway. "The supermarket is a thing of today's life. Even the woman who wears expensive clothing goes to the supermarket, but she shouldn't go in stilettos," he explained to WWD. "The flat shoe makes the woman equal of men. When they have high [shoes], they play a part like a geisha, and they can't be expected to be taken that seriously." Likening women in heels to geishas may be quite the leap, but if Lagerfeld says yes to flats our feet couldn't be more grateful—as long as we don't have to wear those corseted, knee-high sneakers—yikes.
Bright colors and abstracts prints were popular again this season, drawing from the artistic brushstrokes and eye-popping shades of the Chanel Spring 2014 collection. Again, electric hues played a major role, this time being joined by darker shades and metallic fabrics to give it a cooler underlying base note. The collection had no clear direction, but played off iconic tweeds, current sportswear and a juxtaposition of deconstructed and well-tailored looks. Accessories were either piled on in a mangled mess of chains and pearls, or were done with strict minimalism adding just a cuff or two to an outfit.
After models walked the almost five minute long runway, they proceeded to shop the stage. Strolling through aisles with rolling carts, they maneuvered around those still strutting their stuff and picked up cans and bottles, stopped to grab a few pieces of fresh fruit and casually chatted with each other about the latest gossip in Stepford. By the end of the show all the women were fully engrossed in picking up whatever fixings were needed for dinner (at a chic 30 percent markup), while Lagerfeld walked through taking his bow—Cara Delevingne grinning happily on his right arm.
While that should have been the end of the show, the audience was apparently so taken with the set that they began looting the Chanel runway. Taking a cue from the models, who were obviously directed to shop the store, guests scrambled to pick up anything they could carry that held the Chanel logo. Unfortunately, everything but fresh produce had to be returned upon exiting the building; all the excess food was donated to charities through Chanel's in-house caterers. The fashion was beautiful and fun, taking a break from the world of chic living, but this lineup will forever be known as the collection of the Chanel Shopping Center.