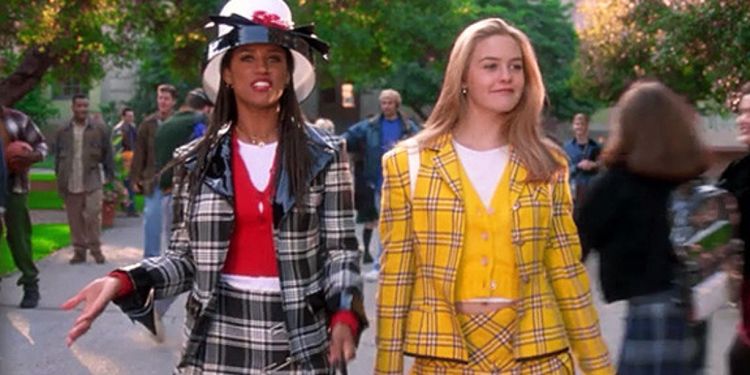 Photo Courtesy of Paramount
Okay, it's not that we're total fashion snobs (maybe a little), but there are some comeback trends that are harder to stomach than others. Birkenstocks? Fanny packs? Mini backpacks? And honestly, how many gorgeous women have to be lost in shapeless overalls before we say enough is enough? We admit there are some (read: very few) style mavens that can pull off some of these old or revisited trends, but for the most part these are sartorial disasters that we can't wait to get rid of. Here we've lined up the worst trends that have invaded our favorite brands and stores—we thought they were long gone, but it looks like, they're back!!!
Plaid
Okay, Cher Horowitz made plaid look ridiculously awesome, but then again that was almost 20 years ago. (No seriously, Clueless came out in 1995!) But just because Alicia Silverstone could pull off a mustard yellow blazer and mini does not mean we should attempt the look—especially in a matching set. We love this look on a guy when it's done right (and not in yellow), but women have much better options out there. A basic tartan shirt when you're going casual for the day is all well and good, but trying to make plaid look chic is just not going to happen—as if! To copy Cher's style (for a themed party of course), try the Vivienne Westwood Anglomania Eva jacket available at Farfetch and priced at $689.
Birkenstocks/Flatform Sandals
You either love this trend or you don't, there's no in-between. We're all for comfort, but personally we'd rather go with a cute pair of Sophia Webster flats than these clunkers. The last time we rocked this style we were kids, and quite frankly, had no sense of fashion whatsoever. (Come on, we were still obsessed with slap bracelets and Lisa Frank.) While they've tried to up their style game with a little pattern, print and color, we still have some trouble wrapping our heads around these. And while we're discussing chunky sandals let's address the platform sandals that were popular the last time Victoria Beckham was singing about girl power. We'd feel pretty safe betting even Sporty Spice isn't wearing these again. But if you're totally into the nomcore (dressing as normal as possible) and need a pair of '90s sandals stat, try an upgraded version like Giuseppe Zanotti's Beige & Black Cheetah Print Slingback Olmo Sandals available at Ssense and priced at $1,050.
Mini Backpacks
These are super cute on younger girls. Anyone under the age of 16 should feel free to own an entire closet of mini backpacks in a plethora of designs, colors and patterns, but full-grown women toting one around looks a little—odd. If you saved yours in hopes that it would come back around, congrats, it's time to fish it out of the closet. Thankfully this trend is getting a pretty decent revamping with designers creating pieces that look more like miniature versions of vintage school satchels—likely causing baby boomers to also cringe at the return of this trend. To keep it looking fresh try the Cambridge Satchel Company's Leather Backpack in vintage available at Neiman Marcus and priced at $134.
Culottes
These half-pants/half-shorts are making a comeback with a sophisticated new style—a blend between shorts and a skirt. The loose fabric gives the illusion of wearing a midi skirt while the shorts keep you casual—plus this time around trendsetters are opting for solid colors instead of the bright, garish patterns we saw the first time around. It's a good idea in theory, but the execution is less than elegant. For the most part this throwback trend is working with giant cuts that make these look more like parachute pants (please don't let those come back!) than a stylish new take on an old trend. If you're hankering to jump on this bandwagon try a slim cut like Cedric Charlier's matte-satin wide-leg pants available at Net-A-Porter and priced at $1,295.
Overalls
Unless you're a farmer, carpenter or are attending a Halloween party there should be no reason these are in anyone's closet. The last time these were popular they were available in a huge array of colors, styled as pants, shorts or a dress and were pretty popular when paired with a tube top. Thankfully they seem to have grown up a little and are now tailored to be slimmer and sleeker, but with the jumpsuit trend gaining in popularity it can be a fine line between the two when it comes to luxe leathers or printed fabrics. Let's just say anything in jean or that latches over the top is a no-go. To find an updated version on a '90s-girl favorite, try Rag & Bone's leather-trimmed crepe jumpsuit available at Net-A-Porter and priced at $595.
Fanny Packs
For some reason this trend just will.not.die. If you are old enough to remember this style from the first time around, you'll likely understand why we're not fans. Granted they have gotten sleeker and more contemporary than their bulky, neon ancestors, but the idea is the same. Unless you're going hiking (use a backpack), or spending a day at Disneyland with the kids (use a crossbody), there's no real reason to own one of these atrocities. But if the style is simply you, and you're in the market for one of these awkward waist pouches, at the very least make sure it's luxe like Chanel's sporty mesh fanny pack available at Shopbop and priced at $1,650.