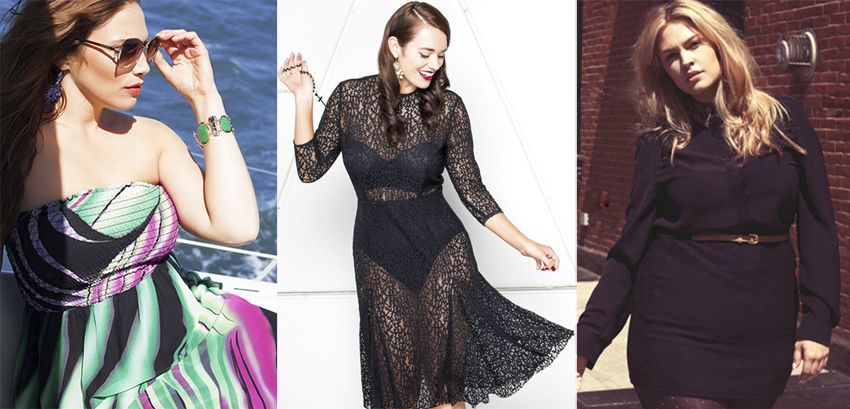 Photo Courtesy of Lala Belle
With all the fashion out there from cutesy Kate Spade, to edgy Saint Laurent, and whimsical Anna Sui, you would think there would be something for everyone—surely the insane selection in fashion didn't leave anyone out—did they? Well no, not unless you're over a size 12. With the industry predisposed to designing for models and celebrities rather than the "average" woman, the options for luxury, plus-sized fashion can be rather slim. While chances are good Proenza Schouler won't be coming out with a plus-size line any time soon, other mainstream designers like Michael Kors and Roberto Cavalli have lines that cater to fuller-figured women (even if they are, admittedly, harder to find). In addition to these designers, new names have been popping up left and right, and there's nothing we love more than finding a few new favorite brands. Ahead are our favorite plus-sized brands that range from formal gowns to perfect beachwear.
Photo Courtesy of Lala Belle
Lala Belle
Wow, we have never wanted to own an entire line more. With a collection that includes leather coats, sheer gowns and neon tank tops, there's pretty much a piece for every part of your day in here. Started in Australia by 24-year-old Charina Warne, Lala Belle is her answer to high-fashion being unable to fit her size 18 frame. Wanting to dress women in the best fit for their body, Warne pays attention to cut, tailoring and materials to give ladies a better option in plus-sized fashion. With black leather, clean lines and sexy numbers that include see-through lace and leopard print, there is no way to tell this is a plus-sized line without looking at the tag.
Photo Courtesy of Of Whonder
Of Whonder
Shopping for basics in larger sizes usually means big, baggy pieces that never quite fit right, or have enough form to wear to the office. But Of Whonder has a collection of chic, minimalist looks that are cut well, lie flush with the body and don't add bulk with unnecessary fabrics or accessories. You won't find any sparkle here, but instead you'll discover a collection of understated staples that can add style and class to any closet. Founded by Carmencita Whonder, her struggle to find a brand that could keep up with her busy career, lifestyle and fashion sense prompted her to create her eponymous label.
Photo Courtesy of Igigi
Igigi
Named after an ancient group of gods (always a plus), Igigi is a San Francisco-based line that caters to plus-sized women with day dresses, sweaters, work slacks—even wedding gowns! In addition to having a selection that will take you from office to aisle, they have a very cool tool called Shapestylist that can help offer styling tips and suggestions for what will work on your specific and unique figure. Guests can shop by trends instead of category, check out their fashion blog or join their Curve Connection community to chat, swap pictures or just dish with other plus-sized fashion-lovers.
Photo Courtesy of Matthew David Powell for Cabiria
Cabiria
Founded by Broadway costume designer Eden Miller, Cabiria was started to capture the beauty and unapologetic nature of big, beautiful women. Here shoppers won't find any solid colors or loose fabrics to hide behind—everything is bold, colorful and in your face; electric blue snakeskin prints, giraffe print pencil skirts and neon tropical patterns round out this loud, but impassioned collection. If you're looking to be noticed these pieces are perfect and range from flirty summer dresses to eye-popping (but totally work appropriate) silk blouses.
Photo Courtesy of MYNT 1792
MYNT 1792
Remember your rebellious days when an edgy, all-black ensemble was the uniform? Revisit that time with the updated, on-trend looks at MYNT 1792. Chicer, more modern cuts can complement everything from street-style to office-wear if you know how to work it. On top of having a killer collection that could work with pretty much anyone's closet (who doesn't love black?), they collaborate with plus-sized fashion bloggers to create limited-edition pieces like their current Blogger Jacket collection. Pair a jacket with one of their slim fitting Zoe Tux pants and you've got a look that will make you want to start your own style blog.
Photo Courtesy of Edith Dohmen
Edith Dohmen
Rocker chic not your thing? Maybe the lady-like looks at Edith Dohmen will meet all your sartorial criteria. Floral-print blazers, floral-print dresses, floral-print skirts—noticing a trend? While not everything is floral, the pieces available are all in sweet colors, feminine silhouettes and offer a more delicate take on current trends. Perhaps most interesting is that Dohmen creates clothes specifically for the women who find themselves caught between regular sizes and plus sizes and have a hard time finding clothes that fit correctly.
Photo Courtesy of Kiyonna
Kiyonna
Started by a college student with an idea for cute clothes past a size 10, Kiyonna was built out of hard work and dedication to give full-figured women what they really wanted. Offering everything from swimwear to wedding dresses (gorgeous ones at that), the brand doesn't really have a clear angle—everyone from beach babes to sultry seductresses will want to shop here. And even with their extraordinarily vast selection, we love that nothing looks like it was made for a plus-size shopper—slim skirts, lace tops and sexy cocktail dresses are all meant for fashionable women regardless of size.