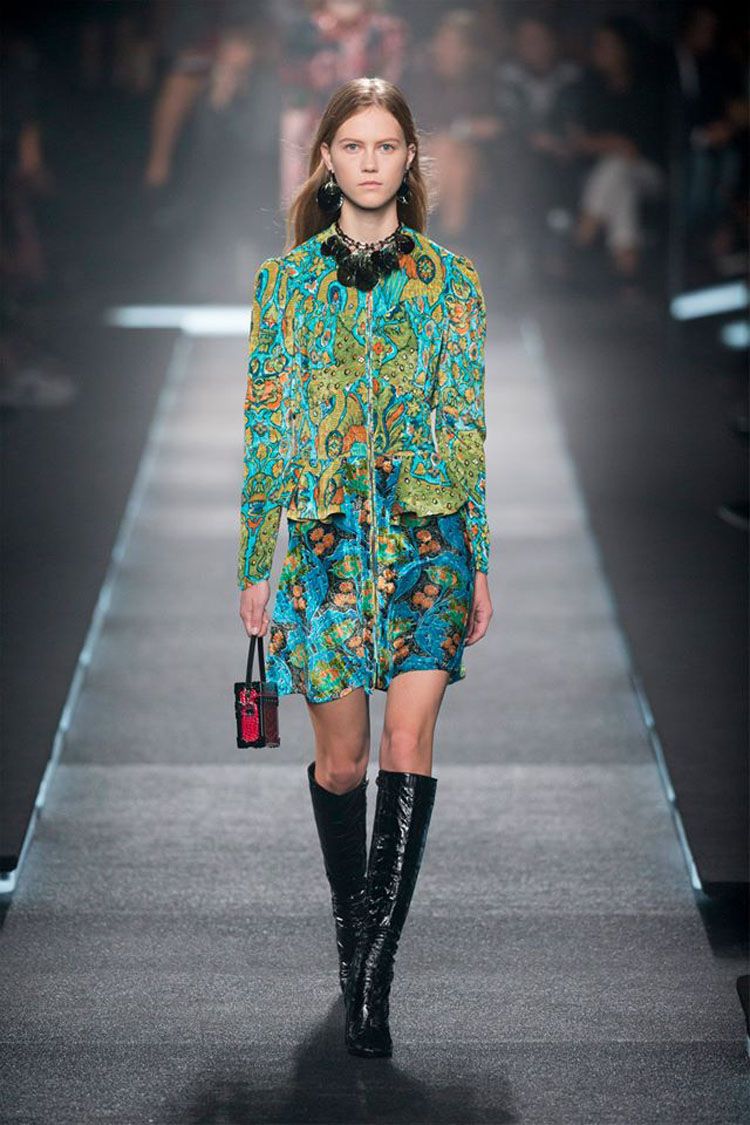 Photo Credit: Louis Vuitton via Facebook
Asking the audience to suspend their belief in reality for just a moment, Nicolas Ghesquière sent them on a mental journey to a place that "doesn't exist for now. A ship surrounded by a gigantic woodland; a ship made up of 3,600 glass panels and 15,000 tons of steel. A ship that serves as an incubator, and ignites our fellow creative minds." Of course he's speaking of the Fondation Louis Vuitton, the site for the Louis Vuitton SS15 fashion show. Ghesquière's second collection for the French fashion house premiered in the Frank Gehry-designed museum to a collection of youthful, 1970s nostalgia and just enough sci-fi touches to keep everyone guessing.
The opening statement, read aloud by a chorus of young models projected onto glass paneling, started the show as Star-Trek-esque beams of light lit up the runway making the metal and mirror-lined room look like something out of a 1980s science fiction movie. But that isn't what the collection is about. "Of course, I was projecting my work into the environment," Ghesquière told WWD before the show. "But it was not a direct reference to the space. It's only been six months. I'm building that wardrobe, and I'm defining what is Louis Vuitton today, thinking about different moments for the multiple women I'm projecting for Louis Vuitton. But again, it's, like, March. Not a big statement."
Whether or not he planned to tap into the building's seemingly extraterrestrial aesthetics, he definitely used them to his advantage. The warm colors of summer—cranberry, green, pink and blue—were a welcome contrast to the stark, cold staging. Instead of drawing from the future he took from the past, recreating the '70s silhouettes into velvet pants and coats, flared culottes, high-waisted jeans and laced leather. Velvet and leather were the leading fabrics of the collection (a little hot for spring, unless you happen to pre-order one for this winter), which he paired with simple basics like blazers, trousers and chunky-heeled boots.
The handbags, which are Louis Vuitton's bread and butter, are varied this season and range from chic little minaudières to giant satchels that could suitably be used as a second carry on. Small shoulder bags were done in everything from quilted leathers to metallic florals, while others were structured in a moon-shape and dangled from the arms of models in a very '70s-esque way. It was an interesting mix of past and future fused together to give us one hell of a fashionable present.