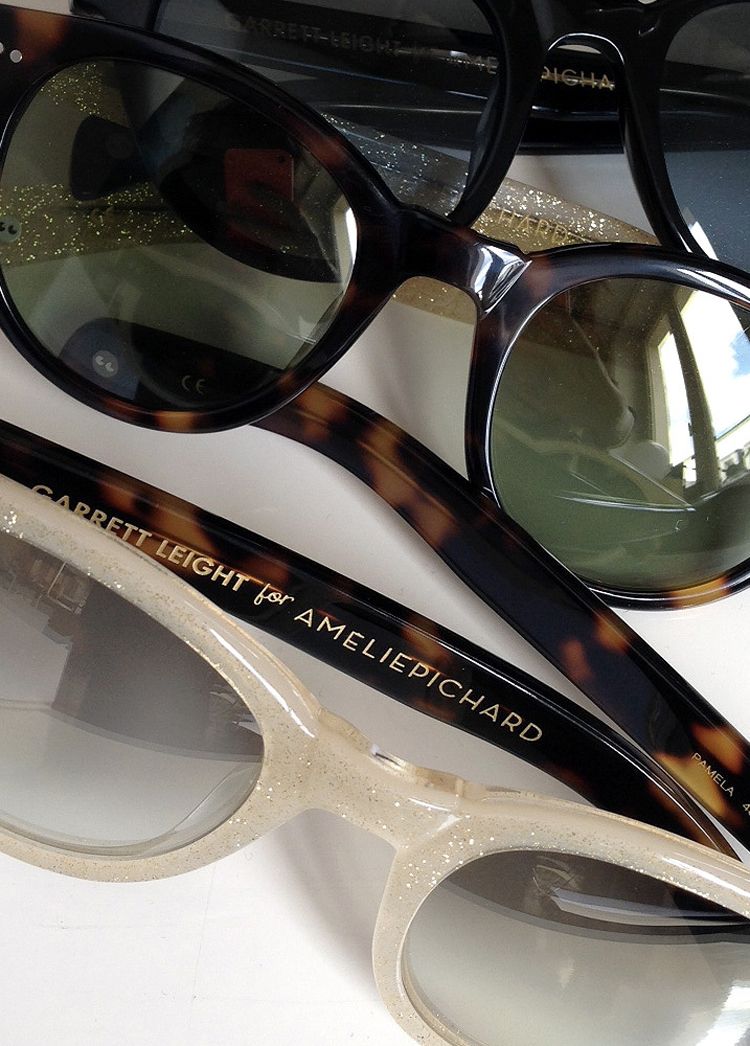 Photos Courtesy of Amélie Pichard x Garrett Leight
I will be the first to admit that I didn't quite move past my love of all things glitter once I graduated middle school, but thankfully my seemingly lifelong magpie tendencies lead me straight to this little collection. West coast eyewear brand Garrett Leight California Optical has teamed up with French accessory designer Amélie Pichard to create a line of limited-edition glitter sunglasses perfect for every style—from the cool French girls to the California surfers. The three-piece line started when Pichard decided to move into the last phase of accessories, eyewear, and was looking for the perfect company to team up with to capture the spirit of her brand. A friend suggested she work with Leight, and the rest, as they say, is history.
"Amélie has a fearless sense of style that we find really inspiring," says Leight, founder of Garrett Leight California Optical. "Most of our sunglasses are unisex, so it was fun to create a frame that is so overtly feminine." Pichard enthusiastically agreed. "Garrett captured instantly my universe, he played with my iconic materials like the tortoise shell or the glitter. We would like to make a unisex shape with a mix of very sophisticated materials. Glitter dust of the lenses is sparkling under the sunlight of Venice [California]. I love it."
Inspired by a particular pair of platform shoes Pichard designed, the collection is a mix and match of black, glitter gold and a tortoise print. For an added touch of pizazz even the lenses have glitter in them (which is, admittedly, my favorite part). Influenced heavily by strong female icons (even her Parisian apartment is filled with images of Marilyn Monroe, Hollywood's blonde bombshells and Playboy bunnies), it only made sense to name each style after a different women the collaborating designers admired like Juliette Lewis, Grace Jones and Pamela Anderson.
The collection is available online at Amélie Pichard and priced at €349 (approx. $432).