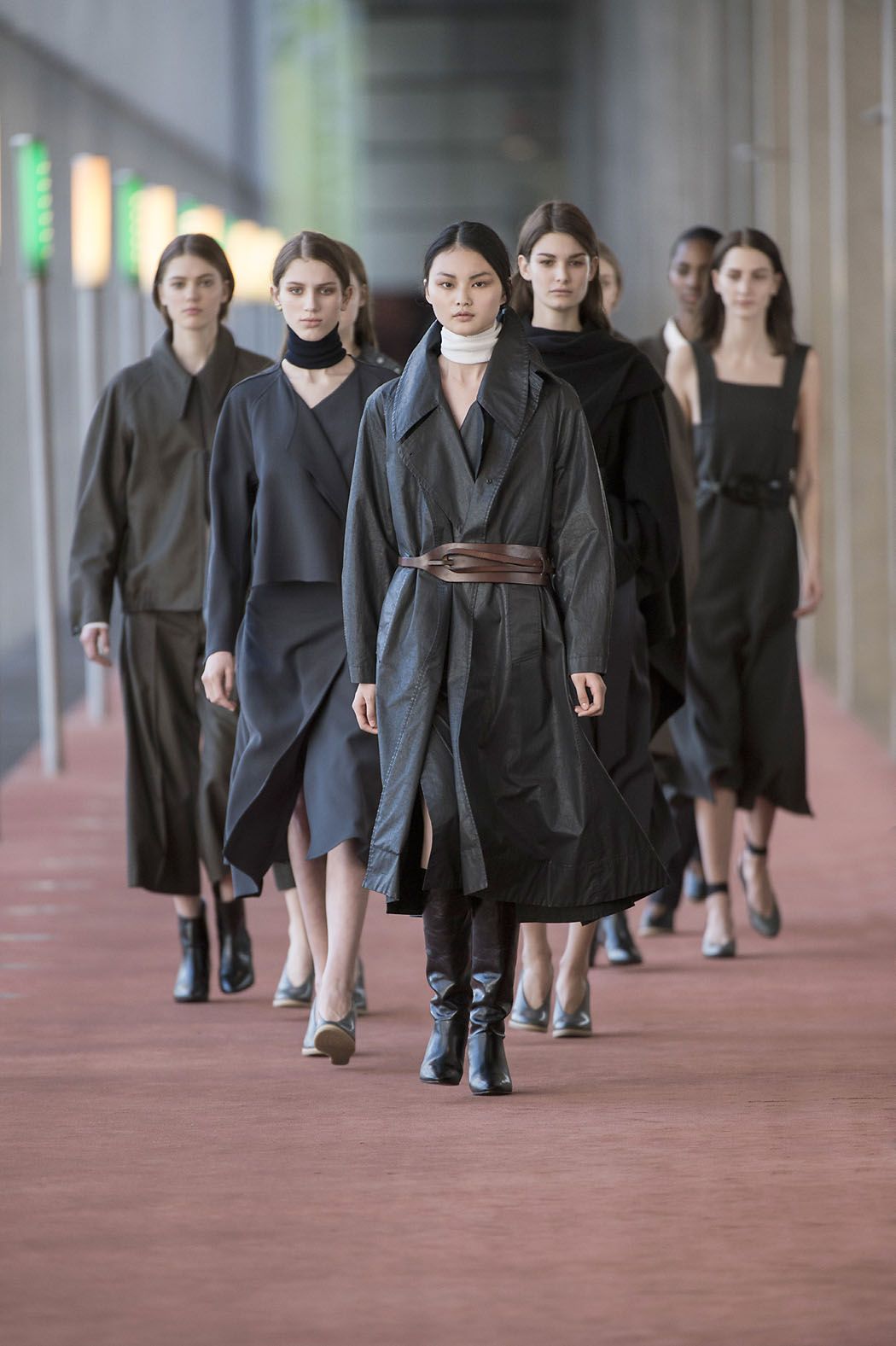 Photos Credit: Lemaire
Former Hermès artistic director Christophe Lemaire just announced a collaboration with Japanese fast fashion brand Uniqlo and presented a successful collection yesterday at Paris Fashion Week, so needless to say his year is off to a great start. For Lemaire's F/W 2015 collection he and co-designer Sarah Linh Tran chose to elevate the line, taking the rebranded label in a new trajectory than previous collections. Often dictated by a sensuality that put up a barrier rather than drawing you in, Lemaire's latest knocked down a few of those walls and offered more skin, highlighting glimpses of bare shoulders, ankles, décolleté and wrists that spoke louder than the most scandalous of outfits.
Presented in the hallways of the National Library of France, the design duo presented a surprisingly posh collection filled with well-tailored outerwear, midi skirts, and elongated shirts and sweaters. Traditionally masculine fabrics such as gabardine, flannel, herringbone, tweed and melton gave a nonchalance to the ladies on the runway, and unexpected materials added subtle character to looks, like a particularly fantastic wooden belt. A particular standout was a dusty-colored stole in herringbone wool tweed that covered just the top of the models shoulders in the front and cascaded to the floor in the back.
Silhouettes for the most part were kept long and lean, the few exceptions belonging to capes that incorporated bat sleeves or bell-bottomed duffle coats. It was intentionally oversized, but fit each model as if tailored specifically for her. The off-the shoulder dresses were long and straight allowing the curve of the shoulders to be the highlight of the look. The outerwear was the real star of the collection and despite the simplicity and streamlined appearance actually had more detail that most pieces in the line. Elongated collars, slightly-puffed sleeves and a subtle wrap closure added to its overall visual effect.