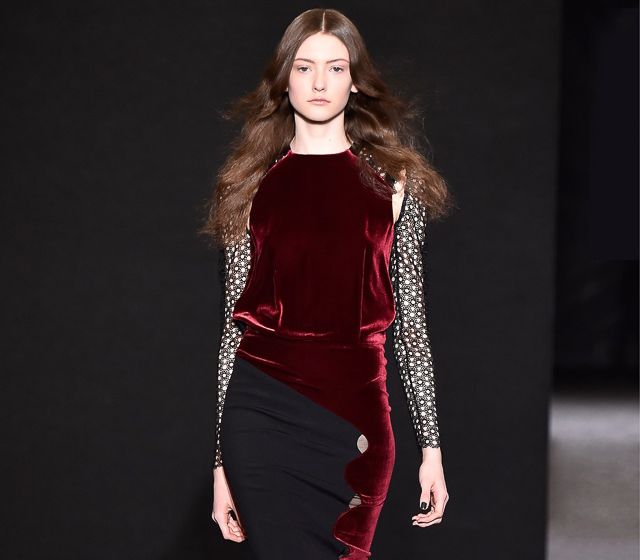 Photos Credit: Roland Mouret
Names like Kate Bush and Stevie Nicks were tossed around when Roland Mouret was designing his Fall 2016 collection and both were seen on the runway this weekend. The collection channeled the two musicians faithfully, without venturing into costume territory, and were completely reimagined and interpreted for a modern audience.
Silhouettes were long—almost every dress grazed the floor as models marched down the runway in a palette of jewel toned designs. Emeralds, purple and bordeaux came in a rich selection of textured fabrics including velvet, a favorite at Paris Fashion Week. The fabric was used in paneling, accents and bodices as well as entire dresses and skirts. They were some of the best pieces in the collection.
Detail and accents are something that Mouret excels at, and here he used piping details to outline patchwork fabrics, added embroidery and velvet appliqués to sheer paneling, and gave almost every sleeveless look (of which there were a surprising number for a cold-season collection) a pair of detachable long sleeves. They were beautiful and undeniably eye-catching, but they took a back seat to some of his more simplistic designs that showcased his talent for the feminine form and silhouette.