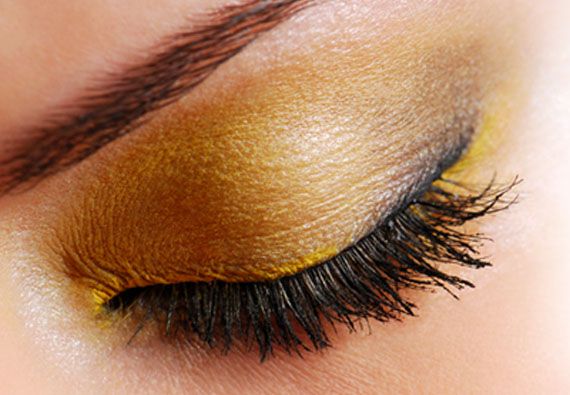 To choose the most flattering eye makeup for your hair color, personal style, skin tone, and eye color, arm yourself with a handful of great, go-to eye makeup tips, suitable for a variety of eye sizes, shapes and iris colors.

Choosing your eye shadow:

1. Satin textured shadows are great for day-wear.
2. Shimmery or iridescent shadow reflects off the irises brightening the entire eye, making a bold statement, great for a night out!
3. Pastel colors work well with cool skin tones.
4. Earth colors work well with warm skin tones.
5. Dark eye shadow compliments large eyes.
6. Light eye shadow allows your natural eye color to be the main focus.
7. Avoid matching eye shadow to your exact eye color; but instead opting for a complimentary color.


Green Eyes
Day: apricot, plum, light brown, khaki
Night: gold, purple, fuchsia, deep brown

Brown Eyes
Day: beige, bronze, light brown, army green
Night: gold, bold blue, yellow, emerald green, purple

Blue Eyes
Day: taupe, light pink, light brown, violet, gray
Night: tangerine, silver, turquoise

For a more dramatic eye:

1. Eye pencils create a smokier effect than liquid liner.
2. Curl lashes ¾ the way towards lids, twice before applying mascara, once after the first coat dries.
3. When using pigment (shadow) that is dark or loose, place a paper towel under your bottom lash line to catch the stray color, minimizing raccoon eyes.
4. Dab a tiny bit of light, iridescent shadow to the inside of your upper lid (by nose) and lightly above the outer part of your eyebrow. This makes eyes appear lively! The key here is to highlight subtly.
5. Lining the entire top lid has a minimizing effect, lining half maximizes.
6. Clear mascara works wonders for keeping brows in place!

Regardless of the hoards of advice available, there is always one essential beauty rule to follow: Honor your personal style!