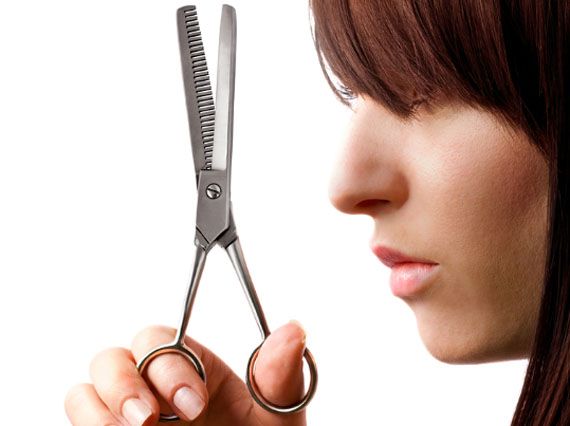 Most women alive during the eighties, at one point, had bangs...and they have come in and out of style nearly every couple of years since. Gone are the days of super-feathered bangs doused with Aqua Net and in their place we have welcomed a variety of ultra-modern and sophisticated face-framing blunt and razored cuts.


Creating a Style that Suits You

If cut just right for your face, bangs can add an element of high style, fashion and hard-core personality while updating your overall look. Cutting bangs can also be daunting because it usually requires you to step out of your comfort zone. We say, "go for it!" If you cut bangs and they simply aren't working for you, pin them straight back with a bobby pin. They will grow out quicker than the rest of your hair.

Consult your Hair Stylist

Bring a photo example of a cut you love and explain your personal style (clothes, makeup, time you are willing to spend styling your hair at home, etc.) to your hair designer prior to making a major style change.




Cutting for the Shape of Your Face

Long and oval face: Cut bangs that cover brows to accentuate eyes and cheekbones.

Round face: Choppy bangs add imbalance to a balanced shape, creating symmetry.

Heart shaped face: Heart shaped faces are versatile and can handle many styles of bangs. Our favorite? Bangs cut above the brow bone.



Cut + Style

Pixie bangs: These should be uneven and choppy. This fun cut is meant to be a tad messy, yet pulled together. Uneven bangs will help the cut remain feminine and adult.


Shag (perfect for shoulder length hair): These side-swept bangs are subtle, sultry and can be hidden easily with barrettes if you are needing a "no bang day." Side-swept bangs are easy to maintain and unless you have a cowlick at the hair line, usually look great without a lot of styling. This cut also works well on people with curly hair.

Blunt bob: This straight style is angular and architectural. Great for both fine and thick hair, this look is very powerful when worn bone-straight. If your cut has linear angles, go for straight across bangs, if your style is retro, opt for slightly jagged edges.

Long: For those of us who love our long locks, bangs are a tremendously fashionable way to add some interest to an otherwise predictable hair cut. Bangs with long hair emphasize the eyes and cheek bones. Depending on your hair texture, they can be cut straight across or angled down – it is merely a matter of preference.

Ask your stylist to start by cutting long bangs – ease into it, you can always go shorter!